5 ways to know Scuba Diving is not your Calling
Every year, I will try to set a goal for myself to achieve something. It can be completing a few books, helping the less fortunate or just going for a run. Simple yet manageable. Despite all those goals, I decided to push myself further by wanting to get Open Water Scuba Diving certification course. The other reason was because Shahrom has already completed his Advanced Scuba Diving license and was raving to me about the "awesome other dimension." Everyone I know is so passionate about diving and encouraging me to pursue it. And apparently, you can not fail from it.
So Open Water, it is…
I was really excited to undergo my open water diving course. So I went swimming almost everyday to familiarize myself with water. Just like some human beings, I have a fear of deep water. -_-
We head down to Bali, where apparently learning how to dive there is manageable for beginners. We hooked up with Made, our pal from Bali who owns a travel agency and he arranged everything for us. From the accommodation to transportation and even sourcing for diving instructor. He is our go-to man in Bali!
Here's 5 ways to know diving is not your calling…
1. Drowning in the swimming pool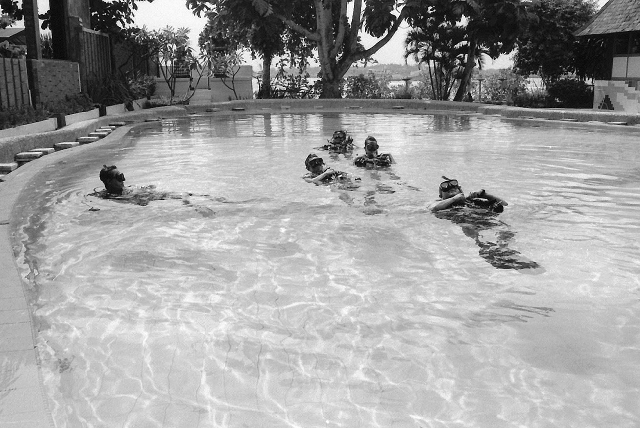 Okay, this is a funny story. After briefing to us on the equipment and all, we submerged into the water with other students. The dive master was leading the group, I was behind trying to equalize my ears. I had a hard time with that. So after fumbling around, I decided to ascend. While ascending I thought I was already on the surface, so I confidently removed my regulator. To my horror, I was close to the surface and submerged back in. Flopping like a dying bird in the water, the dive master quickly zoomed back to help me to the surface. I almost died!
2. Sea sickness 
I am known to getting sea sickness. After the unforgettable incident at the pool, I was half-hearted to complete my diving course. But Shahrom talked me out of it, so I got pyscho-ed again and went on for my first open sea dive. I vomited on the boat even before I could dive. My enthusiasm and confidence went down to the bottom of the sea.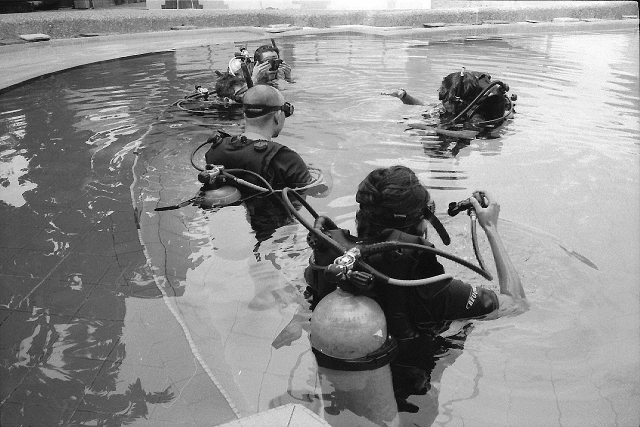 3. Crazy weather
The moment, we stepped on to the dinghy, the weather changed and the calm sea turned into a horrifying state. The waves was coming and our dinghy was spinning. Shahrom and the others was already in the water, while I was still mending my sea sickness.
4. Unpredictable circumstances 
By this time, I was already done with diving. I felt cheated. What happened to all those wonderful stories of diving and the beautiful life beneath. The next day, we went on to try beach diving. I was told, Tulamben has calm water with great visibility of wreck and marine life. Okay, once again I was sold!
When we arrived, huge waves were crashing into the shore. Even the instructor was shocked to see the condition. He told us that the day before, Tulamben was perfectly calm. There goes my ideal diving…
5. Strong current
Despite the erratic conditions, we decided to make our journey worth and jumped into the water. With the instructor's supervision, of course. We were thankful that we got extra instructors to help out. Getting into the water was tough. We couldn't even put on the flippers as water was too choppy. The waves was crashing into us!
When everything was stabilized, we descended. I was finally feeling settled and was confident to descend lower to see the wreck. All of a sudden, a strong pull of current came and I felt like vomiting. I ascended and vomited on the surface. A couple of minutes later, I saw Shahrom bobbing on the water. He vomited too! Haha.
After the unbeatable experience with Mother Nature, I decided not continue my Open Water Certification. Therefore, I failed! I was quite disheartened because I don't know anyone else who failed the course.
But I feel that I made the right decision as I can't fight with Mother Nature. Perhaps I wasn't fated to pass the test in Bali.
Will I ever try it again? Yes, but probably not in Bali. 🙂
Please follow and like us: