Artbox Singapore at the Marina Bay Sands
Ann and I decided to head to Artbox at Marina Bay Sands on the 2nd weekend with high hopes that it would be less crowded than the first weekend. Boy! Were we wrong.
We came in the late afternoon about 5 pm and was greeted by the heat of the sun, high humidity and tons of hipster kids in their denim and leather jackets! We were already sweating buckets even before we managed to enter the designated area.
Even though there were news that the pop-up hipster market walking areas would be widened by removing 2 rows of shops, we still had to brave the crowd shoulder to shoulder with the intense afternoon sun.
We did not expect the crowd to be this huge but we came with an open mind.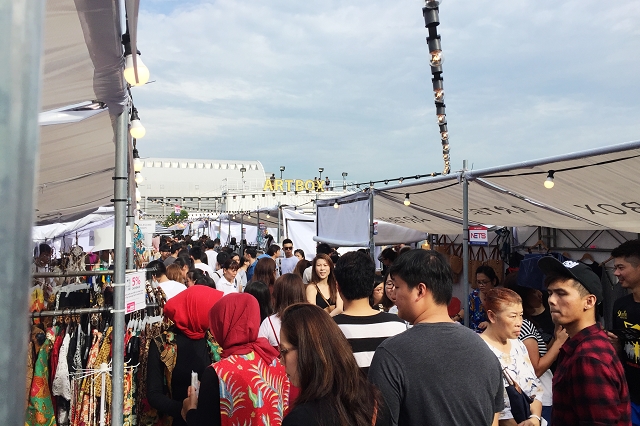 We walked around the shopping rows and after awhile we decided to stick to the things we wanted to buy or try. For Ann and I there were only 2 things we wanted to get.
One was the colouful, hipster and instagram worthy Talad Drink and for Ann would be the Thai Banana Pancake to reminisce our Thailand adventures. 😛
If you guessed correctly, the Talad Drink stall which sells concoctions like the colourful Mermaid Tears $5 – a blue lagoon drink with kiwi and lime has the longest queue in the whole entire Artbox!
It was the same for the Thai Pancake stall although with a slightly shorter queue but we decided to give them both a pass. Even the kebab stall had a huge following that day.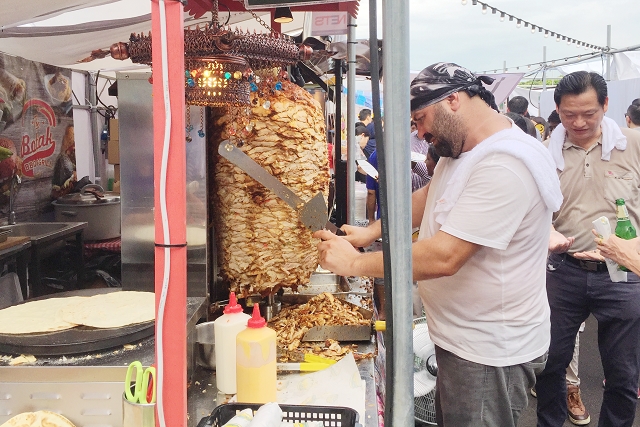 While we did not get the stuff that we were after, we were quite amazed by the reception of Artbox. This goes to show that Singaporeans do love their Pasar Malams and we should have more of these kinds of attractions in the City as well as Orchard Road.
Maybe we could even bring it indoors in Marina Bay Sands Convention Centre too.
What say you Artbox?
Please follow and like us: