Explore The Land of The Rising Sun with JapanCampers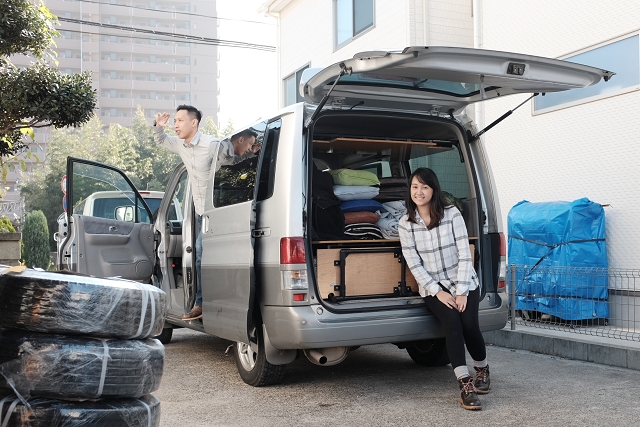 Ann and I recently did a winter road trip in the land of the rising sun and we did it in style with a Campervan. Ann has been planning this Japan road trip for months and last December, we finally made it happen.
We booked our Campervan early in the year with JapanCampers and managed to get a great discount for early booking. As it was still in the low season for travel, JapanCampers was very kind to upgrade us to a bigger vehicle, a Mazda Bongo instead of the smaller Daihatsu Atrai.
Our friends and family have been asking us about our trip and so here is a blog post about our Japan Campervan.
Why did we book with JapanCampers?
One of the reasons we booked with JapanCampers, is because they are located in Narita, which is one train station away from the Narita International Airport. They provide free pick up at the train station too. 🙂
The company is run by expatriates as well as locals. All their staff speaks fluent English and all details in the rental contract are in English.
They have a guesthouse at their office premises, where you can stay a night in case of jet lag, before embarking on your Japan Campervan adventure. Do check for availability if you decide to crash for a night.
Once you have decided, there is a low booking deposit of only 20,000 Yen to confirm your vehicle.
Items Provided in the Campervan
Every Campervan has a dual battery system. One for the vehicle and the other to run our smartphones, cameras and etc via USB ports. We had no worries about not having any power to run our technology and equipment.
A fridge is provided for us to keep our food fresh and our sodas cool. However, Ann and I didn't use it at all.
Portable speakers for your music and aural needs.
Portable LED lights.
All around curtains for privacy and keeping lights out.
A portable gas stove, kettle, crockery and cutleries are provided if you want to cook your own meals. Again, Ann and I did not use it at all, as we were stuffing our faces with delicious Japanese cuisine everywhere we go.
Plastic Water tank + hand bowl, which we didn't use either.
An Ipad with mobile data to navigate Japan with Google maps. JapanCampers also installed apps where we can find free Parking/Camping spots. Our favourite is the 'Onsen app'- it shows over 3000 Onsens and Public Bathhouses scattered throughout Japan.
Parking heaters are installed in the van to keep us comfy during the cold winter nights in the mountains.
Japanese futon/mattress is provided with comfy pillows and sheets. Additional sleeping bags are also provided for extra warmth. This is how our set up looks like every night. We did not even change the set up throughout our whole Campervan adventure.
There is storage available below the bed to store our backpacks, crockery, picnic table and chairs.
Optional Rental Items Available
Portable toilet

Vehicle child seat 

Ski & Snowboard Rack

Bicycle carrier

Backdoor tent 
Ann and I were very surprised that our Japan Campervan was very comfortable. In fact, we had the best sleep throughout our Japan Campervan Adventure.
We were planning to stay in hotels for parts of the trip in case it gets uncomfortable. Fortunately, JapanCampers have planned the set up very well and provided us with all the equipment and items we need to make our Japan road- trip a very enjoyable one. So we didn't check into any hotels.
You can head to their website at www.japancampers.com for more info. Always ask for available discounts or upgrades. 🙂
Stay tuned for more of our Japan Campervan Roadtrip stories.
Stay Safe and Happy Travels!
Please follow and like us: