International Champions Cup Singapore 2017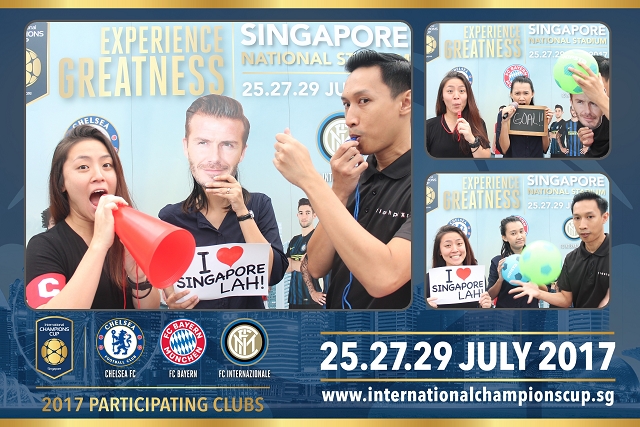 We were very busy the past few weekends as we were involved in the International Champions Cup activation event held at Clarke Quay as well as South Beach to promote the 3 day football event right here in Singapore.
The 3 teams participating this year would be Chelsea FC, FC Bayern and FC Internazionale held at the National Stadium on 25, 27 and 29 July.
To create awareness for the 3 day event, multiple activities were held throughout Singapore. We provided our Photobooth for the event and we had tons of fun with the guests at our booth. Guests were treated to unlimited Photobooth print outs as well as instant upload to their email for their Social Media accounts.
There were also 1 on 1 football matches, complimentary foosball games as well as a FIFA 17 Gaming tournaments held throughout the island.
Tickets to the matches starts from $25 – $188.
They can be purchased HERE!
GENERAL SALES
START DATE: 30 MARCH 2017
10:00AM onwards across all channels

Match 1
25 July 2017: Chelsea FC vs FC Bayern
Kick Off Time: 7:35PM

Match 2
27 July 2017: FC Bayern vs FC Internazionale
Kick Off Time: 7:35PM

Match 3
29 July 2017: Chelsea FC vs FC Internazionale
Kick Off Time: 7:35PM
Please follow and like us: