Jaipur: The Land of Maharajahs
For the love of India, Shahrom and I decided to visit Rajasthan located in the Northern State. Since the school holiday is nearing, I was searching through for cheap tickets. Stumbled upon Flyscoot's awesome deal to Jaipur, I quickly purchased the tickets and off to the land of Maharajahs in December.
This time, the intention of this trip is to learn more about the history of the land and also staying in heritage hotels. I was a history student during high school and I loved the subject very much. As for Shahrom he was inspired by Steve McCurry's work.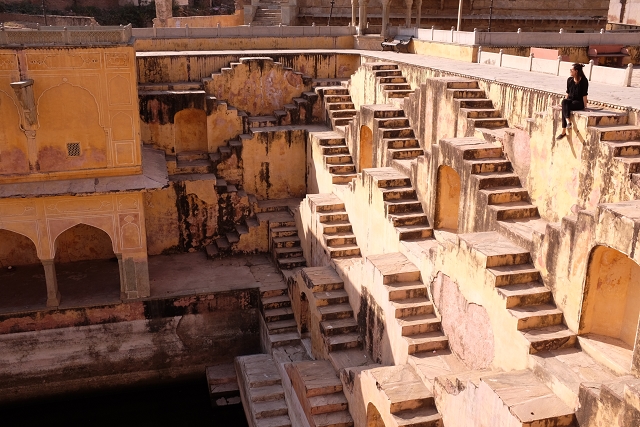 Jaipur also known as The Pink City; was founded in 1727 AD by Maharaja Sawai Jai Singh II. Due to its rich historical background and tales of valor-forts, palaces and architectural marvels can be seen throughout the country. The country was ruled by several empires such as The Rajputs, The Mughals and even colonized by the British. So the wonderful history is beautifully translated in its architectures and people.
Tip: The best time to visit Jaipur is from early November to February as it is winter. The weather is perfect for sight seeing.
Umaid Mahal Heritage Hotel
Upon arrival in Jaipur International Airport, we were picked up via airport transfer by the hotel staff. The communication with the Umaid Mahal's staff were very efficient. They were very helpful and reply to our request promptly. The moment our car arrived at the hotel, we were so delighted to be welcomed by an intricate and beautiful door! Yes, a door! It was so perfect that we couldn't stop taking photos with it.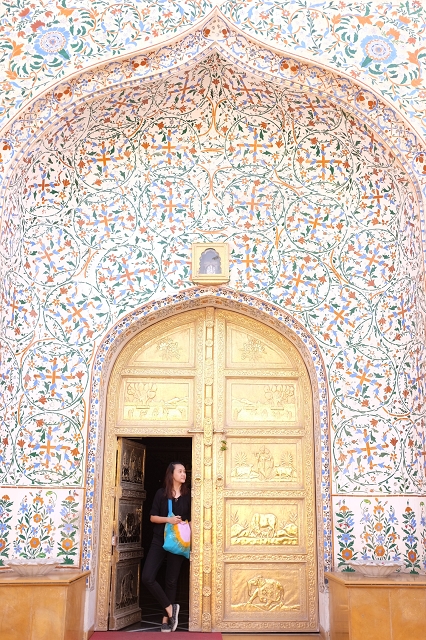 When we stepped foot into the hotel, everything about it was perfect! From the decoration to its cleanliness, the property was really up to standard. Even though the hotel is small, the noise was well controlled. As for breakfast there are lots variety and we loved their crispy dosa and vadai. 😛 The room, everything you need is included. There are WiFi, and cable tv with lots of channels, if you decide to stay in for a night.
Everything about this hotel is great. We have no complains and would love to stay again, if given the opportunity. 🙂
Address: Umaid Mahal Heritage Hotel
C-20 / B-2 Bihari Marg, Jai Singh Highway, Opp. Lane of K.P. Automotives, Bani Park, Jaipur – 302016, Rajasthan (India)
Tip: Take Uber instead of Airport transfer. It is way cheaper.
Amber Fort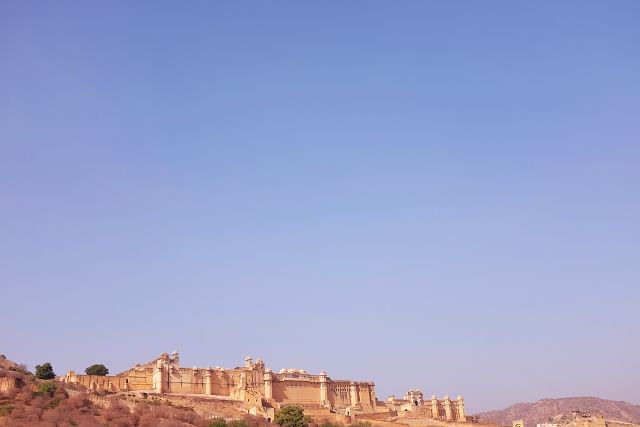 Amber Fort is located on top of a hill, 11 km from Jaipur city. This former palace was once a residential area for Rajput Maharajah and his twelve wives. Despite being constructed with red sandstone and white marble, the sturdiness of this masculine facade is seamlessly integrated with functionality.
As electricity was non existent and resources were scarce, the palace was critically planned with detailed walls that promotes air ventilation, bright lighting and ambiance for both night and day.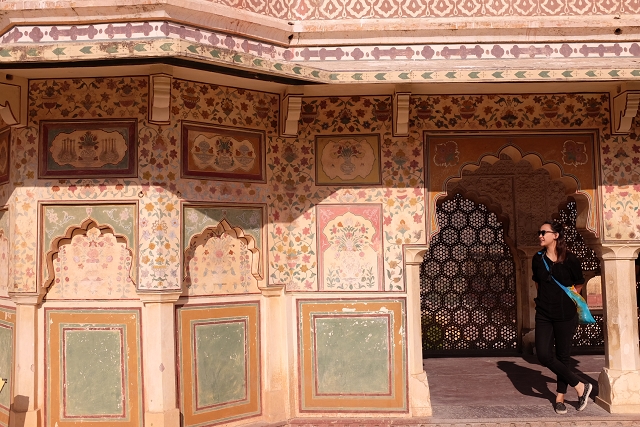 Do take some time and explore the wonders of ancient architecture and its genius functionality.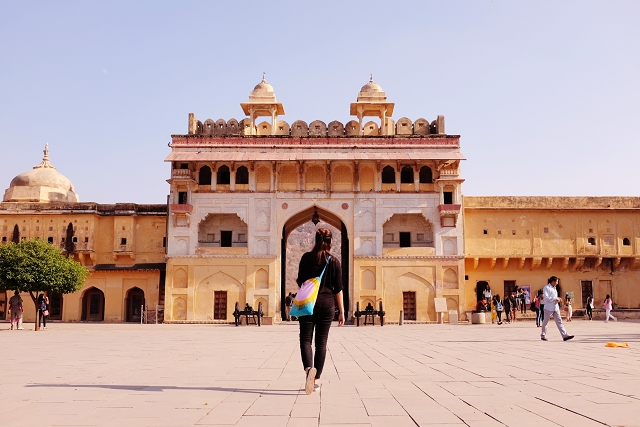 Tip: Hire a tour guide to learn more about the palace.
Address: Devisinghpura, Amer, Jaipur, Rajasthan 302001, India
Panna Meena ka Kund (Amber Stepwell)
Shahrom and I have always been intrigued about stepwells. We were so excited when we got there. The feeling was surreal and the beauty of the stepwell truly blew us away. There are lots of stepwells around India, these stepwells function as a reservoir during rainy season and also a community pool during summer. The steps surrounding the area is an access into and out of the well.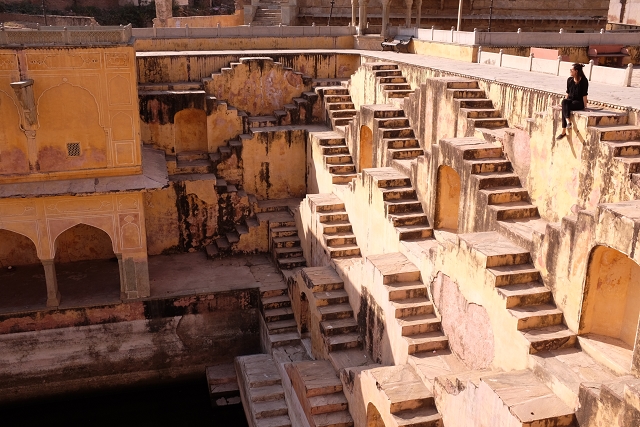 Tip: Take lots of pictures and it will be a memorable hipster photo you will ever get. 😛
Address: Near Amber Fort, Jaipur, India
Jal Mahal (The Water Palace)
Jal Mahal is situated along Amber Fort Road. We stopped by Jal Mahal after our visit to Amber Fort. The majestic water palace was peacefully floating on the lake and the view was serene. However, there wasn't anything much to do at Jal Mahal as the palace was inaccessible but there are a lot of street vendors, where you can dress up in Rajasthani costume and get your photos taken.
Address: Jal Mahal Amer Road | Amber Fort Road, Jaipur, Rajasthan, Jaipur 302002, India
Choki Dhani
Choki Dhani is an ethnic village that promotes Rajasthani food and culture. We decided to visit the village to experience the colourful and beautiful Rajasthani village life. The place is located away from the hustle and bustle of city and it took us about 45 minutes drive from the city center. Upon reaching the reception, a great welcome by the staff which something you will not miss.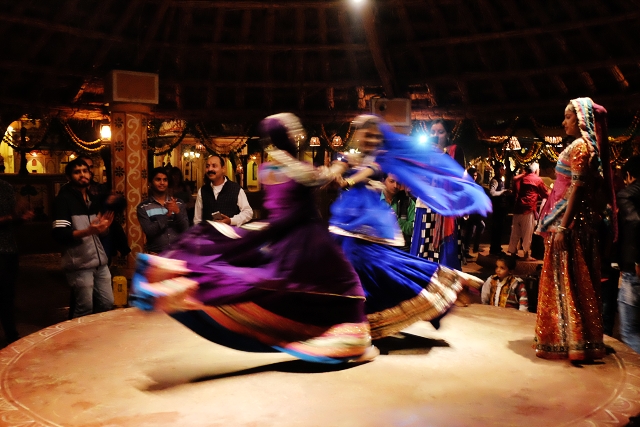 As we were there during the peak season, Choki Dhani was filled with both international and local tourists. We purchased a Rajasthani vegetarian meal at 1,000 rupees and our tummy was fully taken care of. The meal consists of mains and desserts.
We dined in at Sangri Dining Hall, where food was served on a leaf platter. Honestly, we don't even know what we were eating. The food is not something our palate are used to but the experience was truly memorable. We highly recommend this place!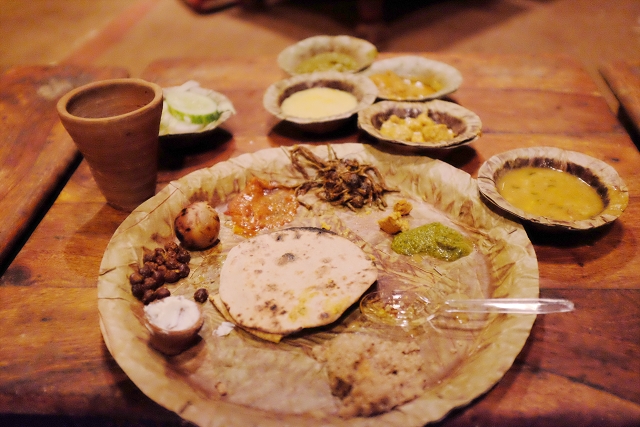 Besides dining, there are a lot of other activities that can be found in this village. Activities such as camel, horse, elephant and bullock cart rides are available for both young and old. Live entertainment; folklore dance, magic show, henna art and even museum to showcase their culture.
Tip: It opens during dinner time, to be able to enjoy all activity, be there early. 🙂
Address: Chokhi Dhani Village, 12 Miles Tonk Road, Via Vatika Jaipur, Rajasthan
Amer Safari
Jaipur is not all about forts and palaces. Since we still have time to play around, Shahrom and I decided to grab this opportunity to go on a safari. It was one of the best decision of our trip.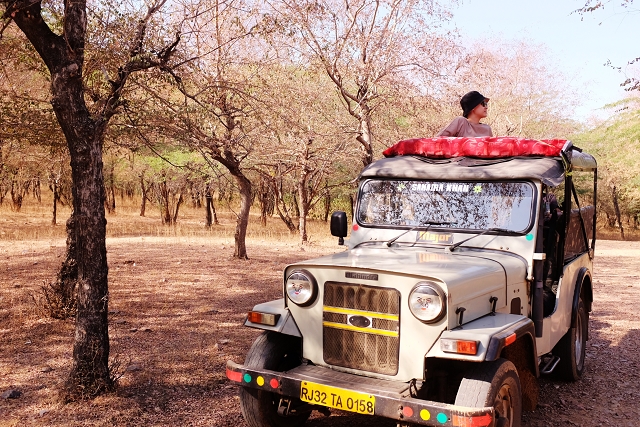 We started our journey at 9 am and the guys (Waseem and his team) from Amer Jeep Safari, fetched us from the hotel in a Mahindra Thar Jeep. We finally got a chance to sit on an open top safari jeep! The ride was fun and bumpy. To get to the safari, we rode through the alleys of Jaipur, immersing in the sights and smell of authentic Jaipur. It was amazing!

Hunting was considered as a royalty hobby so the king and his people built watching towers to watch the movement of the animals. To fulfill this masculine hobby, the king will head down to the safari which is located near Amber Fort. We were given the opportunity to visit the abandoned watch towers and the panoramic view from the top is breathtaking.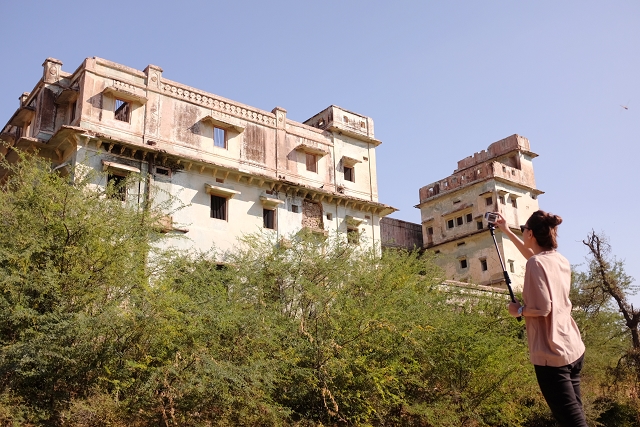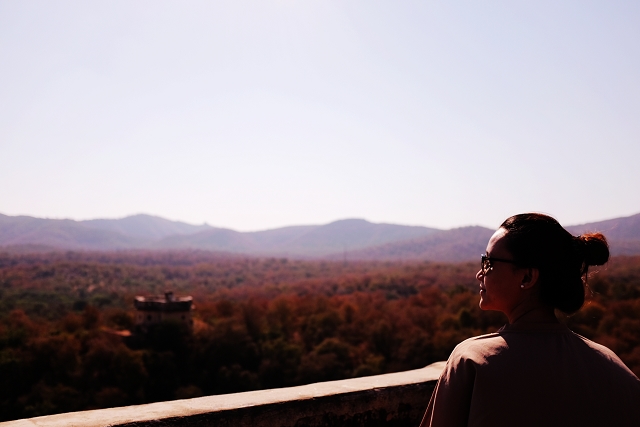 Waseem and his team brought us to a rural village where we get to soak up in the local's lifestyle. Since we went on this tour on a Sunday, we were given the chance to play cricket with the boys. Also, we drove by a village to give out some pens and candies to the children. Shahrom and I never felt so blessed… 🙂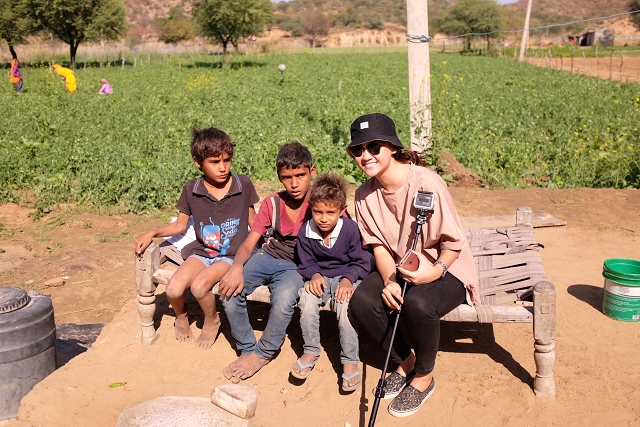 Well this tour is not all about seeing the animals in the safari because having to see one depends on your luck. Even though we didn't get to see lots of them, we managed to catch a herd of blue cows, deers and water buffaloes. Oh! We do get to see Bengal tigers and lions too.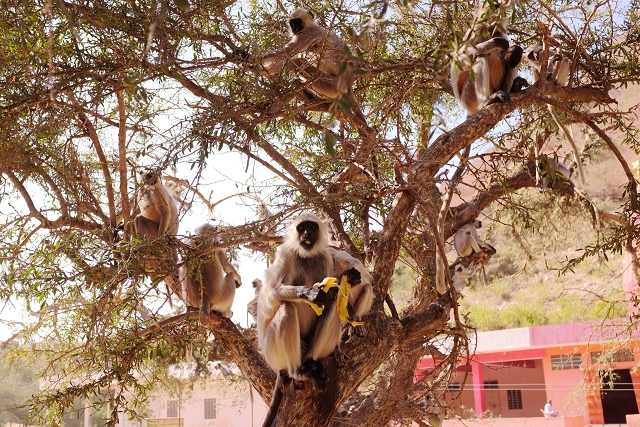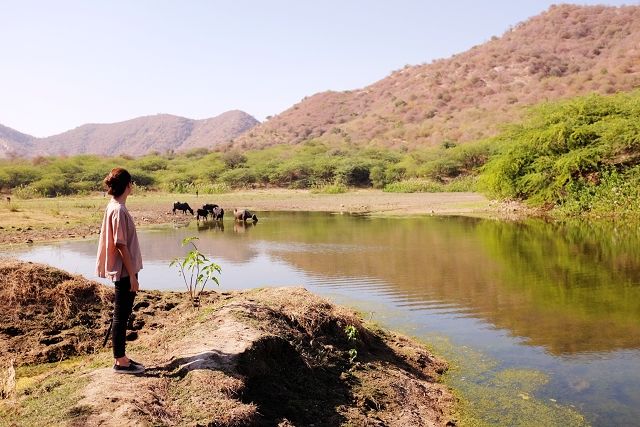 To end up our tour, Waseem brought us to a monkey temple where we get to feed the monkeys and cows. I was so terrified of them that I just stood at a corner watching. But this experience that Waseem has given us, will always be remembered for a long long time.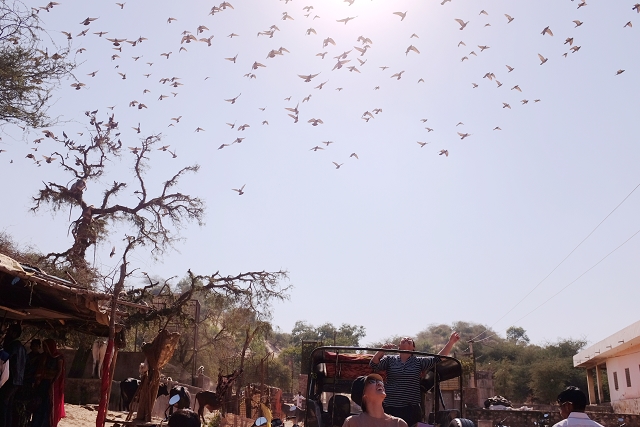 Tip: Start the day early to witness feeding. (There are no zookeepers to feed them.) 🙂
Address: Nahargarh Biological Park – Sisiyawas, Jaipur 302028, India
Pottery – Clay Botik
I have been wanting to try out pottery for the longest time. Since we are in the land of craftsmen and artists, I googled for a place where I can learn pottery. This is my first time having a go in pottery. I was very excited! The cool and soft touch of the clay simply makes me happy. Pottery isn't as easy as it looks. The gentle movement of the hands and the speed of wheel needs to be in sync. Pottery isn't something you can master overnight as it needs lots of patience and practice.
Deeksha the pottery studio owner, is very patient and helpful in explaining the techniques of pottery. Her home cum pottery studio is very well equipped and decorated. I would recommend anyone to visit Deeksha, if you would like to learn the basics of pottery. She also organizes a 7 day workshop to anyone who is interested.
Tip: Book the session in advance.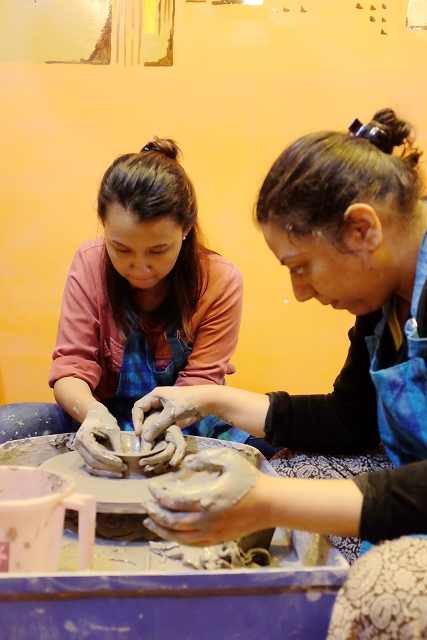 Address:Clay Botik – Pottery & Ceramics Studio
29, Panchsheel Encalve, Near Hotel Clark's Amer, J L N Marg, Jaipur, Rajasthan, 302018
Agra
We hired a taxi to drive us from Jaipur to Agra. Well according to Google Maps the distance is about 242 km which will take us about 4 hours. But it took us at least 8 hours on the road, including stops to eat and sight see. Actually our main intention to Agra is to visit the renowned Taj Mahal but along the way our driver brought us to an unknown palace (to us), Fatehpur Sikri. This majestic palace situated on an elevation simply blew us away. It was beautiful!
Fatehpur Sikri
Fatehpur Sikri is established as a 'Victory City', which was built by Emperor Akbar in the 16th century. It was the capital city for the Mughal Empire. The intricate monuments was built with the influence of Persian architecture style.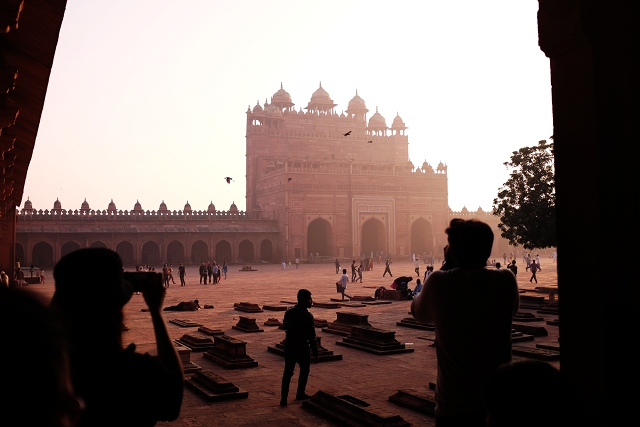 Apart for its sturdy and everlasting facade, many flock to Fatehpur Sikri to visit the tomb of Sakih Salim Chisti. Salim Chisti was known to bless Emperor Akbar with three sons. Till today, believers seek blessings and fulfillment of the saint of their wishes. It is believed that tying a thread on the marble screens of the main tomb building serves as a remembrance to the saint of their wishes. This tomb is known for Child Birth Blessing.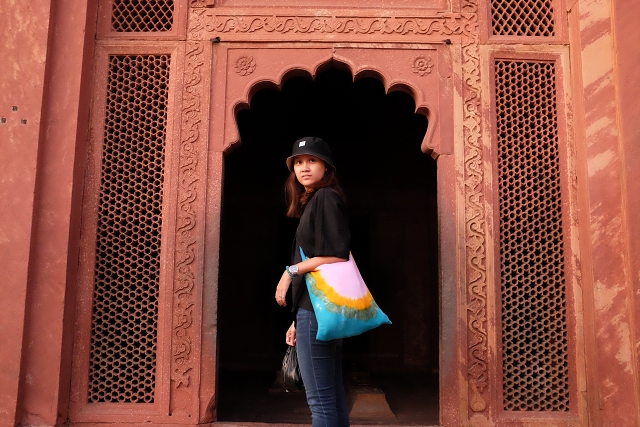 Tip: Get ready small notes to pay the electric scooter rider as cars are not allowed in the premises.
Address: Get a driver. 🙂
Uttar Pradesh, Agra
The Grand Imperial, Agra
As our journey to Agra took us almost half a day. We decided to stay in Agra for a night. To continue our plan in staying in heritage hotel, we booked a room at The Grand Imperial. We were lucky and got upgraded to a suite! The facade of the hotel is of European colonial architecture. The rooms are named after emperors and empresses of India. We felt like Royalty!
Address: The Grand Imperial Heritage Hotel 
32/107a Mahatma Gandhi Road, Opposite Dm Bunglow, Agra 282001, India
Taj Mahal- Crown of the Palace
Finally the long awaited destination which I have been looking forward to. The white paradise Taj Mahal! When we arrived, the fog was in our way so we couldn't see the picturesque Taj from the main entrance (just like the Instagram photos, we have been stalking). But that didn't kill our vibe.
The Paradise of Taj Mahal was built to commemorate the love of Shah Jahan for his beloved wife, Mumtaz Mahal. This magnificent mausoleum was built with white marble, precious and semi precious stones. These elements compliment each other which glows into a beautiful paradise on full moon!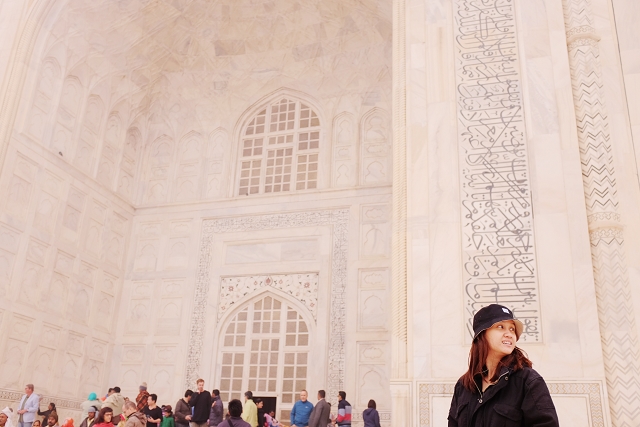 The uniqueness of Taj Mahal lies on architects and horticulture planners. The mausoleum is built symmetrically and the four minarets surrounding it provides a three dimensional effect to the building. While walking along the garden that leads to the mausoleum, fruit trees are grown to represent paradise in afterlife. Shahrom and I felt so loved! To be able to visit a love monument, makes our hearts flutter… 🙂
Tip: Avoid eye contact while walking into Taj Mahal, as there will be a lot of hagglers.
Tip: No bags are allowed in the premise, only water bottles and camera. So leave it with your driver and be sure to zip all your pockets!
Fun Fact: Shah Jahan did not cut the fingers of his craftsmen after the completion of Taj Mahal. We verified it with our tour guide. It is a myth! 🙂
Address: Dharmapuri, Forest Colony, Tajganj, Agra, Uttar Pradesh 282001, India
We managed to squeeze lots of activities and maximize our time in Jaipur. This trip has serves us a reminder that simple things such as kite flying, pens and candies can make a difference in one's life. Give Jaipur a visit and we are sure its history, architectural landscape, people and culture will be part of your memory for a lifetime.
Please follow and like us: