Leo 3 Smart – Universal Underwater Housing for Smartphone
We were at the Asia Dive Expo (ADEX) over the weekend to catch up with some diving buddies as well as window shopping for diving deals.
This year's ADEX had a better turnout compared to last year and the queue for tickets says it all. There were tons of diving and underwater photography gear promotions but nothing really fancied us until I came across a booth promoting a Universal Underwater Smartphone Housing named Leo 3 Smart.
The underwater housing caught my attention as I have been wanting to get a housing for my cameras but most of the brands I have been looking at are way over my budget as well as not future proof when I upgrade or change cameras.
Introducing the Leo 3 Smart
Leo 3 Smart is probably the world first Universal Underwater Housing for Smartphone that is compatible with all models of smartphones iOS and Android.
It fits all Apple's Iphones, Samsung's Galaxy series and Huawei's P series. It basically can fit any smartphone and if you can't find your smartphone in the list, you can email Easy Dive to request a compatibility test.
The best part about this underwater housing is that it is future proof meaning that if you were to ever change or upgrade your smartphones, this housing will not be a useless paper weight.
Inside, you will find the smartphone removable cover and a battery pack to power the electronics of the housing which we will explain further in detail.
How does it work?
Download the Easy Dive app onto your smartphone
Pair your smartphone to the Leo 3 Smart Housing via Bluetooth
After the successful pairing, your smartphone will work with the Leo 3 Smart via Bluetooth and all function buttons will be activated on the right hand side of the housing instead of touchscreen!
You can change all settings from ISO, white balance to Shutter speeds to suit all your underwater lighting situations. It is waterproof for up to 150 metres and has a Lifetime Warranty.
Included Accessories: Battery Pack 9000 mAh, Short Cable for Smartphones, Kit Lens Fish Eye and Wide angle – Macro, Balls M6, Kit Carbon Arms, Revolution 4000 lumen Led Lamp.
I was truly in awe of this Leo 3 Smart and hinted to Ann to get one for me. Lucky for her it was out of stock on that day. 😛
It retails for €990 and you can get in online at Easy Dive.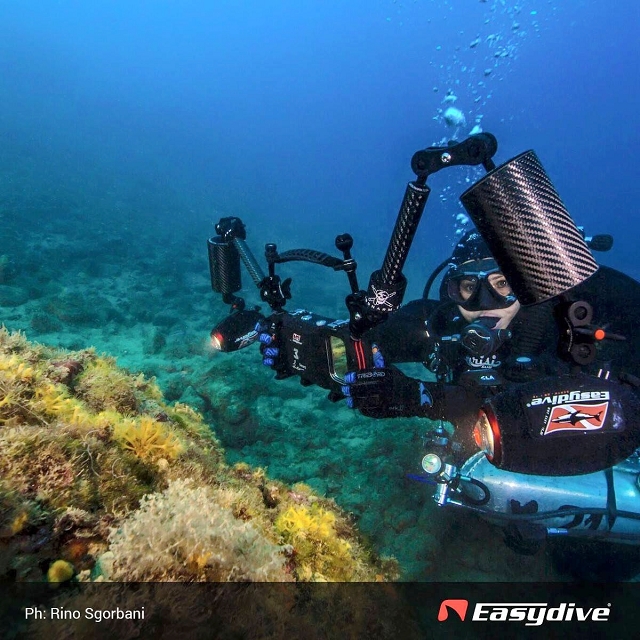 Please follow and like us: