My Epic Motorcycle Road Trip in India
Chennai
One fine afternoon in April 2011, after tons of photography projects completed and cleared, I found myself with loads of free time before my next assignments. Ann was away in Australia for her studies and I was bored. I decided to look up the internet, and TigerAir was having a promotion to India. I have always wanted to go to India, and in that instance, I bought a ticket to Chennai. I applied the necessary Visa, packed my clothes, Leica camera and off I went a few days later. I had no itinerary and no idea what I wanted to do. I had friends who did motorcycle trips in India before and suddenly that lit the bulb in my head.
As soon as I reached the Airport, I headed to the train station, Tirusulam, a walking distance away from the airport.
Tip: Avoid the commotion at the airport where people will try to hawk their taxi services and walk straight to the station.
Tip: Have loads of small change for the train trip. I shoved a big note at the ticket seller and he shoved it back at me. 😛
Indians are very friendly people and I quickly made friends with 2 guys Toofan (pictured) & Rahul at the train station. I asked for directions to Chepauk Stadium (it is where the motorcycle shops are) and they gladly went out of their way to show me.
They guided me around the train routes, and advised me to take a tuk tuk to Chepauk Stadium after disembarking. We exchanged Facebook and we went our separate ways.
As soon as I reached Chepauk Stadium, there were countless motorcycles on sale. I have always wanted to ride a Royal Enfield but it was out of my budget. I requested for the cheapest bike available and they recommended me "Lucy". I kept hearing Lucy but it was actually a Suzuki.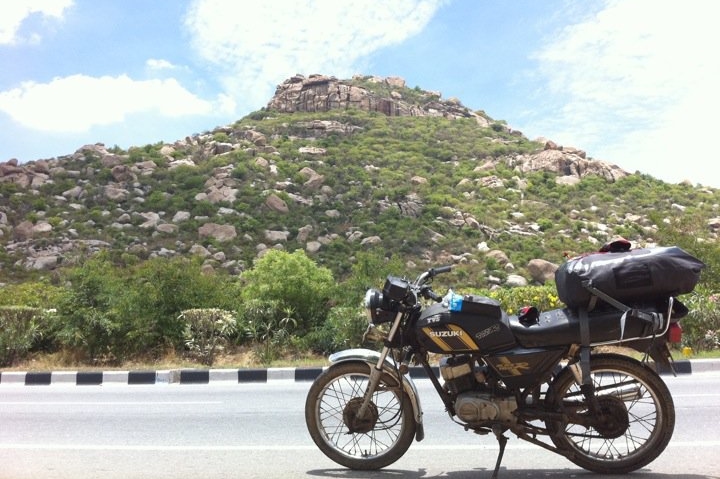 Introducing "Lucy". My Suzuki 110 cc motorcycle I paid $300 for. Tied my bags at the back of the bike and off I went.
Tip: Make sure you have all you motorcycle documents properly checked and keep it in safe and dry folder
Tip: Have a GPS ready. Chennai is a very big city and combined with the traffic, it will take ages to get out of
There I was with a bike and no itinerary. I thought why not just ride the bike and see how far I could go. I opened Google maps, and saw that Goa is on the other side on India more than 900 km away. Heard many beautiful stories of Goa and the hippies lifestyle and I guessed why not. Goa, here I come.
Followed the GPS but some how got myself lost. Found a trucker stop and asked for directions. They asked for a photo. I took out my Leica analog camera (yes I still shoot on film)  and made a shot. I love the way they posed.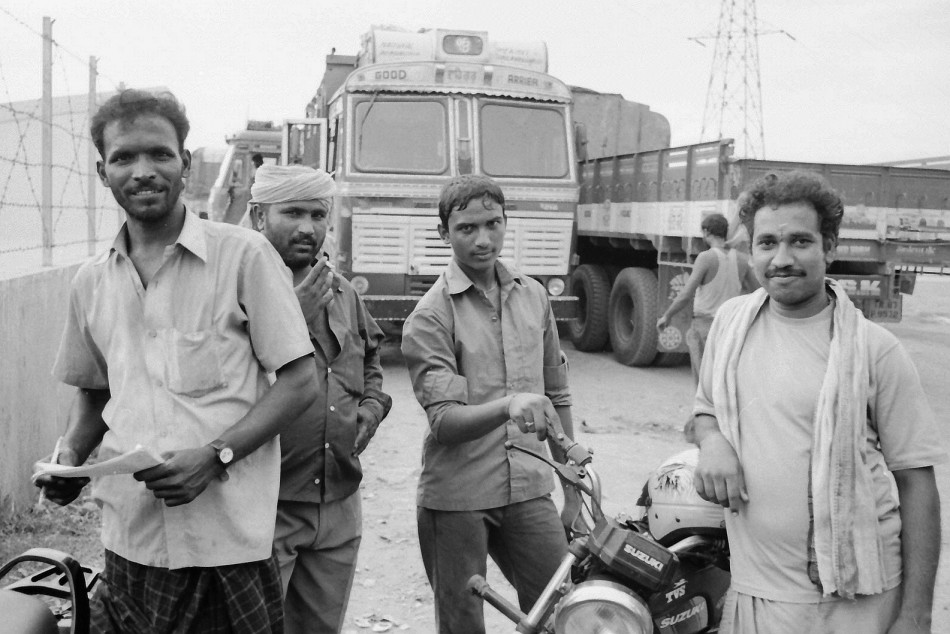 They drew me the correct route and told me via a mix of hand signals to head to Bangalore even though all of them speak no English. I was already very tired by then and night was falling. All these happen in 1 day. I rode a bit more and found a guest house for the night.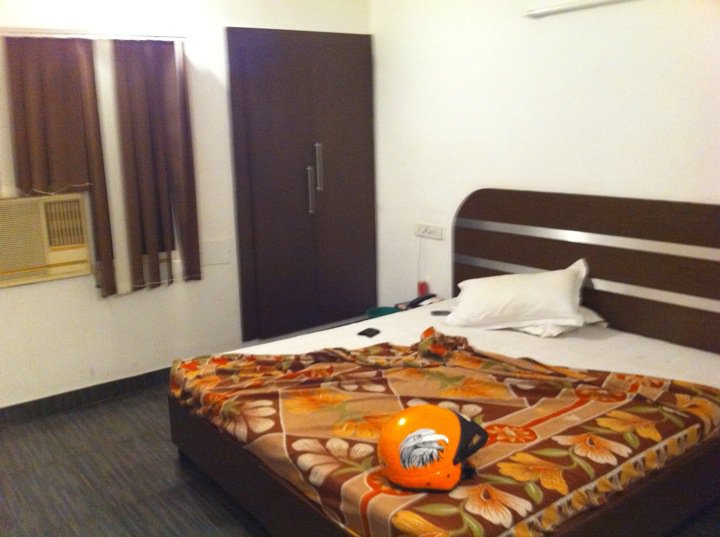 Tip: Restaurants in India are sometimes called Hotels. I entered many hotels, but they don't offer rooms. 😛 Look out for guest houses instead.
Landed like a Fat Starfish on the bed with my bright orange eagle helmet. A weird situation happen next.
As I only have 14 days for this trip, I make sure I start the day early. I woke up and realized it was already 2pm! I rushed to the toilet, washed my face and hurriedly packed my bags. Took a selfie……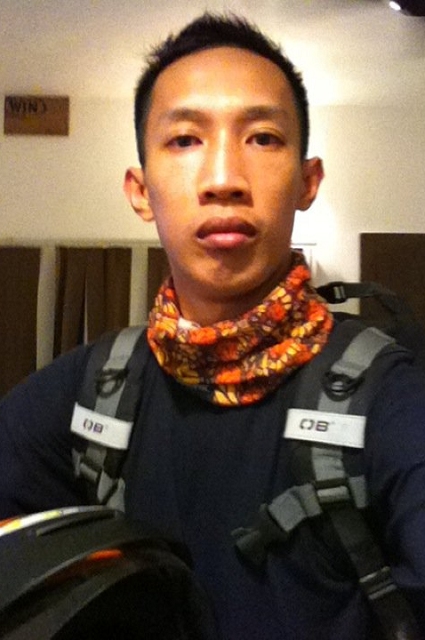 and walked out of the room to the front desk to check out. Only to realise that the sun is not up and it is only 2am!!
Went back to sleep then. Woke up early the next day and continued on my trip.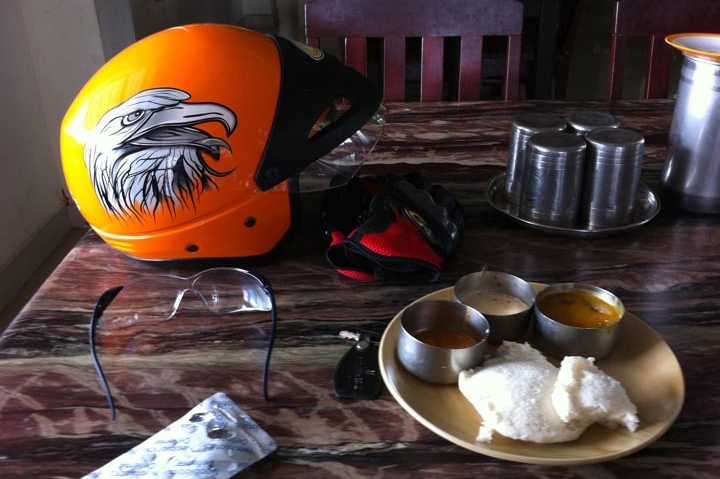 Had a breakfast of idili.
Tip: I always bring along probiotic pills on my trips. The doc says it prevents you from getting travel diarrhoea.
Made my way to Bangalore. On there way you will see interesting road signs.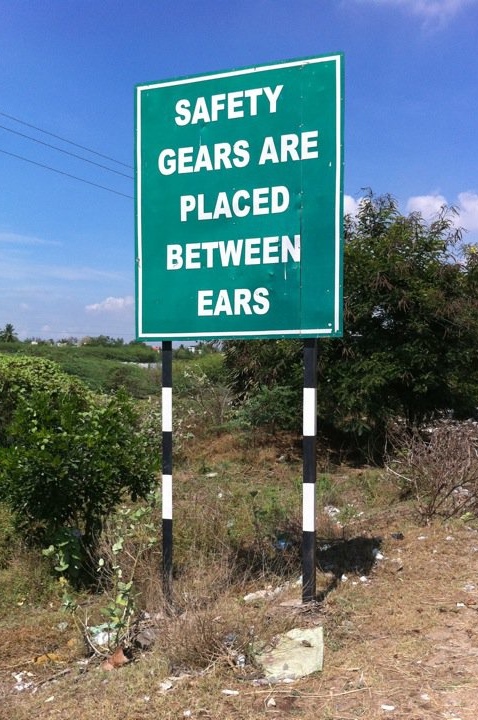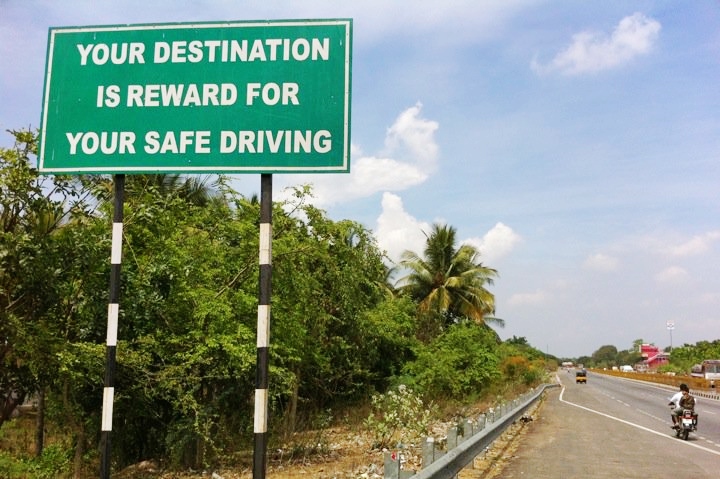 There are too many of them that you can't stop giggling to yourself while riding. Lunch was garlic naan and butter chicken. Indian food have never tasted so good! Mindblasting!
Bangalore
As soon as I was about to reach Bangalore, it began to rain very heavily and the roads became flooded. And the best part was I did not bring any rain gear for this trip. Stopped at a McDonald's, only to realise that the franchise is an all vegetarian restaurant!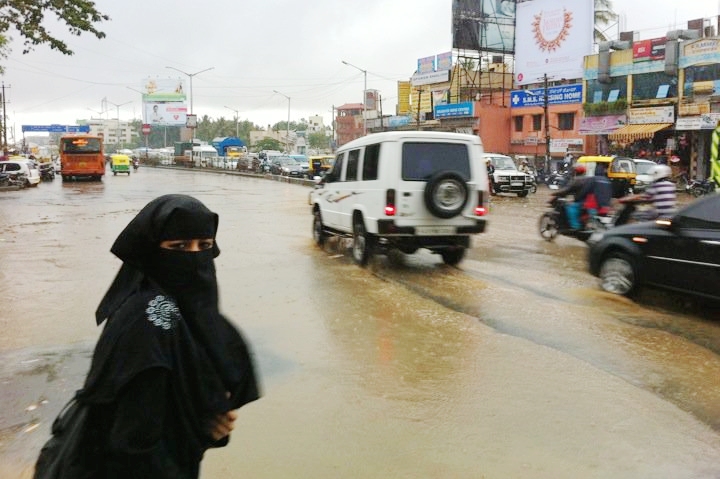 Tip: In India, I realise that if you see an Underpass tunnel for vehicles, avoid at all cost when it rains. The tunnel tends to flood easily and riding a bike through is a struggle.
I reached the fringe of Bangalore about 10 km out. As it was rush hour traffic, even riding a bike to reach the city centre took me about 3 hours!
By the time I reached a hotel, I was already soaking wet. My shoes and socks were wet and my feet look like this.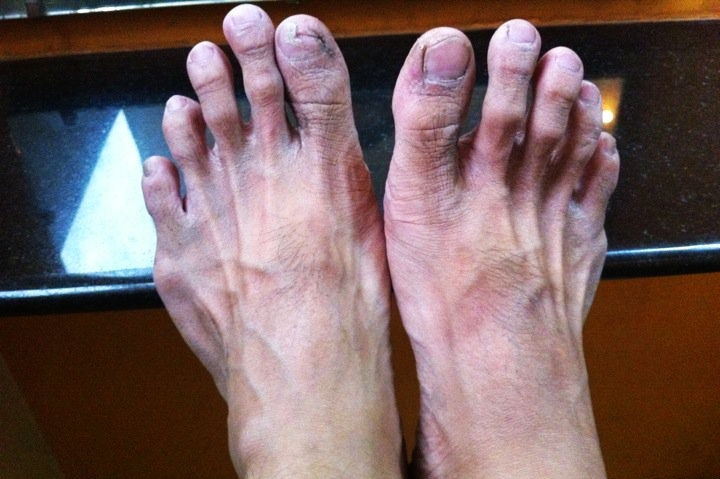 The upside of coming to Bangalore in April is the cool weather. The cooling temperature is so awesome that doing some street photography was a breeze. Decided to stay 2 days here and walked around the city areas. Below are some of my black and white images I made.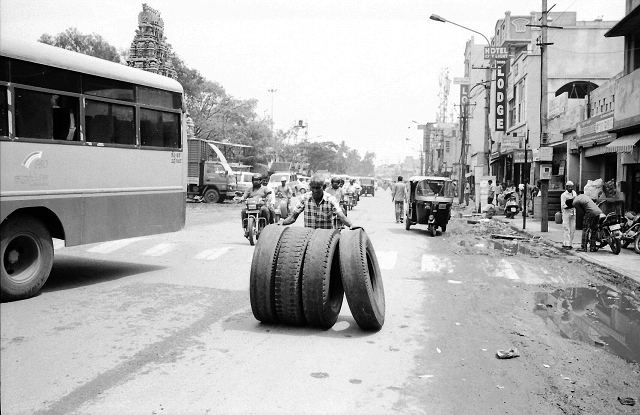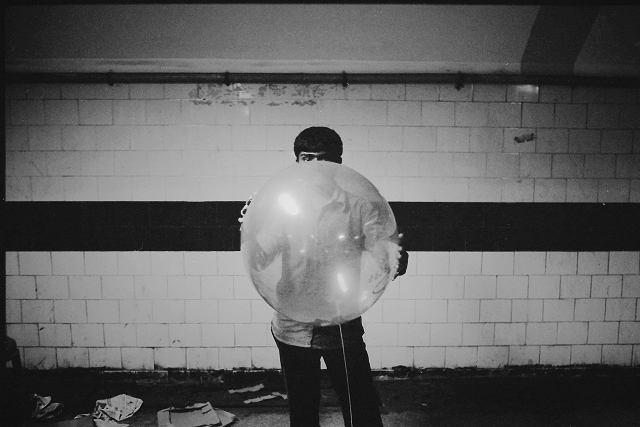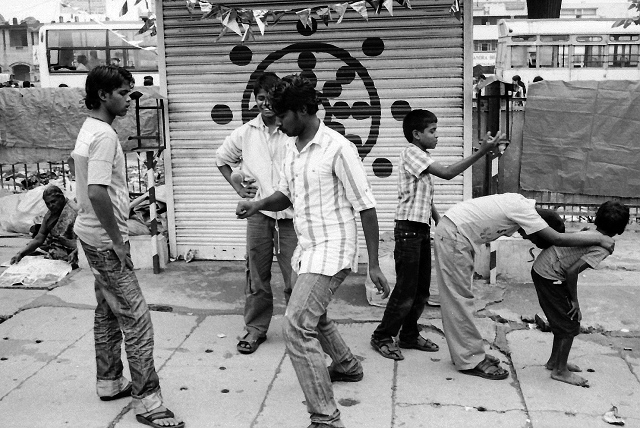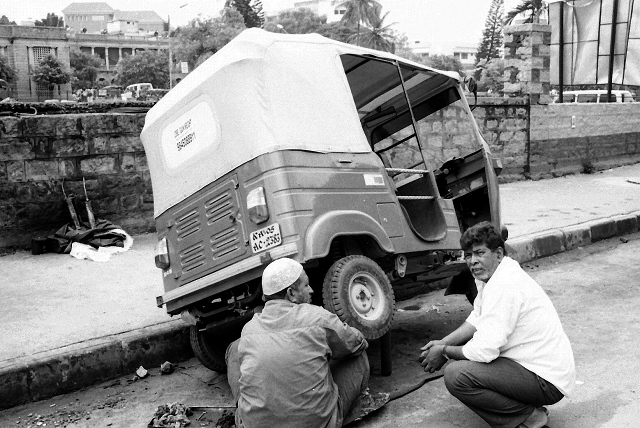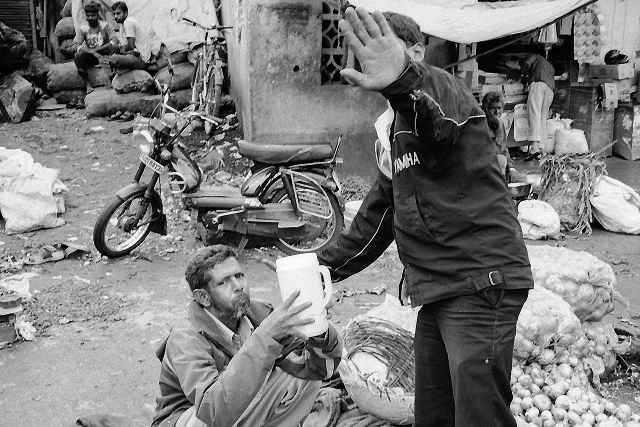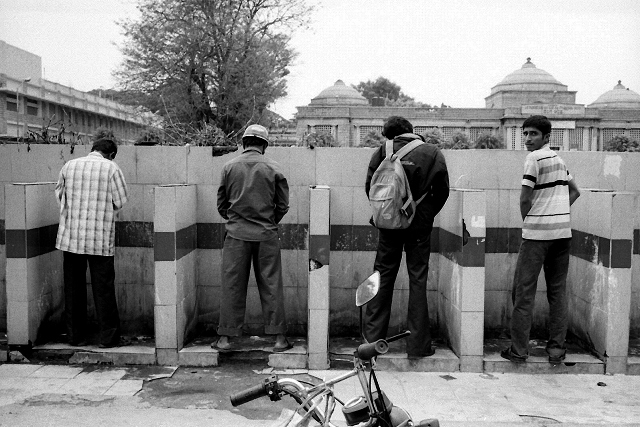 After 2 amazing days in Bangalore, I started the day very early to avoid the city jams and proceed to make my way to Goa. As I was riding, the only route the GPS knows was close for construction. I was making a merry go round until I decided to stop for breakfast at a Dhaba. Had something like cous cous and masala tea and decided to ask for directions.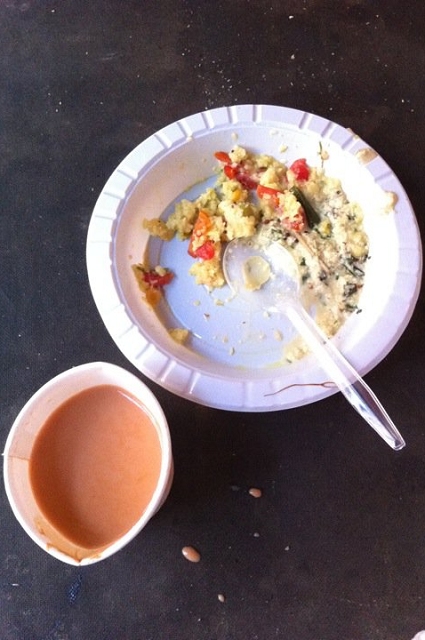 I made friends with 2 brothers Thilak and Rajat. Thilak being very helpful, went up to his house, changed to his riding gear and happily showed me the way out of Bangalore. Forever grateful to these 2 guys and even added them on Facebook.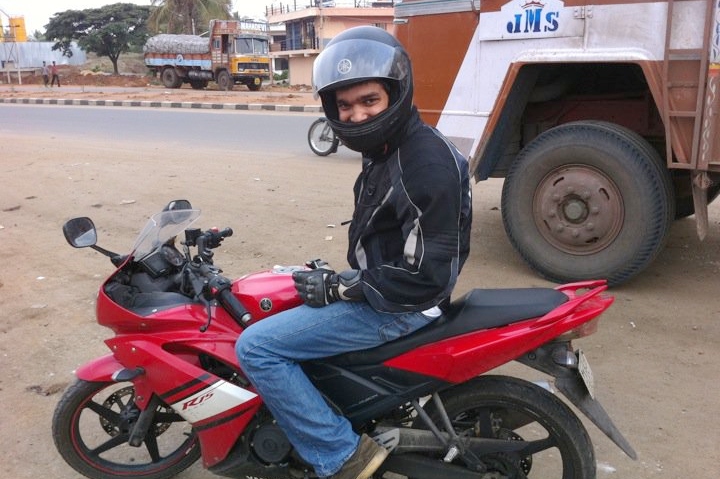 Thilak suggested taking the more scenic coastal route towards Goa via Mangalore and that is where I head to. Along the way, there were countless accidents on the roads. So do stay safe while riding.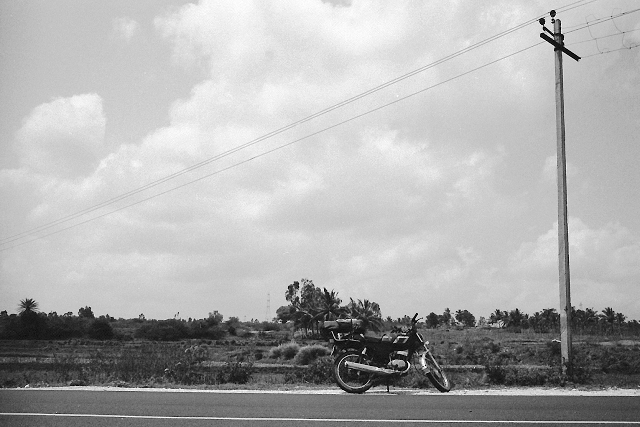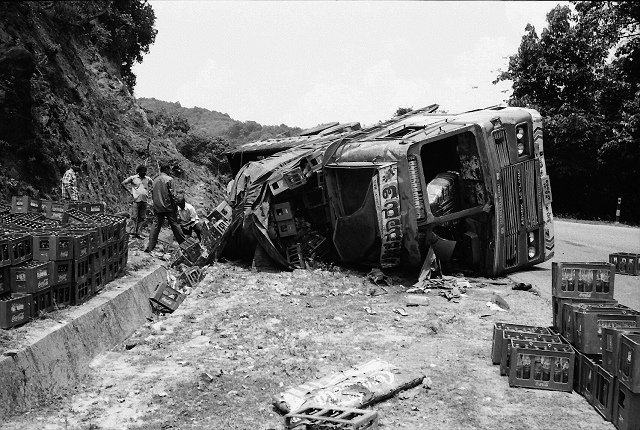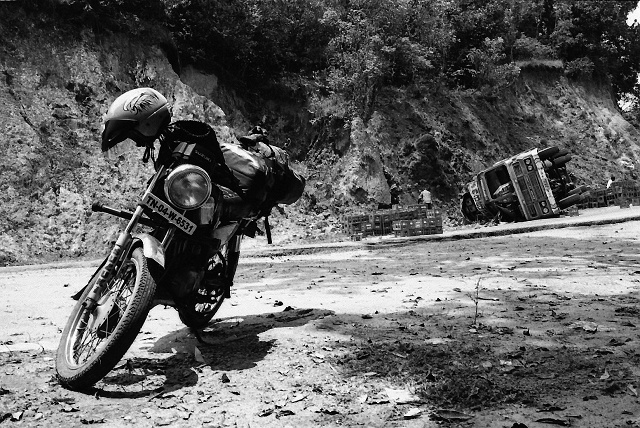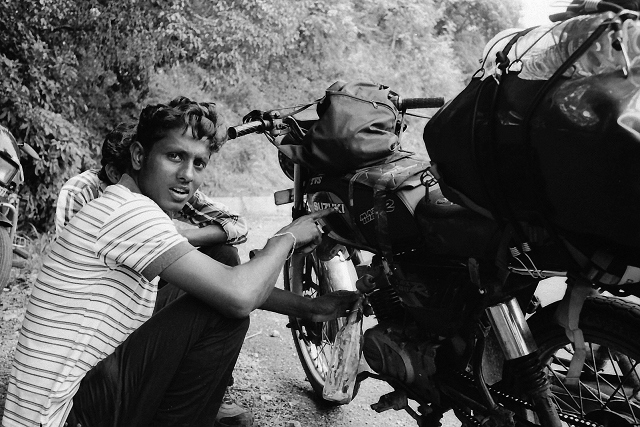 As I received a lot of help from my trip so far, I decided to give back by helping 2 boys who ran out of petrol in the middle of nowhere.
Goa
A day of rest at a guesthouse just outside Mangalore later, I continued my journey towards Goa. If you see a split hill, you are on the right track.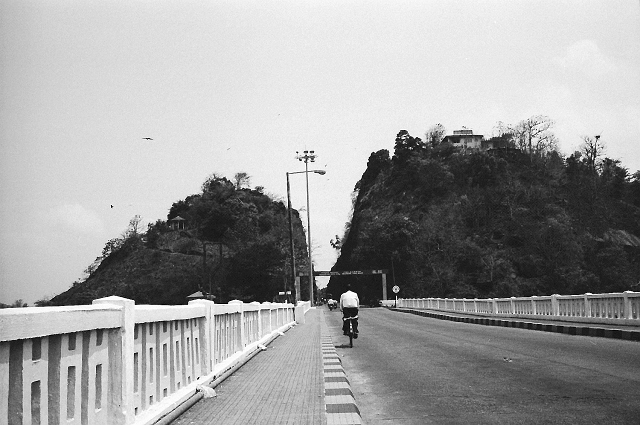 I made my way and passed by south Goa but there were not much things happening there. So I decided to travel further up to North Goa instead. I reached Calangute and after mingling with the local boys there, I realised that it was the low season! Nothing much is happening here but on the upside hotels are cheap. This is what you get for travelling without any plans.
Tip: Even though Goa is a beach destination, the high season is during winter and not summer. The winter is the High season in Goa while in summer is where the monsoon season is.
Goa was like a dead town. Headed to beach for some sun and nothing much was happening there. At least I got the beach to myself.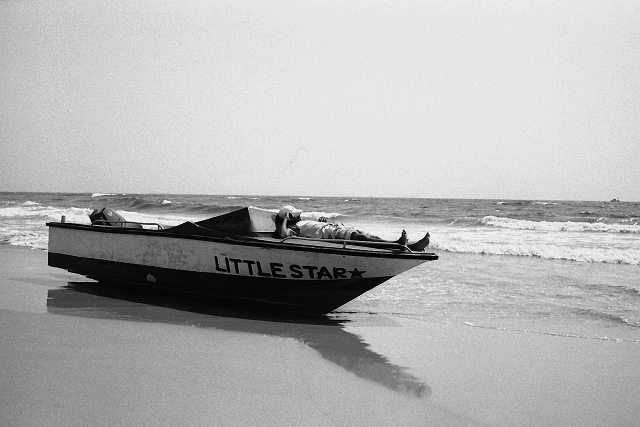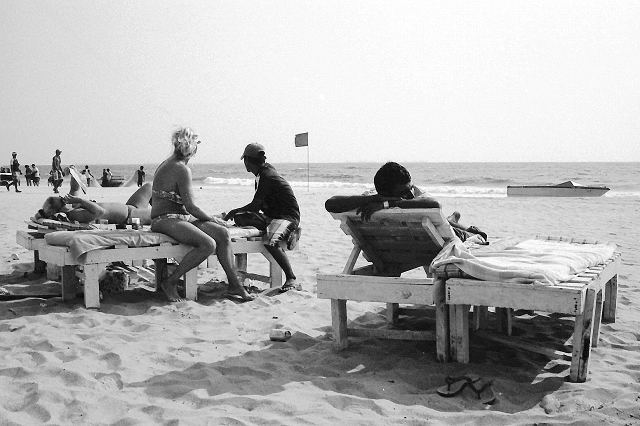 Later in the evening, headed to the party zone but as usual nothing much was happening. Met some locals and Russian travellers for some shisha and a mini party.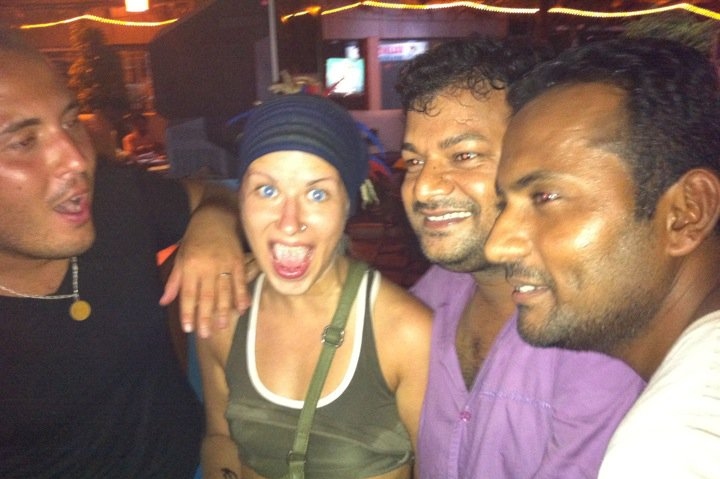 Lucy was starting to give me problems. Met with a mechanic and did some maintenance work.
I headed to Anjuna where the famed flea market was. It was the usual touristy kind of stuff they sell. But I was there to capture a few rolls of film.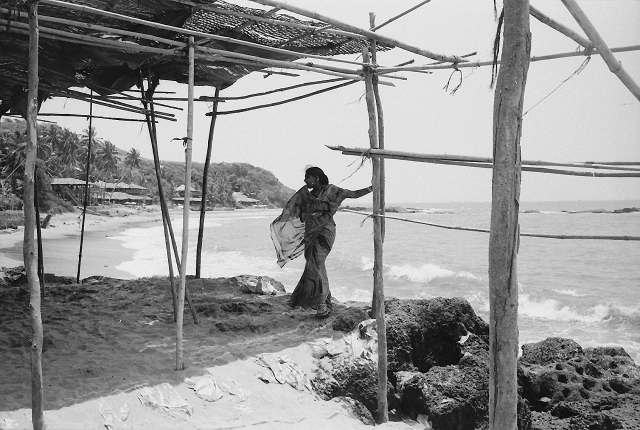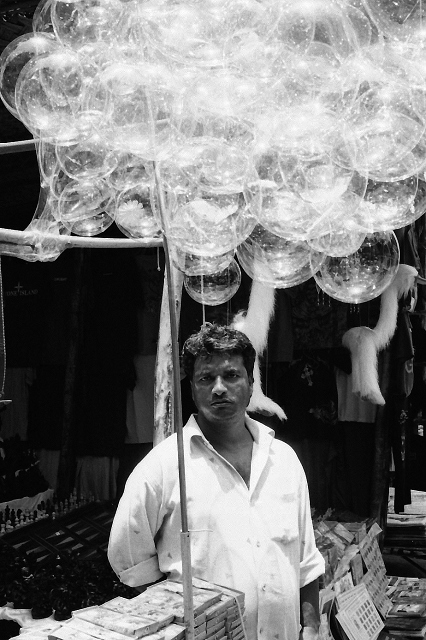 As it was the low season, everything was a bit slow. The weather was really hot and humid too. There was also the occasional shower. I was trying to find the secret hippies party places but I could find none. So I decided to leave the next day.
Pune
I did not know where I wanted to go next. And as I googled for places of interest, Varanasi seems to be like a nice place to visit. I've watched many documentaries on Varanasi and right there and then I decided that I will head to the holiest place in India for the Hindus.
I had breakfast and met a fellow rider, Sunil. He just left his job from the Indian Air Force and was riding around India spreading civic reminder notes to the people he meets. Sunil believes in a better India where people care for one another and have simple civic mindedness like not spitting in public. He printed flyers, and distribute them to the people he meets on the road. I decided to tag along with him for awhile.
We travelled for a few hundred kilometres. With Sunil, I managed to talk to the locals and even get to capture a few photos of them.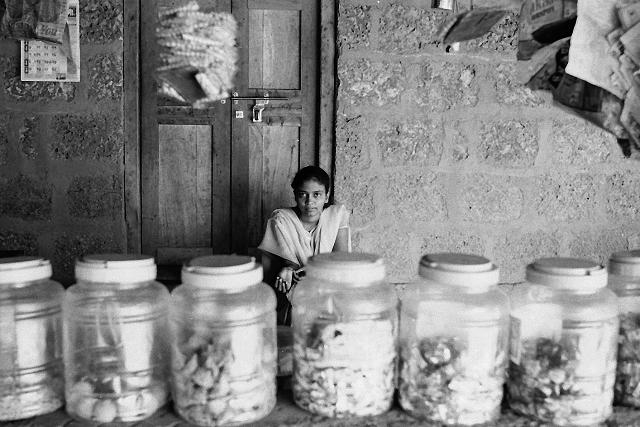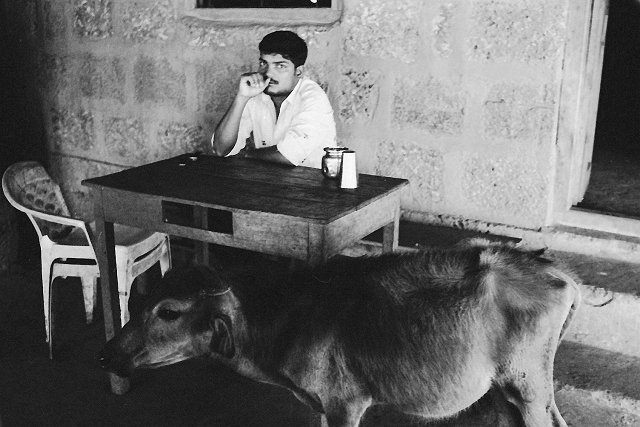 Even though we were on the road most of the time, I managed to talk a lot with Sunil on our breaks. He intends to set up an adventure riding tour agency and I gladly said that I would be his first volunteer. As Sunil was heading to Leh, (he asked me along) I decided that I wanted to see Varanasi. I declined his offer and went our separate ways. We are still in contact via Facebook though.
I continued my ride and as I was entering a town called Chiplun, I had a flat tire. I rode to the nearest mechanic.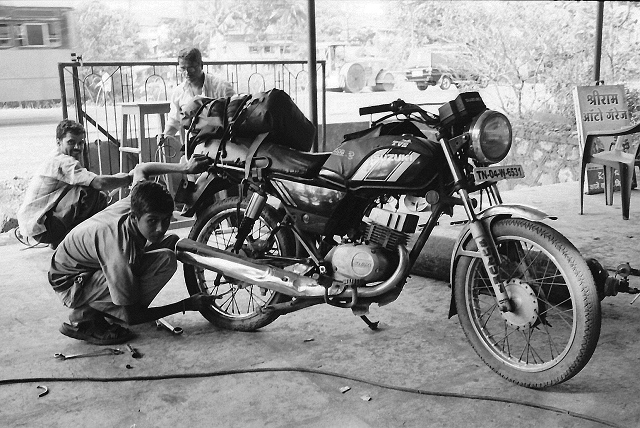 This was the start of my trip when things got weird. As I was sitting, photographing the boy fixing my tire, the owner of the shop called out for me. The round middle aged man asked me whether I would like to sit in his office where there is air con. As it was sweltering outside, I gladly took up his offer. We had small talk and suddenly out of the blue, he asked me whether I like watching porn. I was taken aback but tried to act cool. He then switched on his TV and up came some Indian amateur porn.
I maintained my cool and tried to have small talk with him. He then talked about how he prefers men to women. I knew this was my cue to leave as soon as possible. I left his office, checked my bike and paid. He offered me to stay the night. I told him I got a long journey to make and left. I have nothing against that man. It is just that I never experience this before. Phew…
Tip: Always bring extra petrol jerry cans on your trips.
My "misfortune" did not stop there. As I was half way up a hill ride, just before dusk, I ran out of petrol! It was getting dark. My only option was to push the bike up the hill and that was what I did. A few kms later and buckets of sweat, I reached the top only to be chased by a pack of dogs!! I got on my bike and rolled down the hill without the engine on and a pack of dogs on my trail!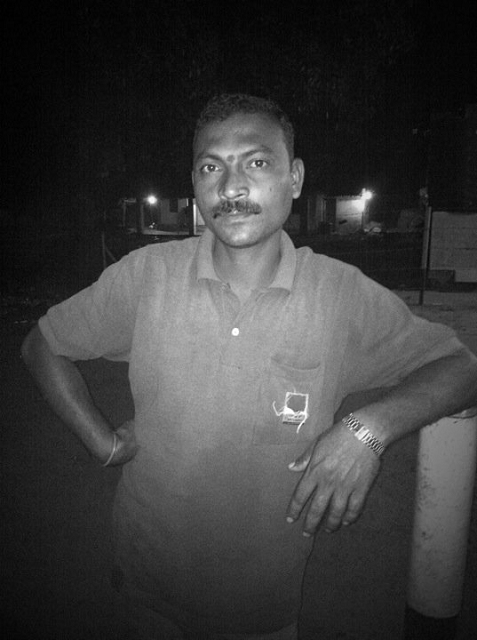 As I reached the foot of the hill safe from the dogs, this was the face I would love to see. The face of a petrol station attendant! Filled up my bike and had dinner. It was one of the most satisfying meal I ever had. And I have not even reach Pune yet.
My misadventure did not stop there. As I continued my journey, I reached an intersection. The sign board says straight ahead to Pune but my GPS tells me to turn right. I asked for directions and the truckers told me to go straight. I followed my instincts and turned right instead.
As it turned out, both ways were correct, however as it was night time, the straight route was the longer flat surface ride and the they one I took was the short cut, but up a mountain!
Tip: Never never ride at night in India.
As I realised this, I decided my strategy was to tail a truck. There was no lights up the mountains and there were jeeps and trucks coming down very fast and tailing a truck was my only option. I rode for a few hours till the very top. And by the time I reached the top, I was worn out. Came across a shack and decided to sleep there for the night.
Woke up the next day by the sounds of trucks and realised I slept at a tea shack. Did not have the best of nights but I woke up to the smell of masala tea. Ordered one and it was the best masala tea I ever had.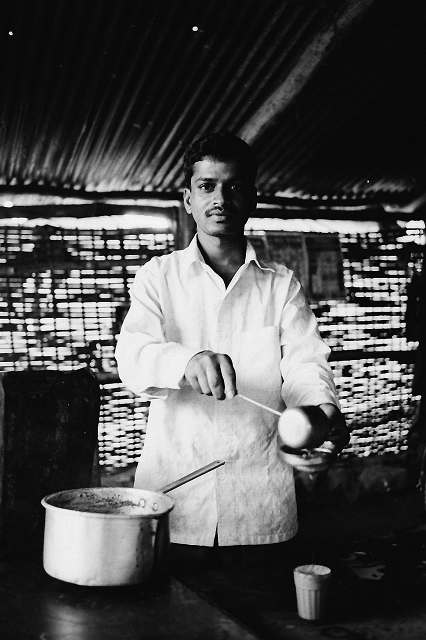 I tried to explain to the man that this was the best tea I ever tasted. The chai wallah explains in broken English that the "best masala tea is one where the milk comes from the back of your house!" And true enough, he brought me to the back of the shack and there was a cow where he gets his milk from!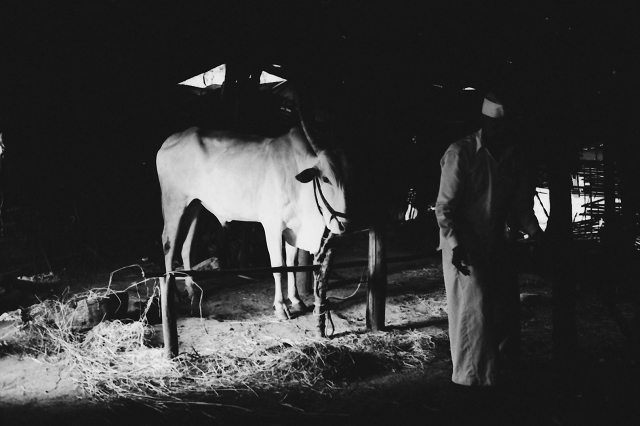 Continued my journey and reached Pune. Checked in to a hotel beside the train station and it was one of the worst rooms I have seen in my lifetime. Everything was dirty that I even put my shoes on the bed. Lucky for me I was only there to bathe. And even so, the bath room was infested with cockroaches.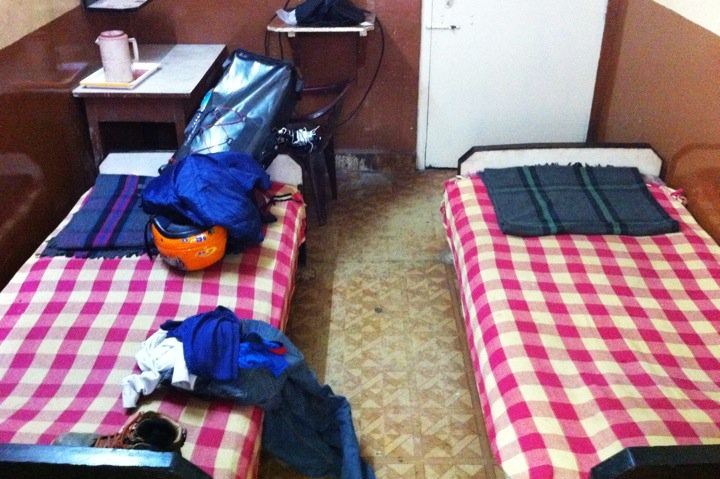 I decided that I was tired from riding and wanted to try taking the famed Indian train to Varanasi. Headed to Pune Junction Railway station but could not get a ticket.
Tip: Plan your journeys. A train ride is always fully booked ahead of time.
Walked around the city instead and took some photos.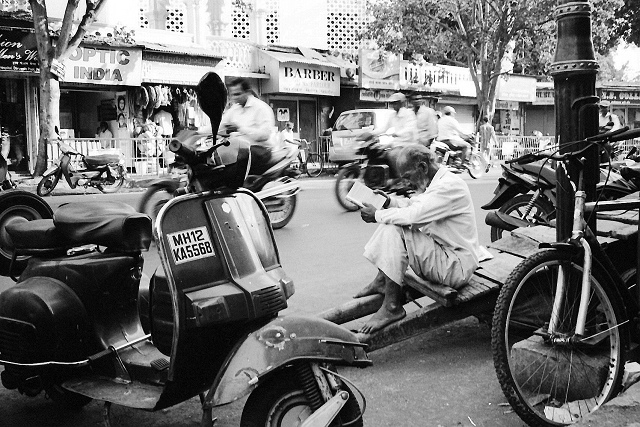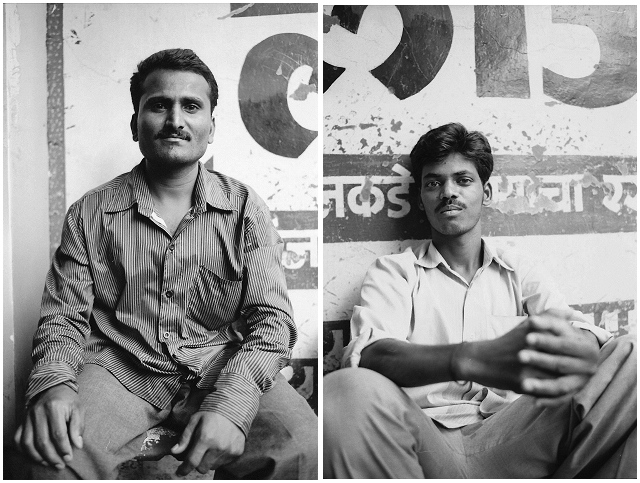 Later that evening I left Pune and headed towards Nagpur.
Nagpur
As I did not have much rest, I was feeling very sleepy. I stopped at a petrol station, unpacked my sleeping bag and decided to have a nap. As I was dozing off, I heard a voice up on the roof. He said hello. I hello back. He said good night, sleep tight. I said ok. I didn't think much about it until the next morning.
Woke up to 3 men hovering over me. Apparently the guy on the roof top that night (right most) is a sniper in charge of petrol station security at night!!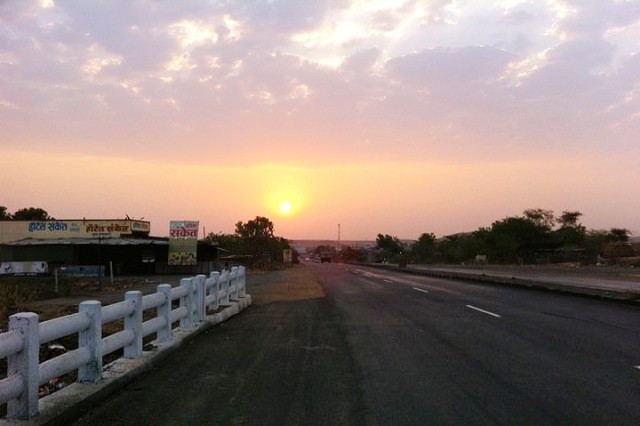 Started my ride early and was greeted by a nice sunrise.
My misadventures continue. Lucy was giving me problems, and as I passed by a trucker's stop at night somewhere in the desert, I searched for a mechanic.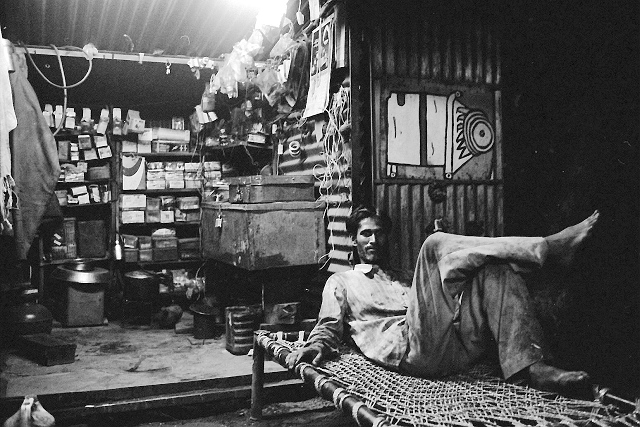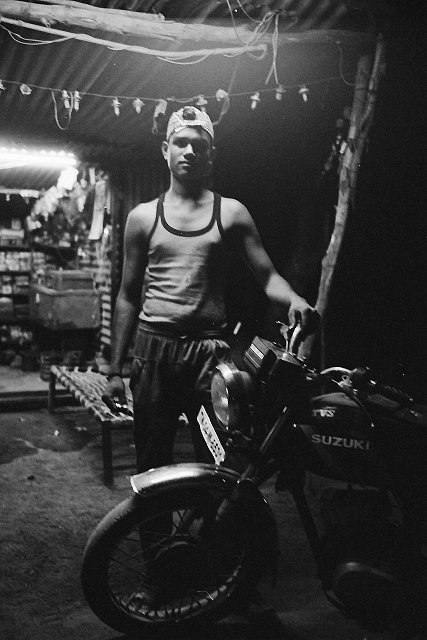 Unidentified Funny Noises
Introducing Imran. He checked on my bike and managed to find the fault. It was a dirty carburetor. He cleaned the carburetor and we talked even though he knew little English. He asked about my family, my trip and we had a good chat. I wanted to leave after I got my bike fixed but Imran advised me to stay until morning. This was one advice I should have taken!
I left and rode for a few kms when something out of the extraordinary happened. It was about 2 am in the desert. There was literally nothing on both sides of the road when suddenly I heard Indian drum beats. I did not know where the beats were coming from and as I rode the beats became louder and louder accompanied with techno music! I was scared shitless. My heart was beating very fast and sweat rolled down my cheeks. Suddenly, I heard strange noises coming from my bike. You never guessed what happened next……
My motorcycle chain snapped!
I could not believe my luck. And with the music and drum beats getting louder, I threw my bike at the side of the road and scampered back. I did not know where I was heading but I just ran as my legs could carry me. I ran for a few kms and luckily saw a police outpost. I told them my story and they just shook their heads and said it is not safe to ride at night here. Till today I still have not figured out where the drum beats and music was from. Anyone?
I requested the help of the police to send me back to Imran's shack. The police wanted to help but with one condition….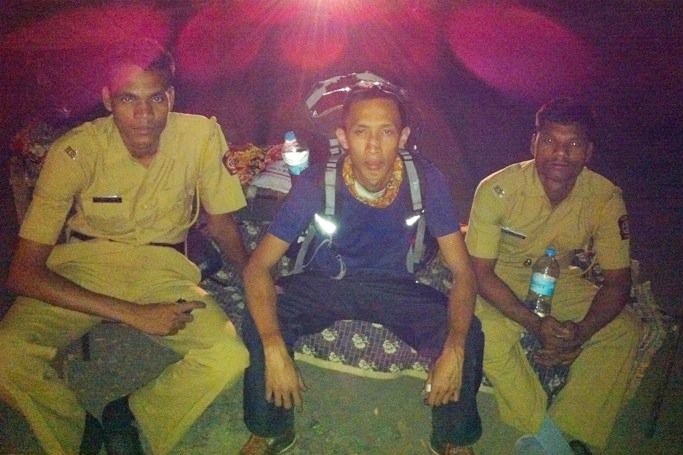 As I was a stranger, the police would only send me back to Imran's shack if I ride pillion in between 2 policemen. This is to ensure the safety of the policemen. I had no choice and agreed. I wished I had taken a photo of that ride. 😛 Forever grateful to the both of them!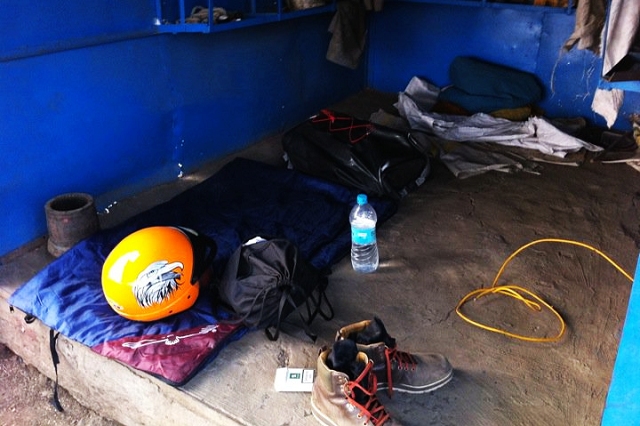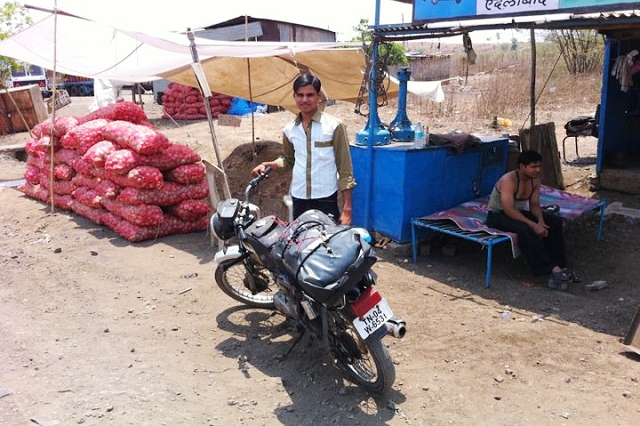 Slept over night at Imran's shack and the next day he managed to find my bike and got new chains fixed. I thanked him profusely for his help and continue my journey to Nagpur.
I reached Nagpur in the middle of the night and was too tired to do anything else. I have travelled more than 2000 kms since I started this trip. I checked in to a hotel. The next day, I remembered vividly that Osama Bin Laden have been captured and killed and the news was plastered all over the TV. Someone else died too.
Lucy.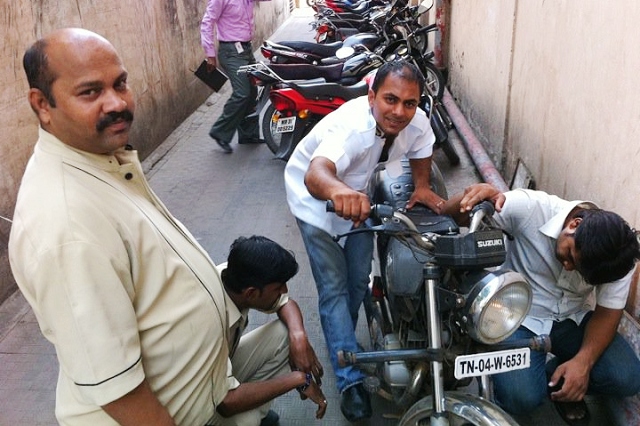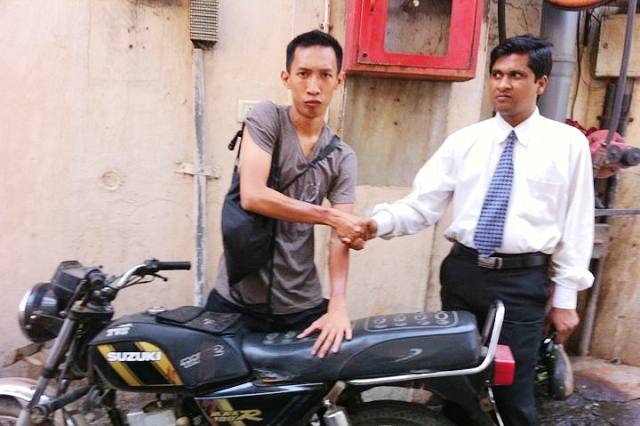 It took 4 men to resuscitate her but to no avail. I sold her off to the manager of the hotel I was staying in for $30.
Jabalpur
The only way to Varanasi was via bus. I managed to hop on a bus to Jabalpur. The bus ride was comfortable. But nothing prepared me for what was going to happen next.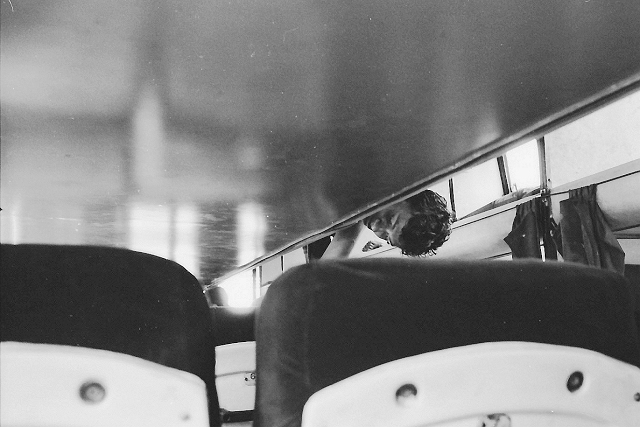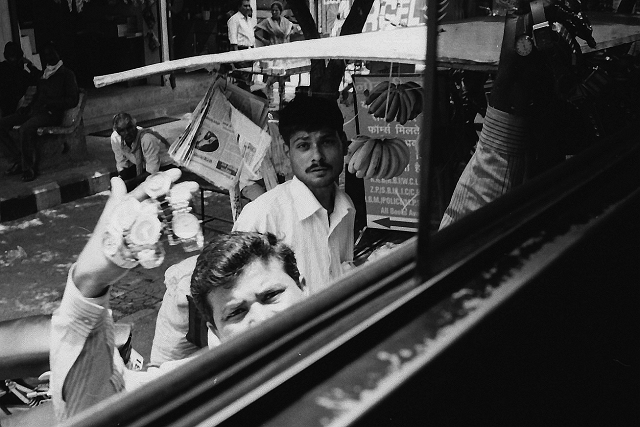 As I was taking photos after a short toilet break. An old man probably in his 60s got on the bus and sat beside me. He does not speak English but he gestured to take a photo of him. I did.
Indecent Proposal
I did not think much about it but suddenly he began touching my groin. I lifted his hand and politely said No! A few minutes later, he did it again. I lifted his hand again and said No! He moved his hands away. At this point I felt violated but at the same time I was too scared to do anything. He then took my hand and wanted to slip it in his pants!! I got up and acted as though I was going to beat him up and that made him terrified. He quickly got up and moved to another seat. As soon as we reached Jabalpur he quickly alighted and ran before I could report him.
Varanasi
There was only 1 small bus to Varanasi and it was the peak season. I got a standing ticket and the bus was worse than a pack of sardines. As I was the only foreigner in the bus, the driver let me sit beside him near the gear stick above the vibrating engine! It was so cramped that my knees were on my chest and this was going on for more than 10 hours.
I could not believe I survived this bus trip! After countless hours later, I reached Varanasi. The weather was hot! It was more than 40°C when I reached.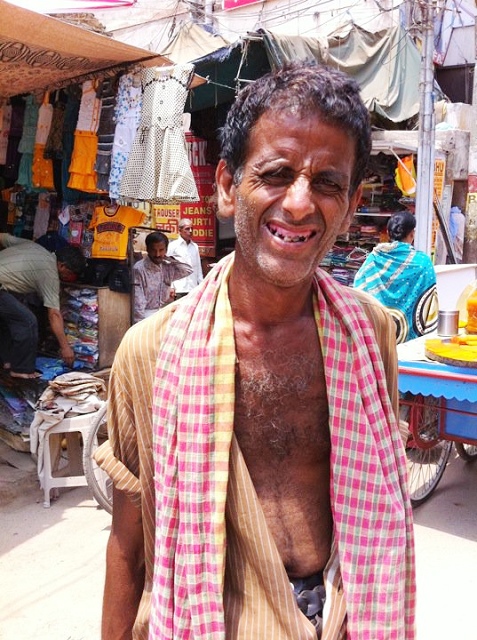 Made my way to the river where the cremation takes place and met up with this hobo looking guy who surprisingly speaks fluent English with an American accent. He got myself sorted for a hotel. I did some photography under the unbearable weather. I stayed a couple of days here. Went to see a cremation as well as the daily rituals by the river later that evening.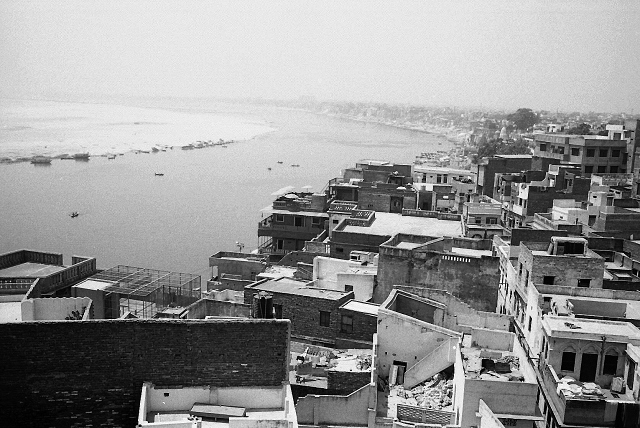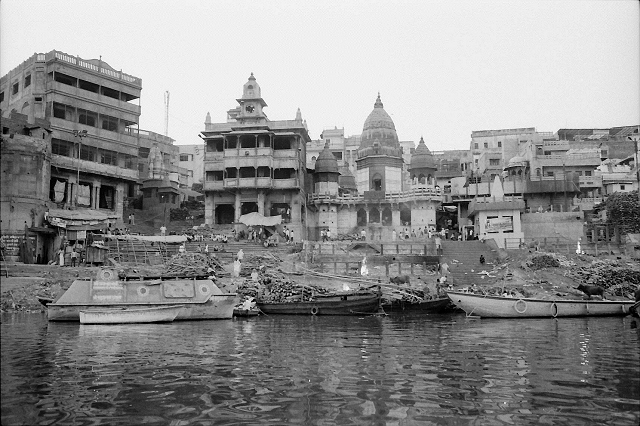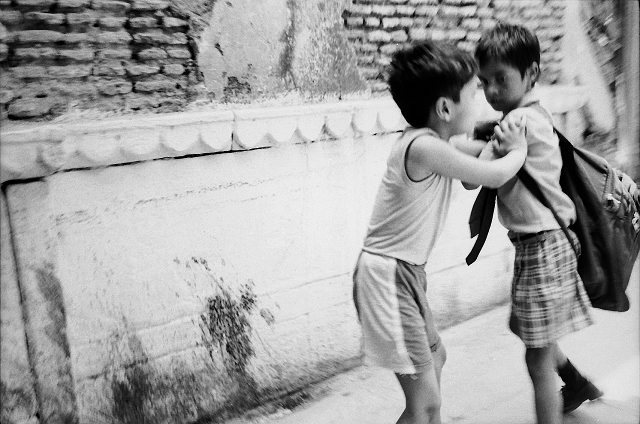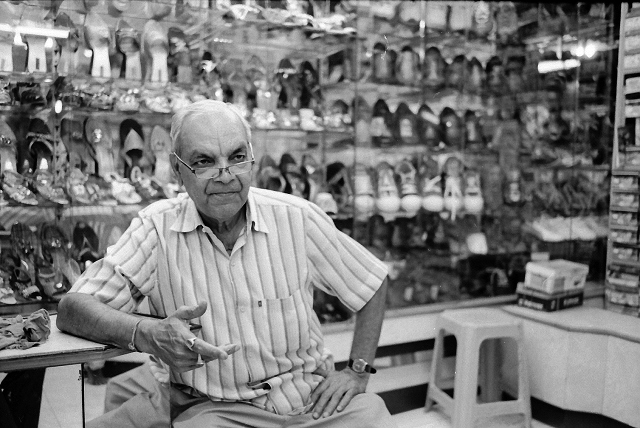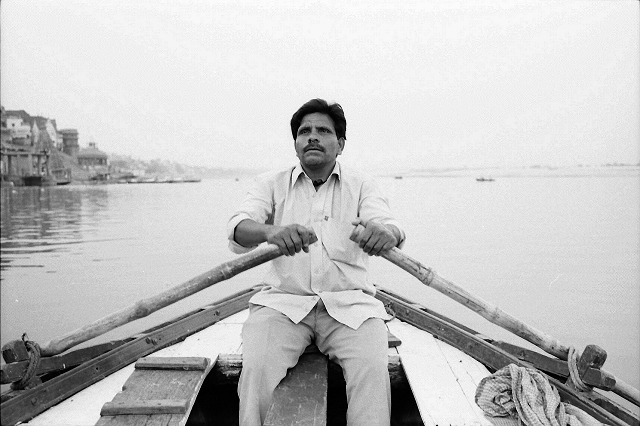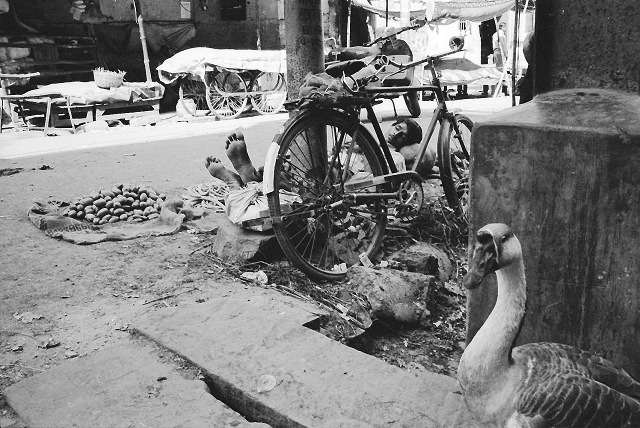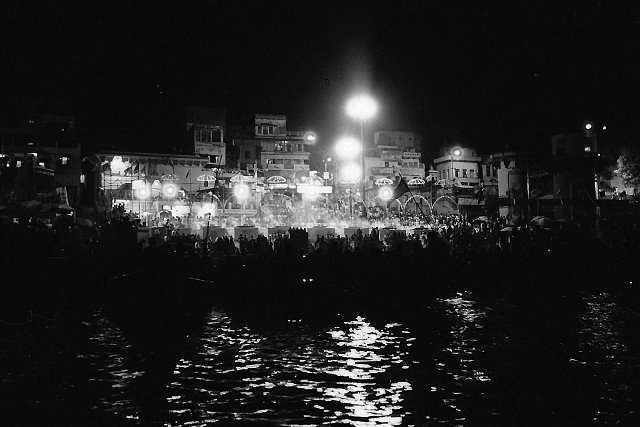 I could not sleep that night. The fan was blowing hot air. I woke up in the middle of the night, took out my bottle of mineral water and poured it over my head while sitting on the bed.
I wanted to explore Varanasi more but I could not bear with the weather and I have only 2 days left to my trip. Trains back to Chennai were full. I had no bike and the only way out was to fly. Got myself a domestic flight and it costs more than double my international flight from Singapore!
Flew out the next day to Chennai via New Delhi (no idea why there is no direct flights as Varanasi to Chennai is nearer).
I had chicken at 4 Fingers. It was good. I asked the boy at the counter where this franchise is from. To my surprise he answered, "Singapore Sir!"
Reached Chennai a day earlier and I did not want to spend a night at a hotel. I stayed at the airport and slept at the smoking room at the viewing gallery.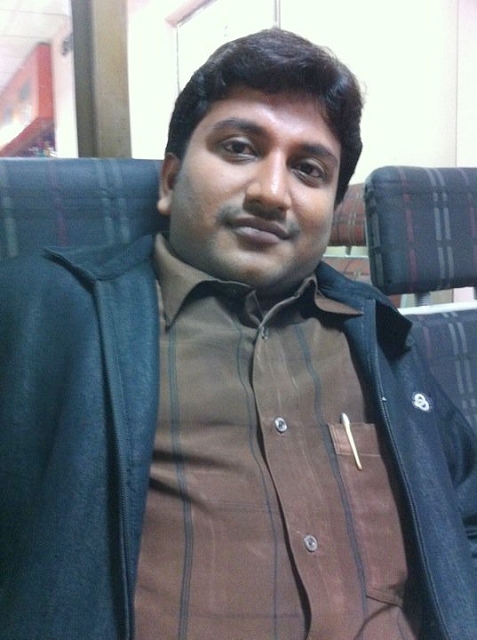 Made some friends at the airport. And I could not believe this was the end of my journey. India have given me so many unforgettable memories, good and bad. Made countless friends whom I am still in contact today.
I am looking forward to another Epic trip here. India, I will be back!!
Please follow and like us: