Our Great Mongolia Honeymoon
Shahrom and I are intrepid adventurers. We love to go on long road trips to nowhere. So after our wedding we wanted to spend most of time together without having to worry about anything or people. 😛 Hence, we concluded to take on this trip for our honeymoon. We have planned for this epic journey more than our wedding preparation. It was our trip of a lifetime to seek nothingness.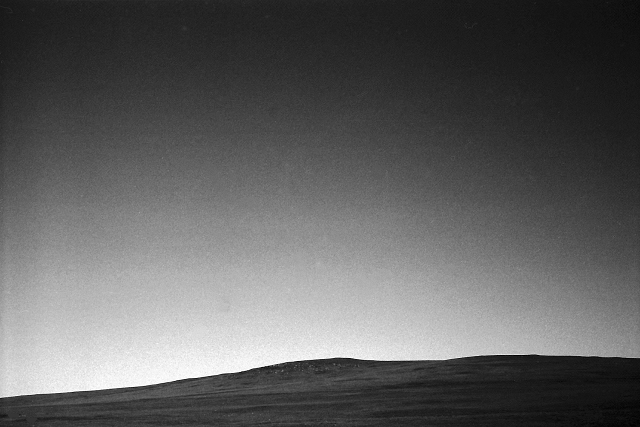 Trans-Mongolian Railway
We departed Beijing in the early morning to catch our train at 8.05am. As mentioned in our Beijing's blog entry, public transport is very reliable. So we took the public train from Chongwenmen Station to Beijing Railway Station.
Hop on Subway Line 2 towards Xizhimen, dark blue line.
Tip: It is advisable to arrive at the Railway Station earlier as there will be a few security checks. Expect large crowd as the local uses the train to travel back to their villages. Also the service counter staffs do not speak English, so be sure you have ample time to sort the language barrier.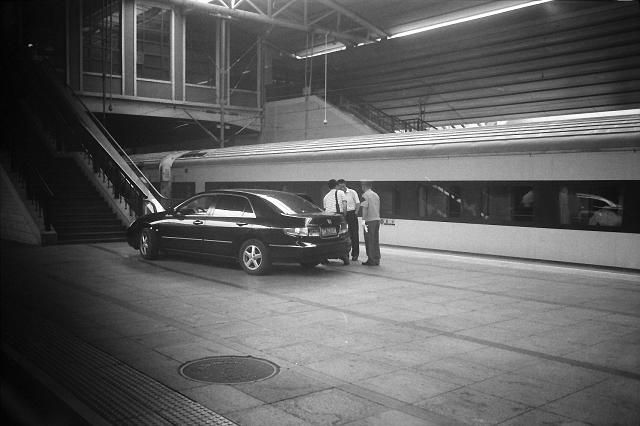 Tip: Book your train tickets in advance and request it to be delivered to your hotel.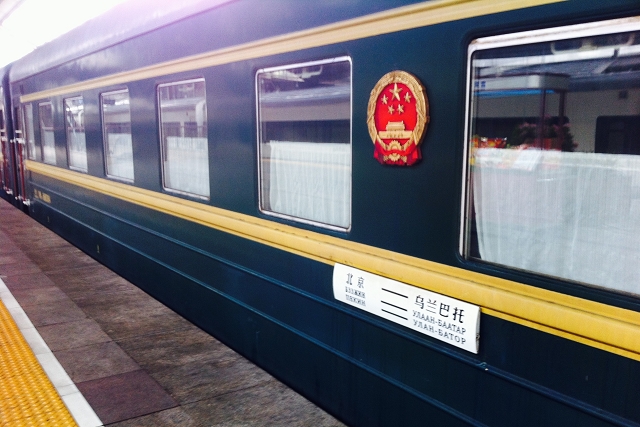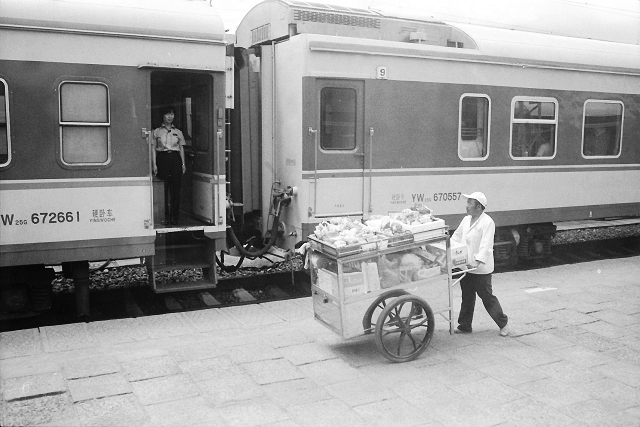 After conquering all the chaos, we finally got to our train platform. We got some snacks to survive the 33 hours train ride. It's more than a day's worth in the train. It's one of those things, we needed to have after the hectic wedding, which was to be on our own and of course catching up on sleep. (if you think 33 hours train ride is boring, we will fill you in on what to do on the train…)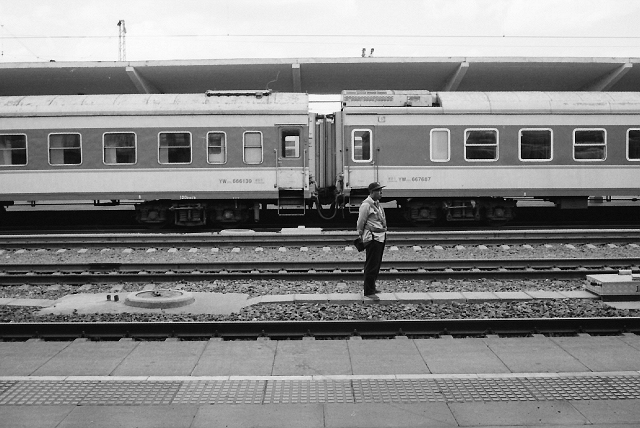 So while waiting for the train to arrive, we bumped into our fellow Singaporeans who have been travelling around the world for a few months. They will be ending their journey in Moscow. So we caught up a bit, exchange experiences and tips on traveling. Nonetheless, it's always a pleasure to find your fellow countrymen with similar interest.
The train arrived, we hopped on, found our cabin and settled down. Don't expect too much from it. The space is small and it is supposed to fit 4 passengers. Well, if you would like to have a privacy of your own, you can purchase the first class tickets. But of course with a price! We got really lucky on our journey to Ulaanbaatar as there wasn't anyone in the cabin with us. So the whole space is ours. Lucky us! 🙂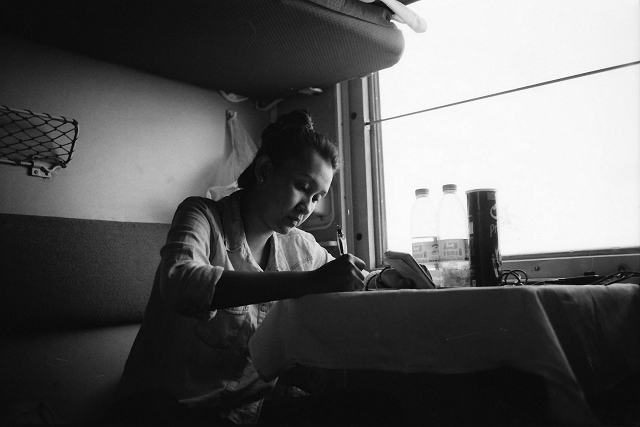 Honestly, we didn't expect the train to be so comfortable. Before the train starts its journey, the train conductor will ensure that we have gotten our pillows and blankets. A blanket? The temperature will drop when night falls and that thick blanket comes in handy.
A lot of our friends have been asking us about the train ride. Here's our answers to all the questions.
1. What can you find in the cabin?
• Bunk beds: Shahrom took the lower bed
• Pillow with its casing and super awesome thick blanket
• Tiny fan: For air circulation during the day
• Lights
• A folded table: where you can have your meals while enjoying the view
• Hooks: to hang whatever you want
• Lockable door: you can sleep with your doors locked at night
• Cabin window: it can be opened in case you stink up the cabin
2. Is there toilet and shower?
• Yes, but don't expect a proper flush-able one. Whatever you dispose will be released on the track.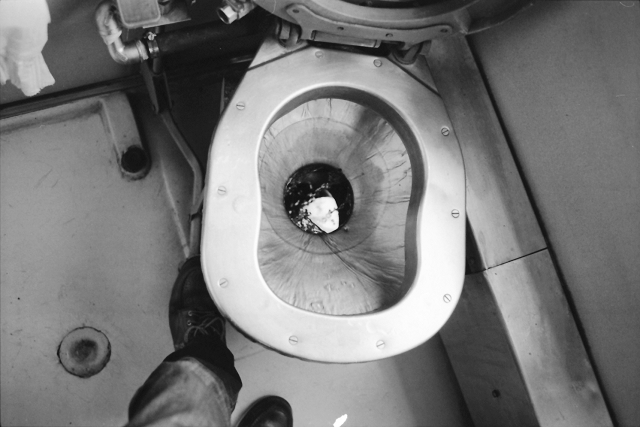 • No, you can't shower. Hence we packed shit loads of wet wipes. We bought biodegradable ones just to do our part to protect the environment.
3. Should we buy lots of bottled water?
• We only bought 2 big bottles of water and thermal flasks to survive the 33 hours. The cabin provides hot boiling water. They boiled it using coals. Not too worry if you're worried of bacterial contamination. We are pretty sure they are all dead.
4. What sort of food to pack?
• We bought cup noodles, since the train has hot boiling water. Chips, nuts and chocolate for dessert. Don't bother getting soft drinks because there's no fridge. If you crave for one, just walk to the train's restaurant.
What to do in the Train
1. Of course SLEEP!
You will be amazed how comfortable it is to sleep in the train. The sound of the train chugging simply calms your soul and falling asleep is very easy. Shahrom snored out loud!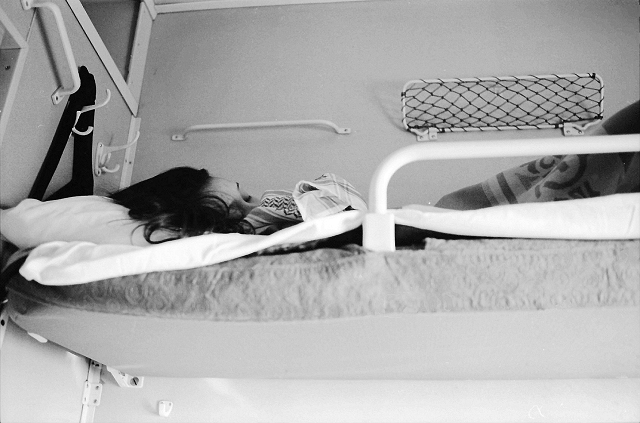 2. Read a book; catch up on your all those time you were too busy to read..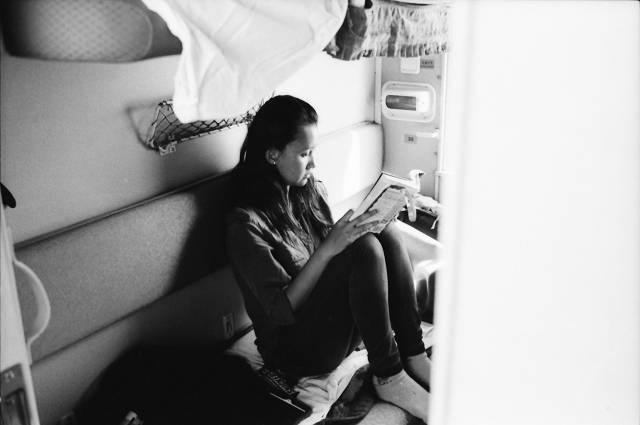 Tip: I downloaded e-books on my iPad mini, to save some luggage space. Not too worry, the train has power socket to charge your technology. We also packed solar portable charger since we have decided to live like a nomad in Mongolia.
3. Switch off your mind
The best time to day dream and let your mind wander. The ever changing scenery and landscape is too beautiful and it will leave you speechless.
4. Cuddles
Since we got the cabin to ourselves, why not right? Or Shahrom would say "Join the Mile Wide Club!"
5. Don't know what else to do?
Walk down to the restaurant cabin and grab a drink or have some snacks. Or join other travelers and have a chat. We met a few people from all walks of life.
Enjoy boredom and let your mind wander. That's the whole intention of this journey.
Changing of Boogie
After countless of stops, naps and snacks, we finally arrived at our pit stop to get the boogies changed. Well, one of the highlight of this journey was to witness how the boogies are changed. The reason why the boogies needed to be changed was due to the different track size. Mongolia has a Russian gauge 1,520 mm (4 ft 11 27⁄32 in) while China has 1,435 mm (4 ft 8 1⁄2 in).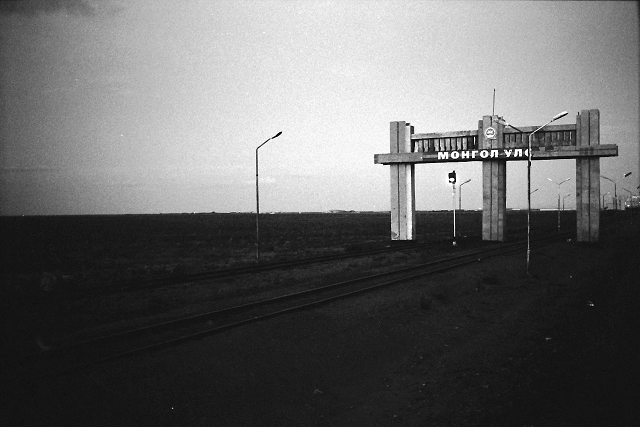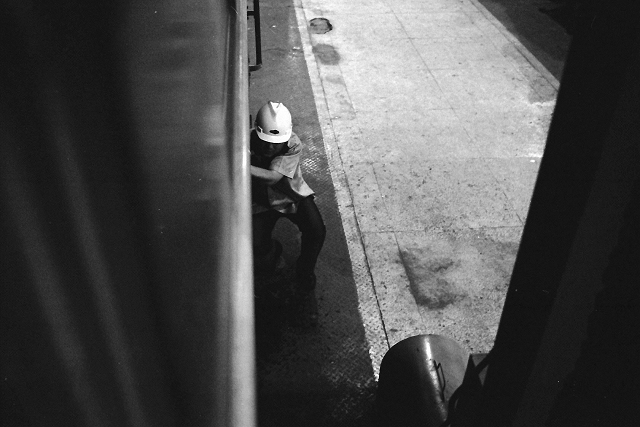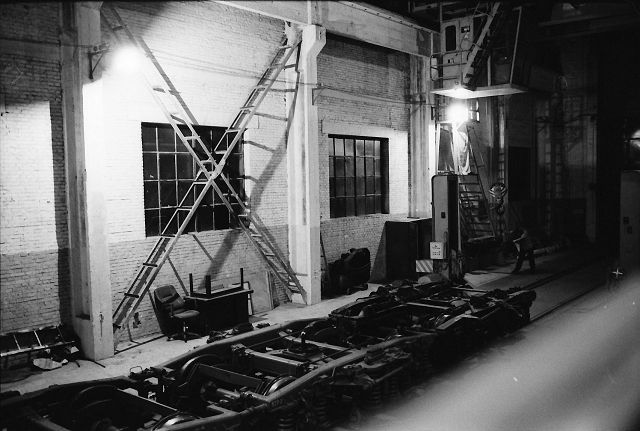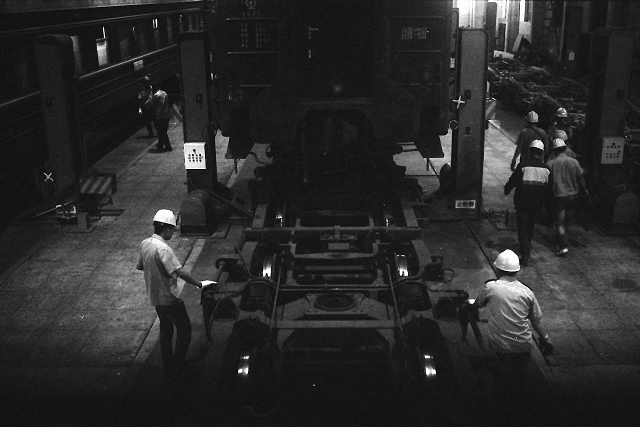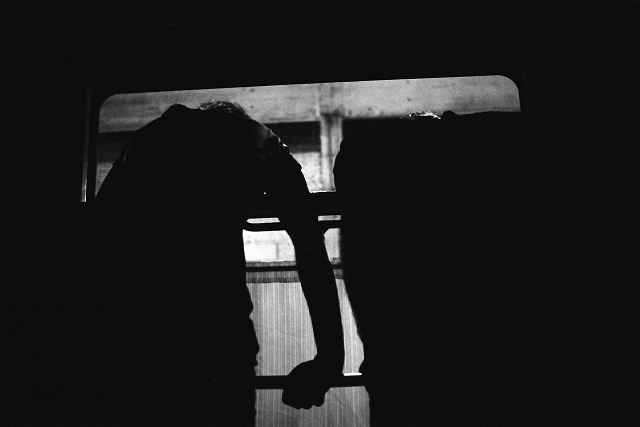 So we have reached Erlian, the border into Mongolia. At this point, we needed to go through immigration and get our passport stamped. On the bright side, we were not required to get off the train instead the immigration officers will go cabin by cabin to check our passport and identification. Do not be alarmed if they take your passport away, as the officers will collect all passports and have it stamped at their office. Be patient and they will return the passports accordingly.
Tip: Be sure to check if you have received the correct passport and they got it stamped. Just in case, they might overlooked it.
Erlian – China Mongolia Border
There's NOTHING to do in Erlian.
Since we had 3 hours to kill, we thought we could get something to eat. We walked out of the train station and explored the area. It was really dark and we didn't venture out far because we were afraid that we might not make it to the train on time.
Not knowing what to do, we went into the only restaurant there and wanted to order a meal. So we sat down and got the menu. Everything was in Chinese and the only thing we can read was Coca Cola and a sad face for food hygiene preparation. Thankfully Coke was universal and we were afraid to get food poisoning even before we arrive in Mongolia. So a drink was all we had. When we were done with our fulfilling drink, we went to the provision shop beside it with all hopes to get something munch for the train ride. But everything was in Chinese and we couldn't ask the shop owner to explain it to us. So we gave up and went back to the station to wait for the train to be ready.
Tip: Prepare a warm sweater before stepping out of the train as it was quite chilly at night. Don't bother eating at the restaurant.
3 hours later…
We got restless and itching to leave Erlian, they loaded more locals into the train, got back our passports and off we go. We were relieved. Shahrom and I went into our cabin and had one of the best sleep. Unknowingly we were chugging into Mongolia…
Mongolian Cabin Restaurant
We had difficulty waking up due to the chugging of the train that serenades our sleep. (Trust us, the chugging really helps) Waking up to a great landscape we had our morning stretch and walked down to the restaurant only to find a beautiful interior, in comparison to the Chinese restaurant. It's one of the experiences we recommend!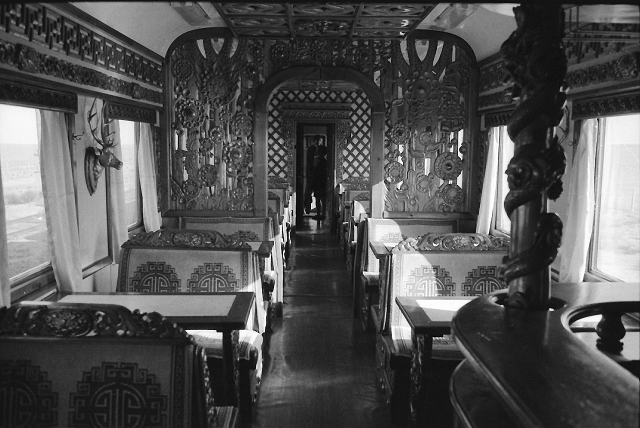 We sat down on one of the booth and requested for a menu- in all hopes to get a warm hearty meal. So we called the waitress and to our pleasant surprise, she spoke to us in English! (oh god! You have no idea how happy we felt). We ordered our meal and two cups of tea, with a first class scenery. It's one of those moment we felt truly blessed. Great service, breathe-taking view and of course the company 😉
Ulaanbataar
33 hours later… we finally arrive at the capital city of Mongolia. The land of Chinggis and the blue sky. Seriously, the sky is so blue! That you don't need edit filters for your photos. 🙂 Not knowing what the city is like, we pre-booked our stay at Golden Gobi, and arranged for a pick up from the train station.
Golden Gobi is a reliable guesthouse and tour group. They are run by a family and will be reply to your email/queries promptly. Our needs are well taken care of and there's nothing to worry. (Yes, they speak fluent English.)
Going around Ulaanbataar was very easy. The city is pretty small and there's one major store, State Department Store that sells everything. I loved the supermarket so much that I hoard chocolates before going on our nomadic stay. Shahrom also bought some groceries like sugar and salt as gifts for the nomadic families we are going to stay with.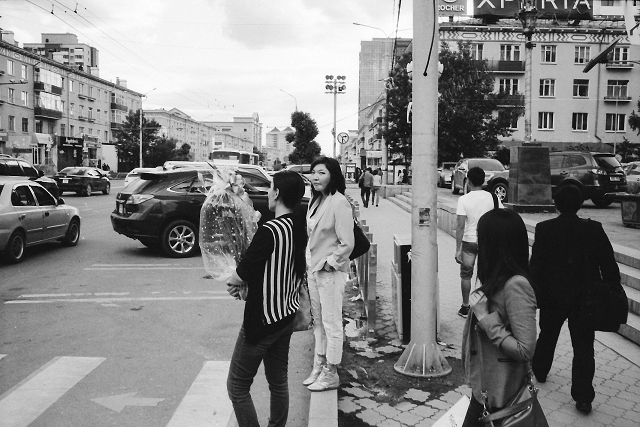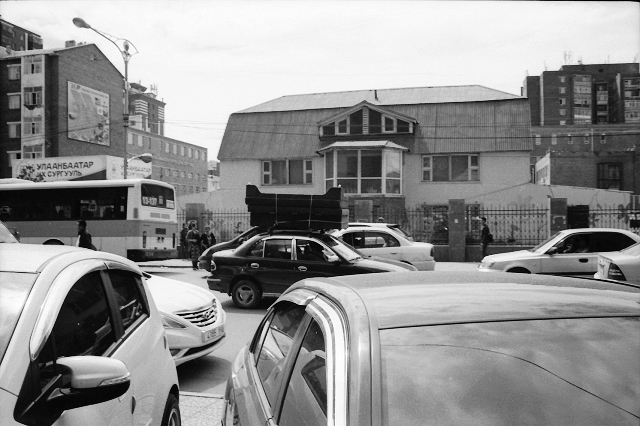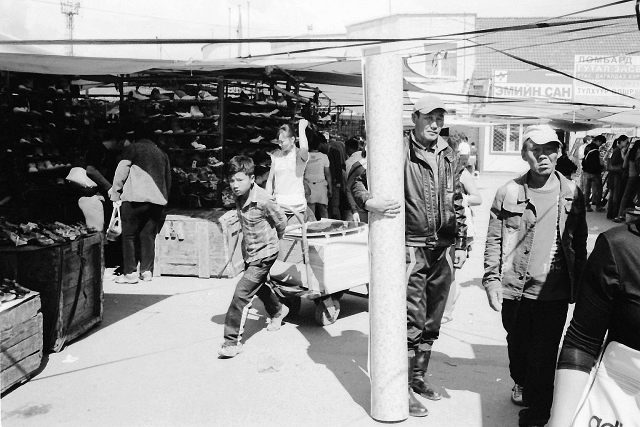 The city is also walk able, everything is within reach. There are loads of bakeries and restaurants.  Hallyu wave is prominent in Ulaanbataar and if you're into Korean cosmetics, you can get it there too.
Tip: The currency of Mongolia is Tugrik. Most money changer do not carry this currency, so our advise is to change your currency to USD and get it change in Mongolia itself. For us, this is to ease our confusion as we are traveling to 3 different countries (HK, Beijing and Mongolia).
Tip: Change your USD to Tugrik at the bank itself. As for us we didn't change much, it's just enough to sustain our 2 weeks nomadic stay.
Nomadic Stay
Mongolia is a big piece of land. It is massive and the amount of space is endless. We were truly amazed by the size as there's nothing like it in Singapore. We were psyched up and all ready to go venture out in the open even though we do not know what to anticipate. But who cares, it's just us and the space.
Shahrom and I have been watching a lot of documentaries on nomadic living and travel. This got us wanting to visit Mongolia even more. Since we only have 2 weeks to play around, we got Golden Gobi to plan our itinerary. We were opened to suggestions on which area to go but Gobi Desert is a must go. So Gobi here we come.
Tip: Settle all your payment with the tour before departing for your epic trip of a lifetime. It also saves the headache of carrying a lot of cash.
So what to prepare?
• Warm clothing, loads of it! According to the weather forecast, it was end of Spring and entering Summer but it was still cold especially at night. Pack thermal wear as Mongolia's weather is pretty intense.
• Chili sauce: Being Asian we need some spiciness in everything we eat.  Don't get me wrong, the food is good. But chili sauce just goes well with everything.
• Open mind and enjoy the tour. Expect no proper sanitation and shower. 🙂
• WET WIPES: LOADS OF IT
When you booked a tour with Golden Gobi, there's no fuss and frills. Everything is well taken care of. Food, bottled water, lodging (including the stay in local gers and camping tents), transportation, petrol and fluent English speaking guide.
Leaving Golden Gobi
Knowing that Shahrom and I are on our honeymoon, Golden Gobi was very thoughtful to plan this trip just for the both of us. Even though we paid slightly more for this tour as there's only the both of us (price will be cheaper if there's more people going, max 6). We were thankful for their kind thought. Golden Gobi provided us with 3 tour guides (2 trainee guides and 1 head guide) and 1 ever capable driver. We got lucky again! 🙂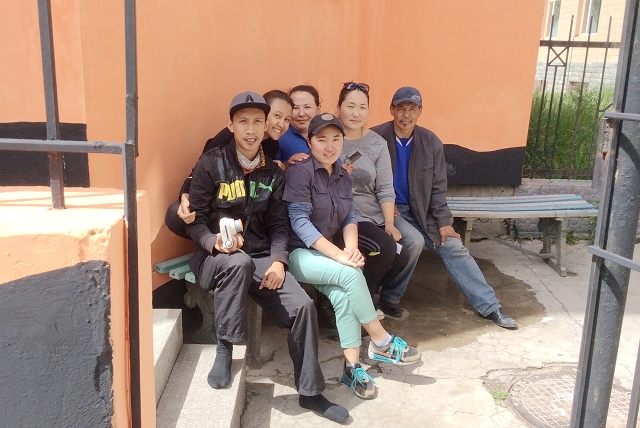 We checked out from the guesthouse, got our camping essentials, food and backpacks loaded in our ride.
The Russian Van
It is the most durable and versatile van we have ever been in. Our ride is spacious and the leg room was sufficient.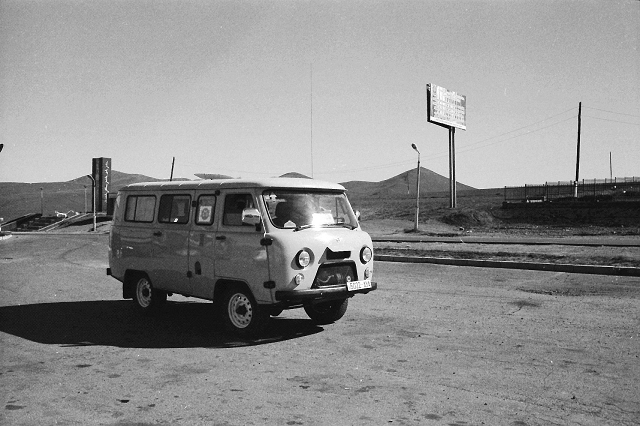 Chinggis Khaan Statue Complex
This was our first stop after we left the city. The statue of the mighty Chinggis Khaan riding on his horseback was erected on the bank of the Tuul River at Tsonjin Boldog, 54km east of the Mongolian capital. He was known for his fearsome battles and the founder of the Mongol Empire. Till today, the people of Mongolia respected his honor and the stories of his battles lives on.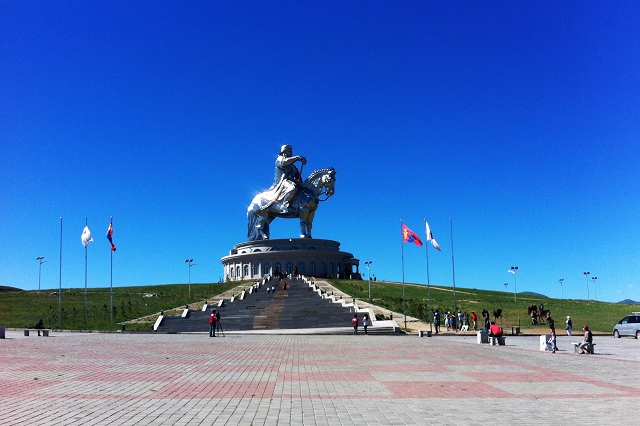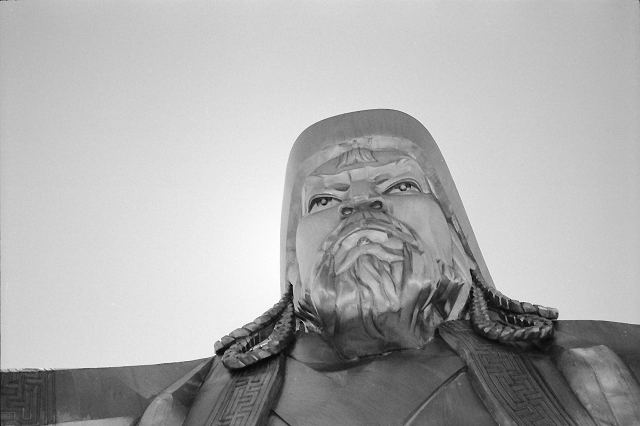 When we got there, the amount of space and the size of the statue was jaw dropping. Genghis Khan's was 40 meters high and he is made from steel. Everything was large! When we entered the complex we were greeted by two of his warriors. In this complex, visitors are allowed to climb up and walk to the head of the horse through its chest and neck, where we can have a panoramic view of the area. It is so magnificent!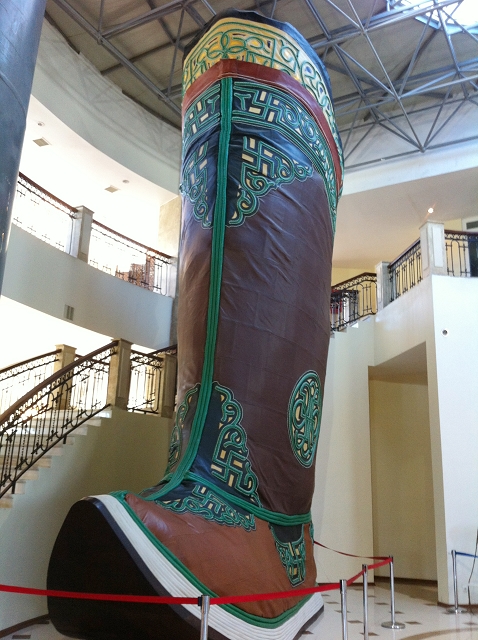 Once we have admired the view enough, we went down to ground level to learn more about his empire. The attached museum exhibits, archaeological cultures in Mongolia relating to the Bronze Age and Xiongnu. The displays are mostly artifacts such as utensils, belt buckles, arrowheads, knives, war relics and many more.
Baga Gazriin Chuluu
After feeling all historic and inspired, the driver brought us to the Baga Gazriin Chuluu. It's a mouthful uh. Well, Baga Gazriin Chuluu is a huge granite rock formation in the middle of a dusty plain. The highest is 1706 meters above sea level. The Rocky Mountains are spread out from west to east covering about 30 km.
It was a tedious hike up the formation and we had to squeeze through some tiny spaces.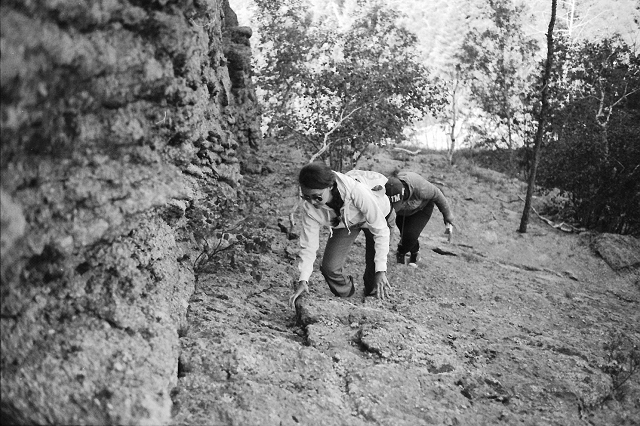 From our travel journal, after the hike we stopped for lunch at a nomadic home. The food wasn't that satisfying but we needed something to sustain ourselves since as you can read, it was a hectic journey.
Terelj National Park Monastery
As we needed to kill some time to wait for our English speaking guide to be on her way from another trip. We were so bored and our trainee guides decided to take us for a walk up the monastery. It was so challenging! Or maybe being city bums, we are just unhealthy. As much as our trainee guides tried to speak fluent English, at times we simply couldn't understand. So we tried to communicate using drawings and gestures. It's hilarious but we didn't want language to hinder our trip. Well, at least to learn more about the place but we failed! Haha. As you can see, we can't even remember the name of the Monastery. 😛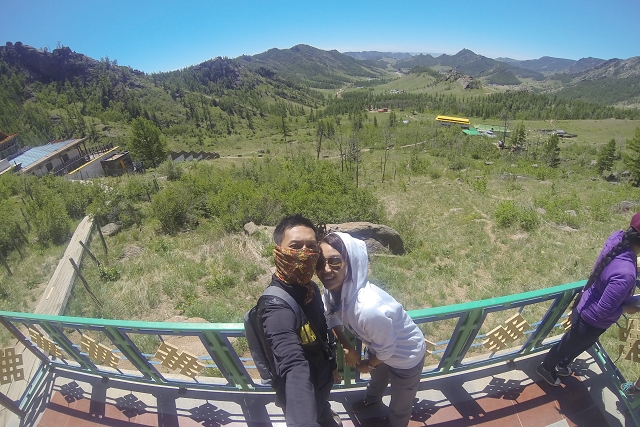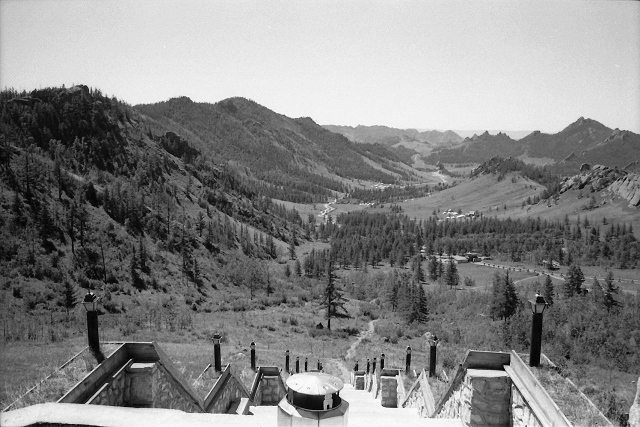 Horse Riding in the Wild
Since we have more time in our hands, the nomadic family has a few horses for "rent." Of course we took the opportunity to hop on it. And it was the best and memorable ride we ever had. It felt like we were transported back to the time when we were kids riding ponies in the zoo. But with an awesome view! There wasn't any time limit or any fancy gears to wear. It's all raw and real!
It is a norm for families to own horses and cattle. But do not take these horses for granted as they are wild creatures and not tame. So we always have to be vigilant and gentle with them. Horses have feelings too!
As always Shahrom wanted to feel like the Mighty Chinggis. He wanted his horse to gallop. But… failed!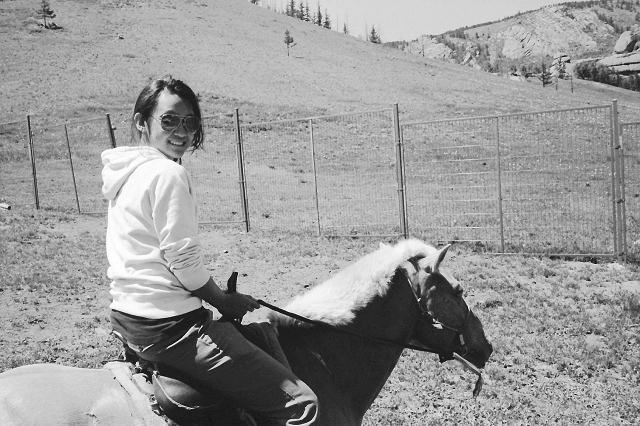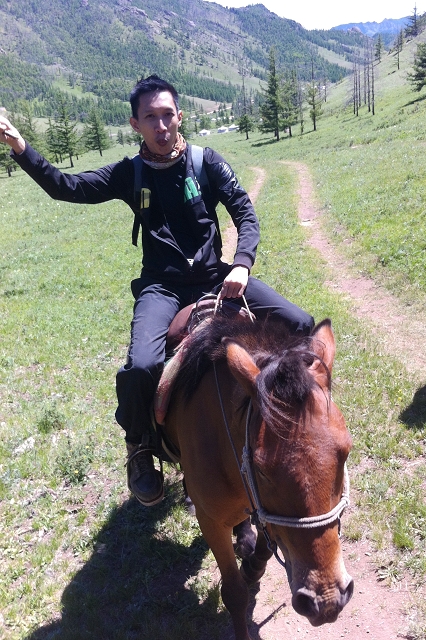 After horsing around, our head guide finally arrived! We introduced ourselves and head to our next destination, where we will be spending a night.
First Nomadic Stay with a Kazakhstan Family
I apologized for not knowing what is the name of the villages we went. As they are constantly moving around, they have no specific home address.
When we arrived at their home, a shepherd dog welcomed us. It barked, like as though it wanted to attack us. I was so scared and didn't want to get off the van. But our guide assured us, that the dog just wanted to smell us. So after the whole drama, we unload our things and packed food into the guest Ger. This is to avoid attracting foxes or unwanted guests. Hence, everything have to be inside the Ger.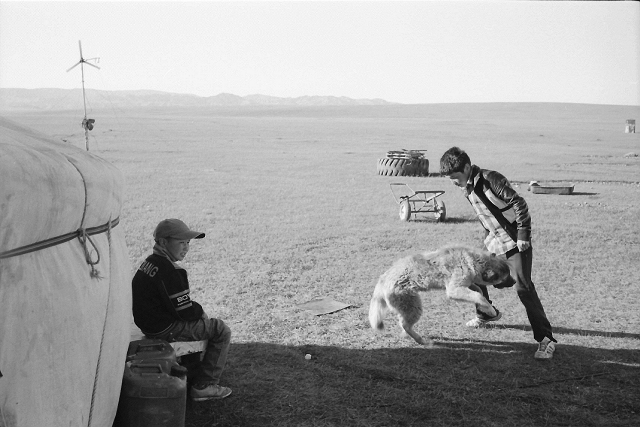 For this nomadic family, they have a few Gers as there are a few generations staying together. Yup, children too! And they are so adorable! While our hosts were preparing dinner and snacks for us, I fell in love with this toddler named Tima. He is such a heartthrob. Shahrom and I tried to lure him with our iPhones to attract his attention.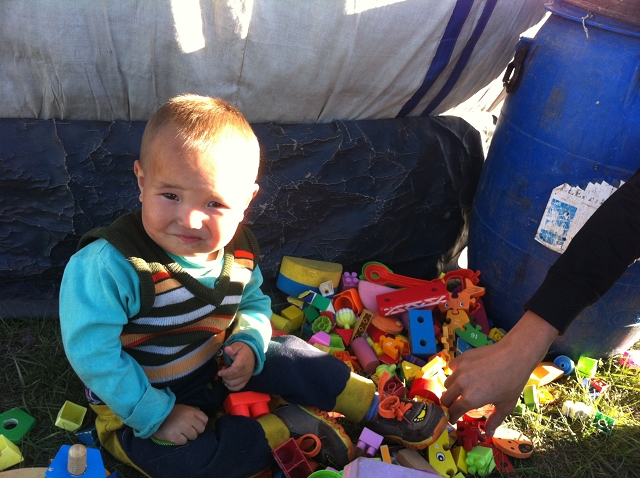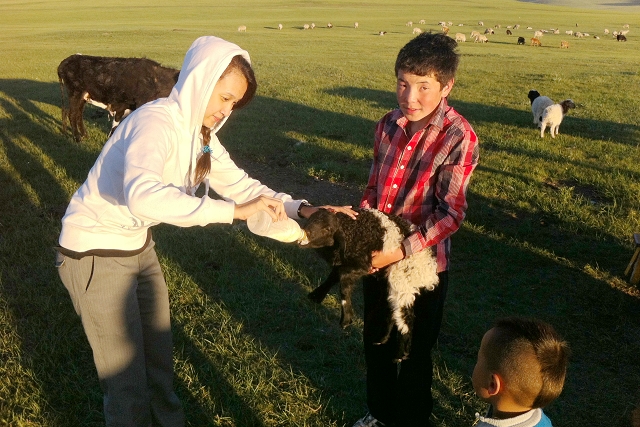 Once we have all settled down, it was almost sun down. We offered ourselves if we could be of any help. Anyway the whole objective of this trip was to learn and experience the nomadic lifestyle. The host was kind enough to allow me to feed one of their kid (yes I am referring to a baby goat). 🙂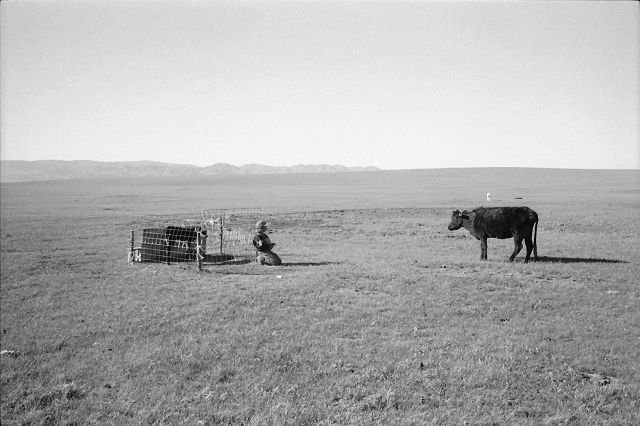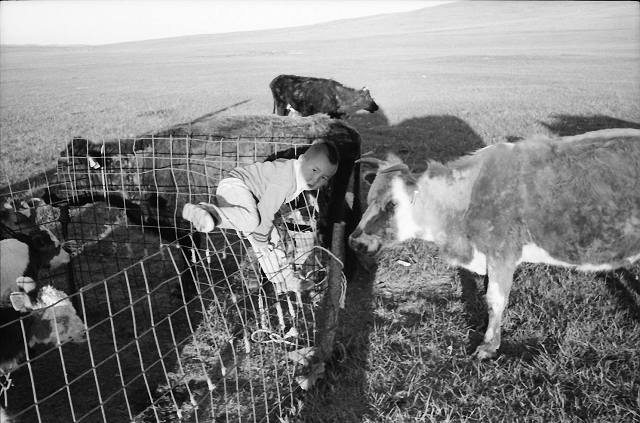 Nightfall, there wasn't anything much to do. No television or Internet, so we got our sleeping gears ready and prepare ourselves to bed. While resting to get to slumberland, the hosts and children prepared for us a sing-along session. There wasn't much light in the Ger, hence we can't capture their sincere performance. And, we fell into deep sleep.
The next morning after breakfast, we bid goodbye and continued our journey towards the Gobi.
Tip: Do not expect comfy bed, ensure that thermal wear is worn before sleeping as the night can get really cold.
First Lunch in the Middle of Nowhere
Along our way towards Gobi, we stopped in the middle of nowhere to have lunch. Our guides was very efficient. They are truly living up to their Mongolian blood. While Shahrom and I was resting at the corner, (we offered our help but they refused) our guides made us a simple yet fulfilling meal which was pasta with tuna.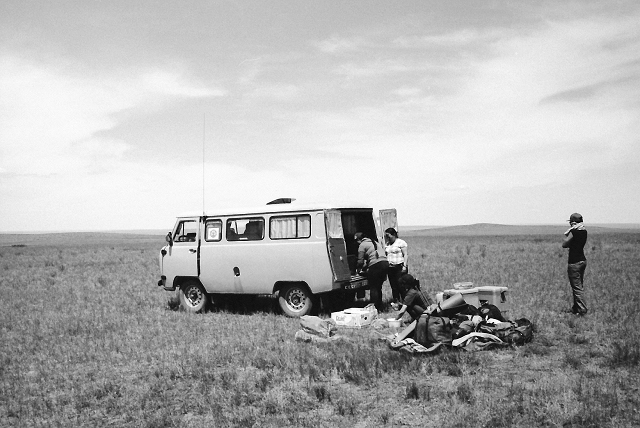 Once lunch time was over, we packed up and ready to move on to your next destination.
Tip: Respect the environment and clean up the area. We bring our trash with us.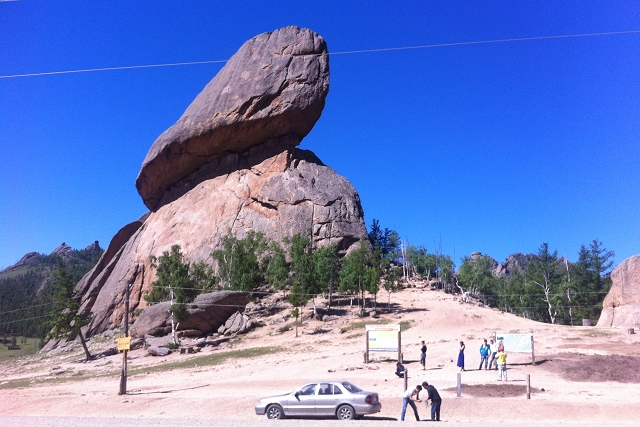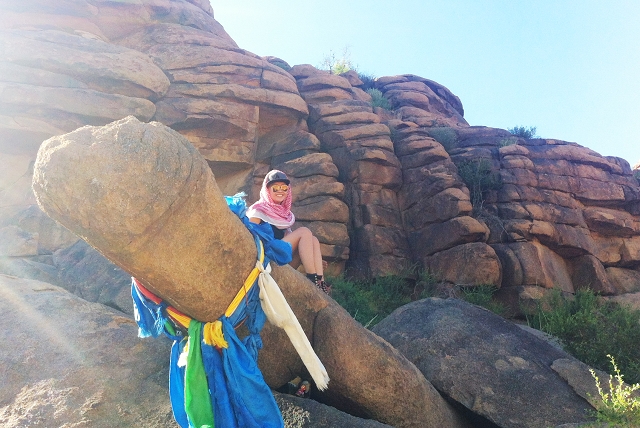 As it was our honeymoon, our guide decided to bring us to a fertility rock for good luck. We did not expect it to look like the photo above.
Refueling? Well, we stopped at nearby town before heading somewhere deeper Mongolia. The driver knows his route accurately, without a physical map or GPS. Shahrom and I are truly amazed with their sense of direction.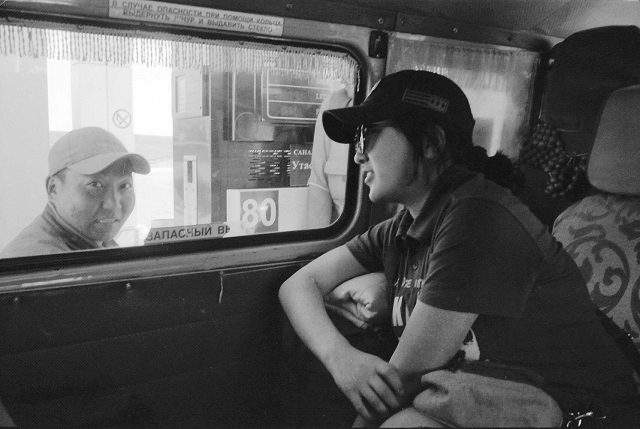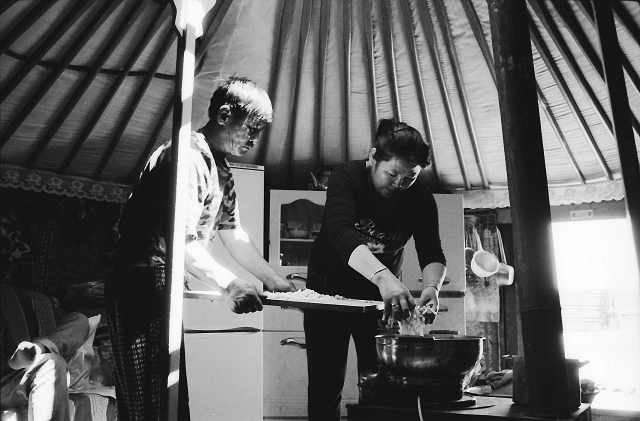 As there wasn't any proper itinerary, the driver decided to bring us to his sister's house as we were nearby. With great Mongolian hospitality, they offered us salted milk tea (a staple Mongolian drink) and lamb jerky (you eat it off its bone). At the same time, his sister cooked a warm lamb soup for all of us.
First Camping in the open…
As it takes a few days to drive to Gobi, we stopped by a National Park to spend our second night. By the second night, it sank to us that we are really in Mongolia. Before the sunset, our guides helped us with our tent.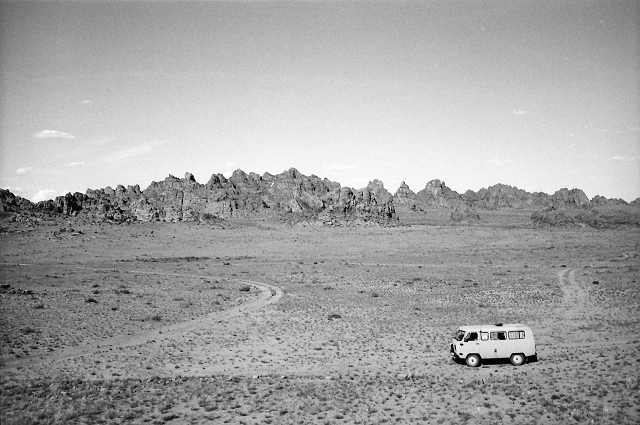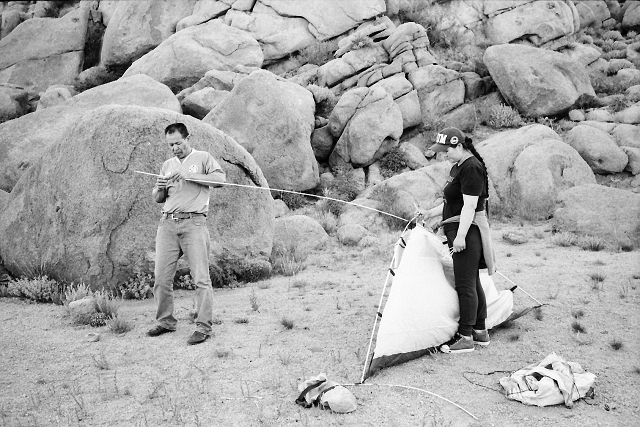 Coming from an urban country, this was our first ever camping out in tent. I was so excited but Shahrom couldn't stand the cold. The night passed by so fast and before we know it, it's time to pack up and move off to our next destination.
White Stupa
Tsagaan Suvarga (White Stupa) is located in Ulziit Soum, Dundgobi province. Scientists believe it is more than 10 million years old. The cliffs were created by erosion and the different coloured layers of rock represents different eras of time.
We hike down and explored the cliffs and enjoying the vastness of the place.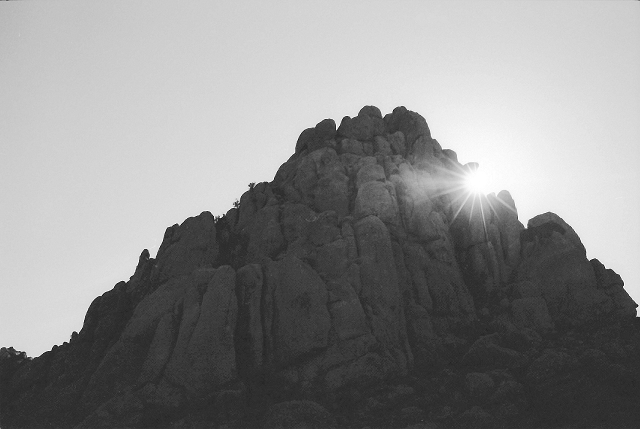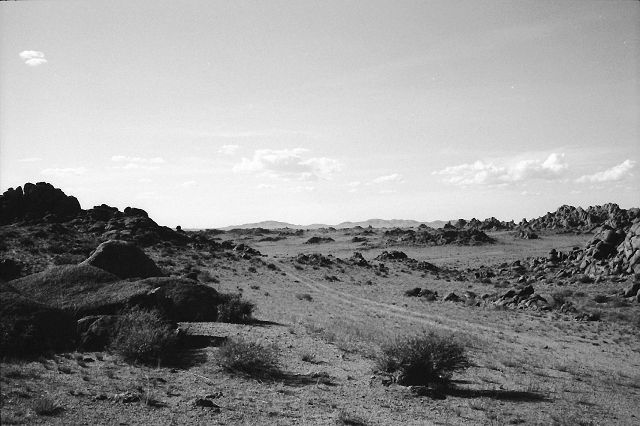 Second Nomadic House Stay
After a whole day travelling in the van, we arrived at Dolma and Dorjo's Ger. We were greeted by a dog named Bear. In fact he is just a puppy. I was so terrified.
We did nothing much, had dinner and went to our Ger to get an early night.
Shower Never felt so Good
It been 3 days since we last took a shower. We were lucky that our tour guide needed to shower as the last bath she had was 1 week ago. She brought us to a nearby mining town with a public bath and of course, we took the chance to clean up! Oh heated running water, how we missed you so!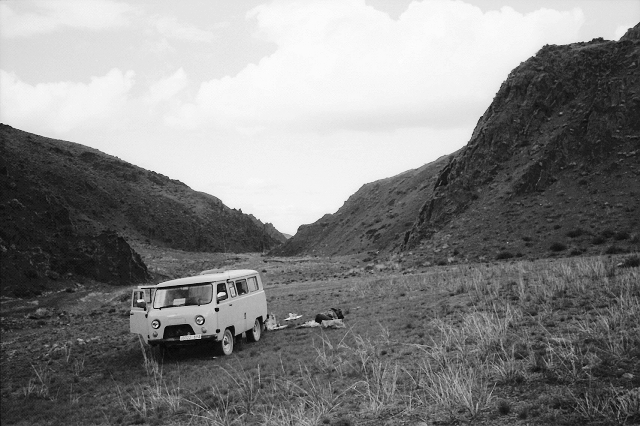 After cleaning up, we went to a market to get lamb for dinner. So we drove to our next stay, which was the most beautiful place I have ever saw. We camped in the valley! Hot lamb stew for dinner, campfire and sing a long session. What more can I ask for. It's the BEST honeymoon, I ever dreamed off. 🙂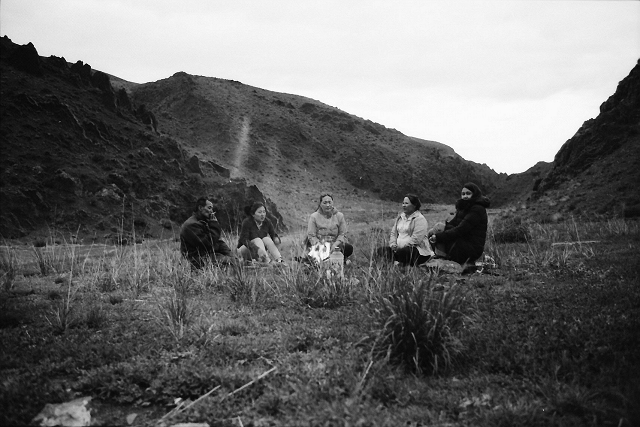 Yolyn Am
Yolyn Am is one of the main attractions in the Gobi for its stunning vistas. Lucky visitors may see Ibex, Argali (wild mountain sheep), and Tas (Scenerious Vulture). It is a deep and narrow gorge in the Gurvan Saikhan Mountains of southern Mongolia. It is a notable place for the deep ice field which is available all year round even during summer!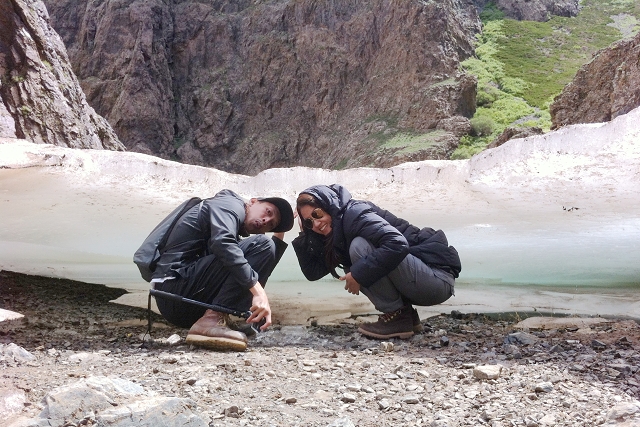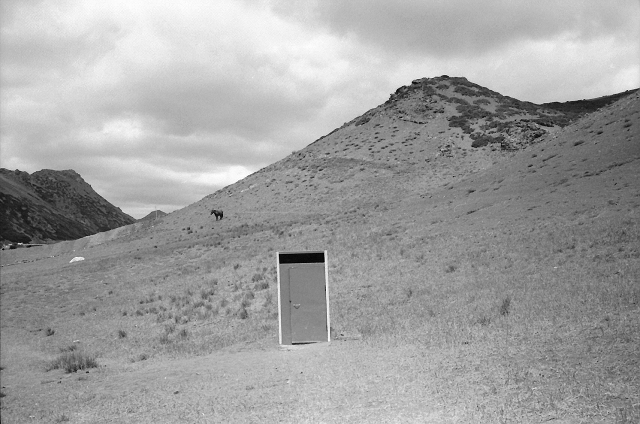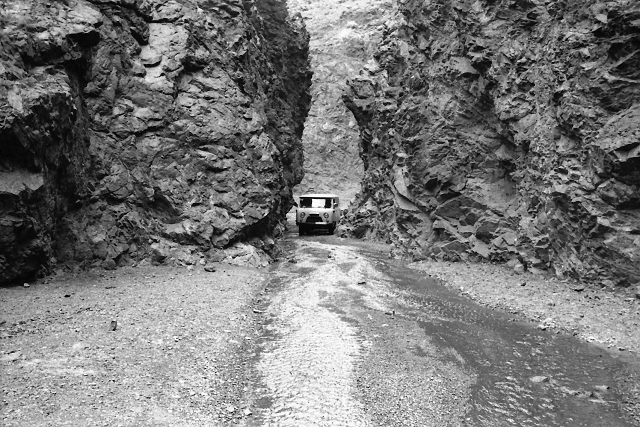 The Gorgeous Gobi Desert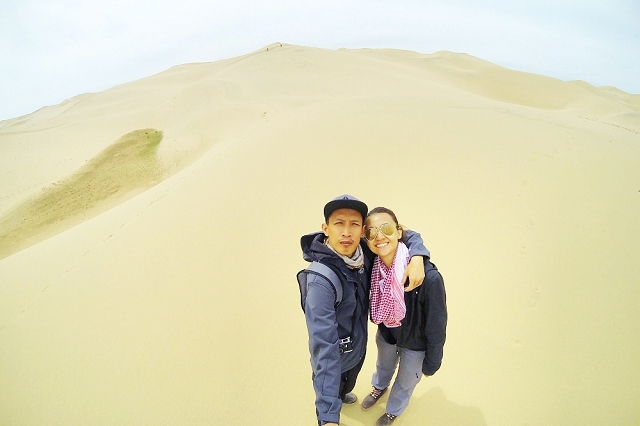 Finally, we arrived in Gobi. It's been a long and wonderful journey! We were reunited with backpackers. All we did was rest. The next day, we got to ride the camels to the sand dunes. Shahrom and I thought camels were cool animals but after riding them, they actually have bad breathes (so not cool).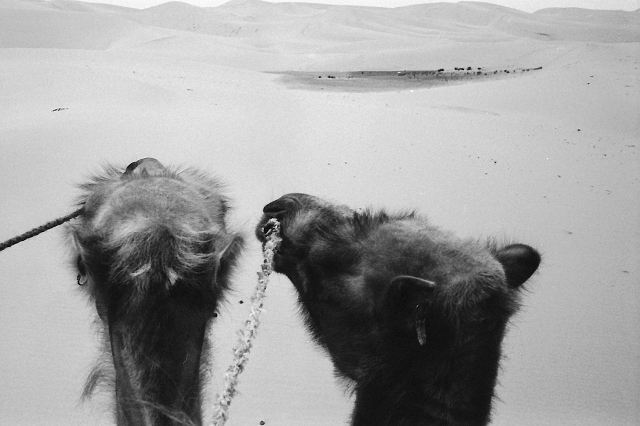 But the experience was indeed surreal. It felt like we were living our documentaries. Haha. To further challenge our mental and physical endurance, our guide brought us to climb 200 meters high dune. And it was so physically and mentally draining! We wanted to just give it up! Thank god, we didn't. The view on the top is worth the challenge.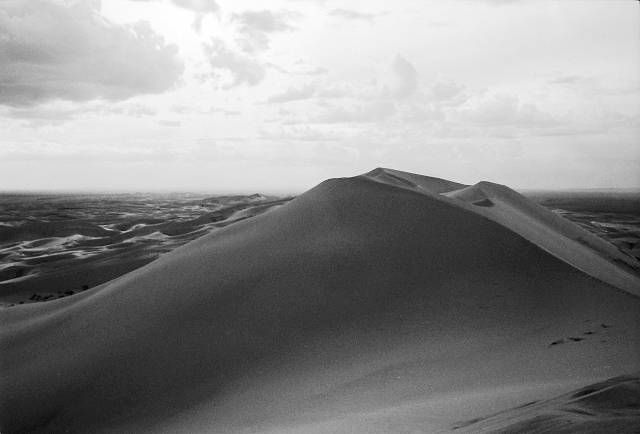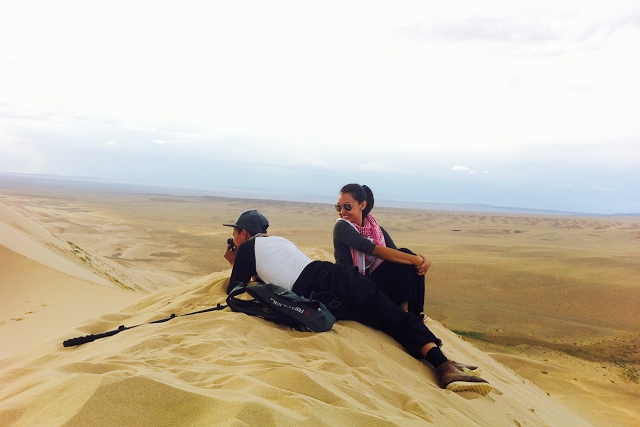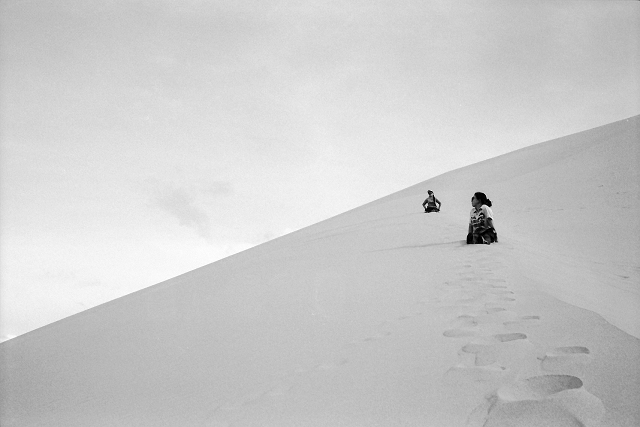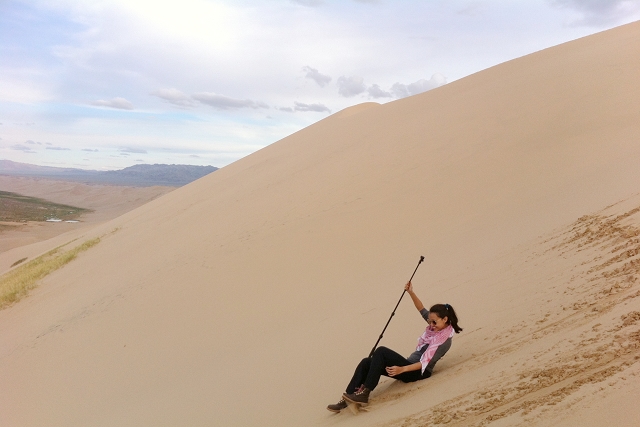 We head back to the Ger by sliding down the sand dunes (which was more fun than going up) and later played few games of basketball to end our night.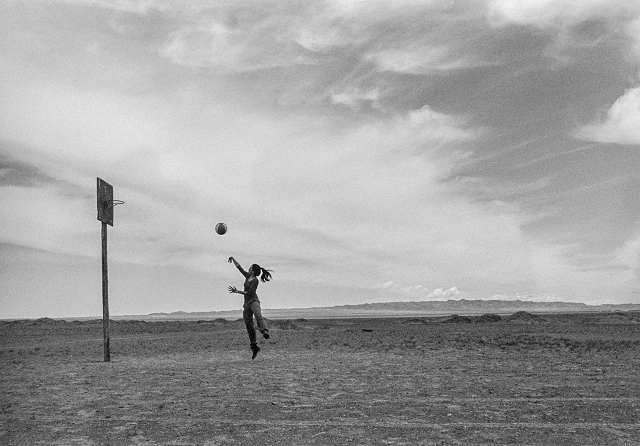 Flaming Cliffs
Flaming cliffs is known for its spectacular red fiery colours. The first dinosaur eggs were discovered at this site by an American paleontologist headed by Roy Chapman Andrews in 1922. We explored the area by foot, in all hopes to find any fossils. Of course, we didn't! 😛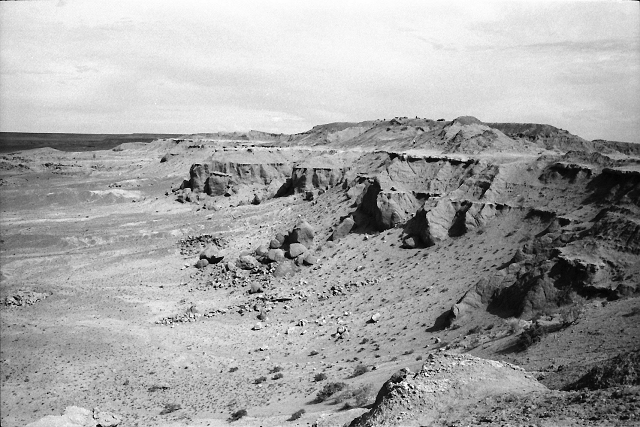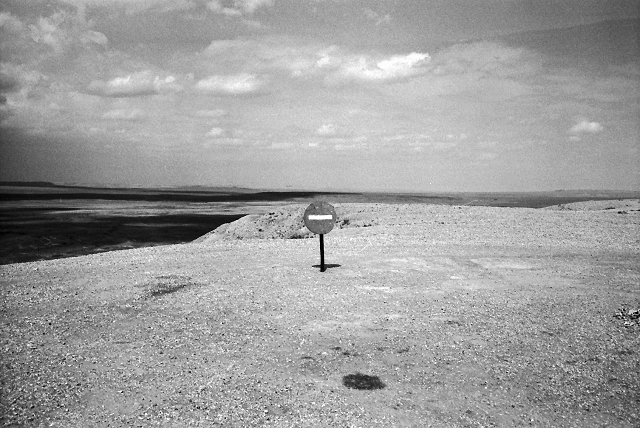 Wild Asses
While animals roam freely in Mongolia, our driver tells us that some wild animals are difficult to spot nowadays. So when he spotted some wild asses while driving, he was very excited to show us. Shahrom was of course thinking of a different kind of ass.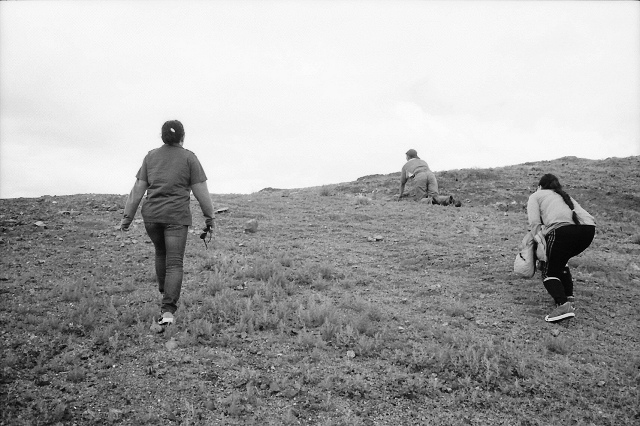 We spent the night at another ger and this time we helped out by herding together the goats for milking.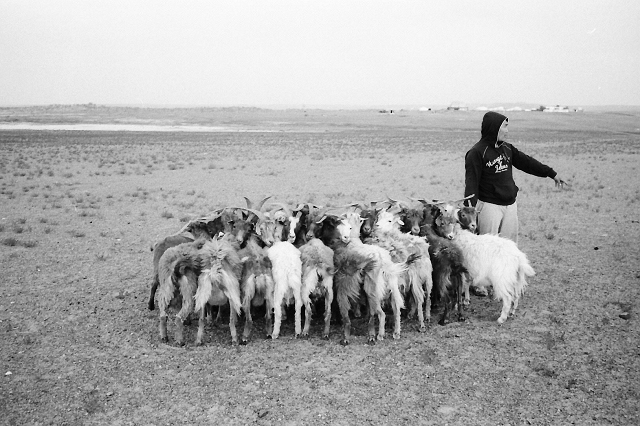 Our Last Night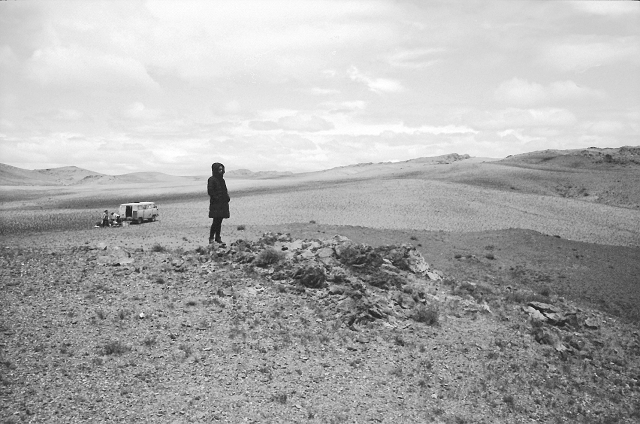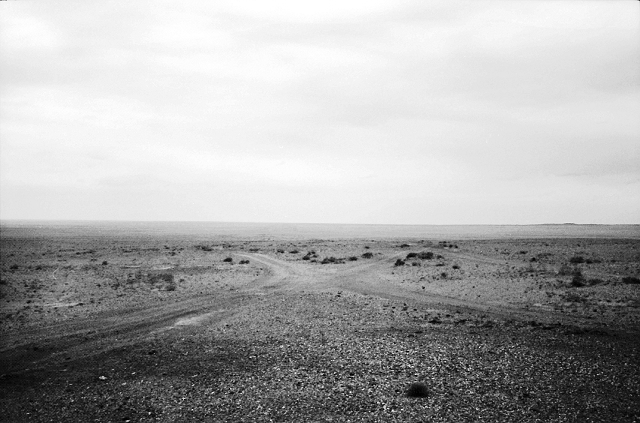 Our last night being nomads and there's a mixture of feelings. Knowing that our trip is coming to an end but at the same time, we can't wait to have a warm shower and sleep on comfortable bed. So our last night was spent in a Ger. I got acquainted with a little boy named Mogh Baht. We held hands and went for a walk in the open fields. He is so adorable!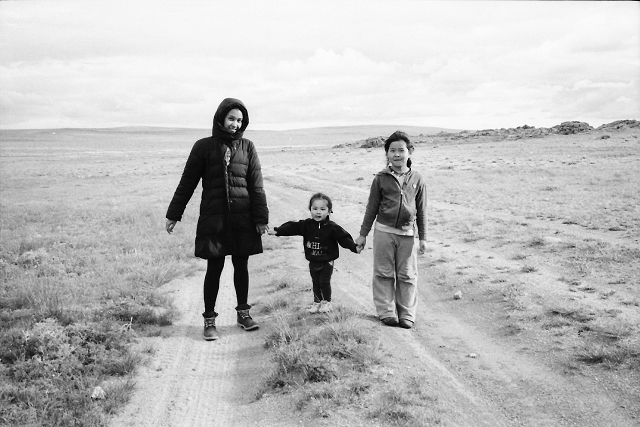 Chinggis Khaan Hotel
Back to civilization, buildings and roads. We checked in to Chinggis Khaan Hotel and showered. Sorted our dirty laundry and had our night's rest. On this day, we felt so blessed and thankful having to experience untouched Mongolia. Given a chance, we would definitely visit Mongolia again. Mongolia, you're beautiful!
Do drop us a comment below if you require more information on our trip. We would try our best to answer all queries.
Share your Mongolia stories with us too. 🙂
Please follow and like us: