Our short weekend getaway to Bandung
My in laws planned a short weekend getaway to Bandung over the Good Friday long weekend and they decided to drag their favourite brother in law along. 🙂 It was a 3 days 2 nights affair and the whole idea was just to rest, relax, shop and eat! And for me, it was a chance to shoot some street photos. Ann and I have never been to Bandung before and we were very excited! We flew on Air Asia and for a public holiday, checking in at Changi Airport was a breeze.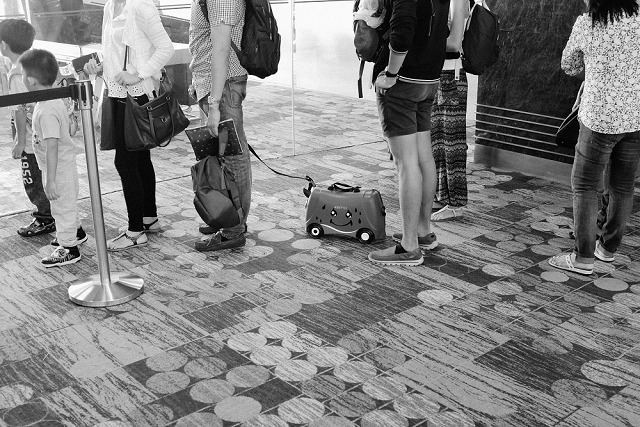 When we landed in Bandung, Ann and I was amazed by the cool sweater weather! How we wished Singapore was this cool. We took a cab and proceeded to our hotel.
We chose Aston Primera Pasteur as it was one of the nearest hotels from Husein Sastranegara Airport (1 km away) and it has loads of malls and other facilities in the area. The hotel is meant for business travellers but has lots of families staying here too. We did not want to travel too far from the airport as we heard stories about the famous macet or better known as traffic jams in the city. The rooms were very comfy. They have an outdoor swimming pool and many other facilities you would find in a hotel. The restaurant has an array of delicious food offerings too.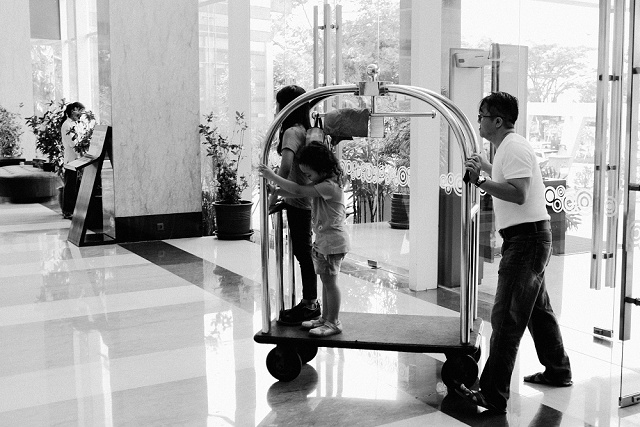 Paris Van Java
We checked in, and straight away dressed up for dinner. We got a cab from the hotel and proceeded to one of the new malls popular with locals and tourists; Paris Van Java. The mall is your one stop food and shopping solution. It has international brands as well as local ones too. But we were here just for dinner and back to the hotel to prepare for our tour the next day.
Tangkuban Perahu
A trip to Bandung is not complete if you do not visit Tangkuban Perahu which we booked via the hotel. It is an active volcano just 30 km outside of the city. It has erupted several times over the last century. As it was the Good Friday weekend, the only eruption was the crowd of people up there! For me, it was a good chance to shoot some street photos.
Tip: It takes a few hours to drive up. Start your day early.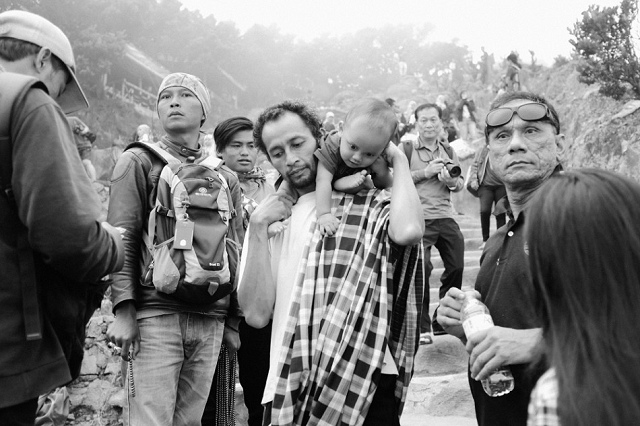 The killer was the drive down back to the city and we got to experience the infamous traffic jam first hand. Vehicles were literally on a standstill. Ann and I napped in the tour car and 2 hours later we were still in the same spot! We took the chance to catch some more sleep and only wished we could spread ourselves like a Fat Starfish in the car. We had dinner at a Sundanese restaurant, but all of us were too tired to do to even remember what we had! Back to the hotel and slept.
Hot Springs
There are many hot springs in Bandung and the next day we headed to one. There was a huge crowd there but we managed to sneak in and wash and soak our feet and of course took tons of selfies but they forgot about me.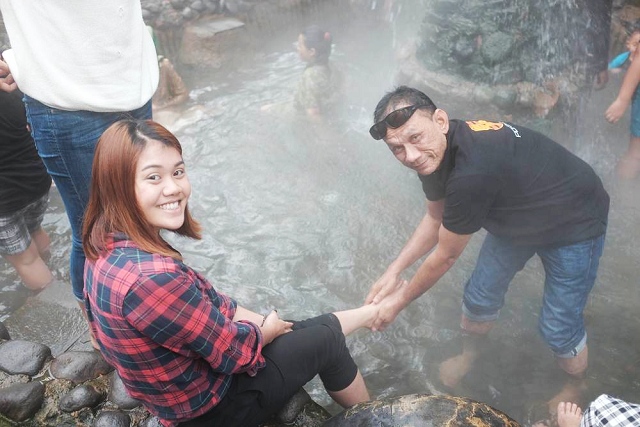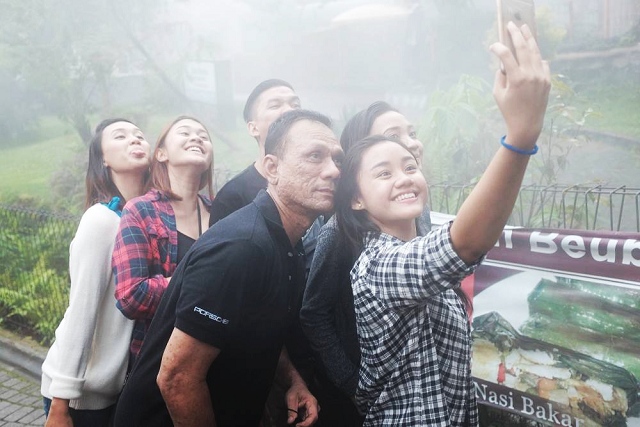 Shopping
Ann and my sisters in law are crazy shopaholics and Bandung fed their appetite. And I am not one of them. We went to Pasar Baru where the wholesale textile market is and they went crazy makcik buying tons of lovely designed batik cloths for the people back home. Men being men, my father and bro in law waited outside the market.
Rumah Mode Factory Outlet
We also headed to the famed Rumah Mode Factory Outlet. The outlet sells branded items for a fraction of the cost elsewhere. As usual, the ladies went crazy! I could not find my father and bro in law and wandered around with my camera instead and shooting cats doing it kitty cat style and kids playing hide and seek.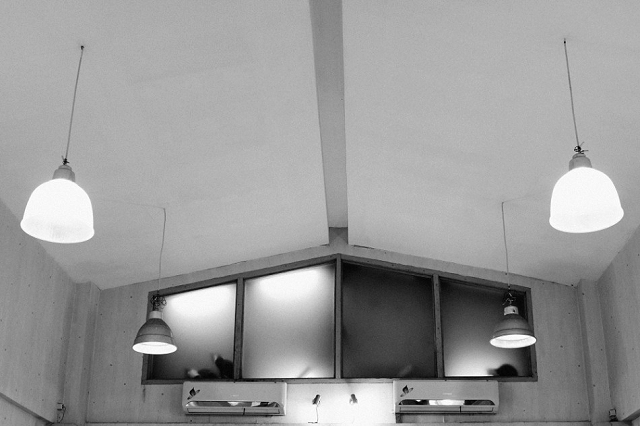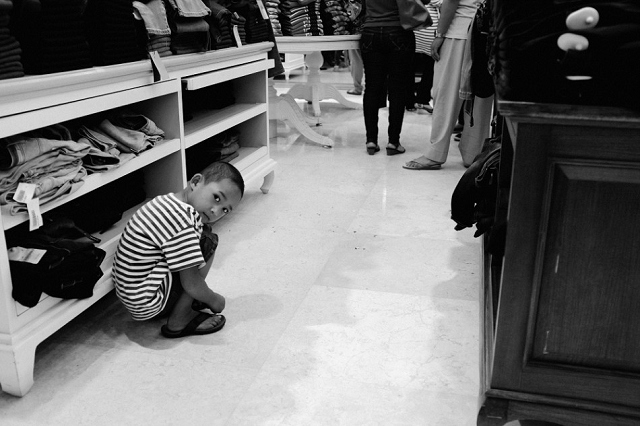 Trunojoyo
Trunojoyo is the hipster place to be seen. The stretch hosts distros (distribution centres) for local brands as well as hip cafes. Brands include Badger Invaders, wearecambridge and many others.
This time my bro and sisters in law went shopping while I sat at one corner sipping coffee. 🙂
The Stone Cafe
On our last night, our driver brought us to The Stone Cafe. It is an upscale restaurant situated on a hill with a view of Bandung. Food wise, it was good for the price. Prices are reasonable, and Wagyu steak was only $30! But the view was to die for. And the cool weather was the cherry on the icing!
I truly enjoyed my trip except for the shopping but it was a good getaway with my in laws. The weather was fantastic and I got away from this trip some great street photos. Ann and I would probably head to Bandung again in the near future. Till next time.
*This article might contain links to affiliates which Fat Starfish might receive a percentage of sales with no additional costs to you. Thank you for your support
Please follow and like us: