Our Short Getaway to Ubud
After our scuba diving misadventures, Ann and I decided to extend our holiday in Bali awhile longer while our friends head back home to Singapore. Ann and I have always been interested to see Ubud after watching movies like Eat Pray Love. So Ubud here we come.
After saying goodbyes to our friends, Made, our tour guide friend booked us a taxi to Ubud.
Ubud is a town in central Bali, away from the crazy beach party scene in Kuta. It is known and regarded as the cultural centre of Bali with artist studios as well as galleries scattered throughout the area. There are also many arts and crafts shops that are catered to the tourists. As for me, I love the architectural aspects of the town as well as the many cultural dances and prayers that constantly is happening in Ubud. An additional bonus is that the Ubud enjoys a cooler temperature too.
Bumi Muwa
After about 2 hours of driving, we finally reached Ubud. We booked a hotel in the town centre named Bumi Muwa. The hotel is located in a nondescript alley, so do give them a call when you reach or ask the locals for the direction. After walking through the alley, we were greeted with a nice peaceful haven.
The rooms are very clean and the bed is very comfortable. They have all the facilities to make your stay a pleasurable one. Best of all, it is situated right smack in the town centre where all the restaurants and attractions are.
Check out their rates HERE!
Monkey Forest
A trip to Ubud is not complete if you do not visit the Monkey Forest. It is situated in the centre of Ubud within the village of Padangtegal and walking distance from our hotel. The villagers of Padangtegal view the Monkey Forest as an important spiritual, economic, educational, and conservation centre for the village.
Ann love-hate relationships with monkeys started at this very place. An alpha male monkey like the one pictured above jumped out of nowhere, strolled casually among the crowd of visitors and suddenly latched itself onto Ann. Ann froze and the monkey grabbed hold of her bag which contains our passports as well as our newly bought GoPro camera. Ann can't believe that she actually got mugged by a monkey. It's a funny story that till today, I still teased her about it.
I had to come to the rescue fighting off the alpha male and retrieving our bag. Lucky for us it did not fight back. 🙂 While they can be seen as harmless and cute, they love to climb onto you and steal your bags searching for food. It was a memorable day for me being a hero but a nightmare for Ann etched in her mind for a very long time. Haha
Tip: Avoid bringing bags or loose items such as cameras into the forest.
Open Daily
8:30 AM – 6 PM
Ticketing Service
8.30 AM – 5:30 PM
Entrance Fee
Adult
IDR 40,000
Child
IDR 30,000
Cafe Wayan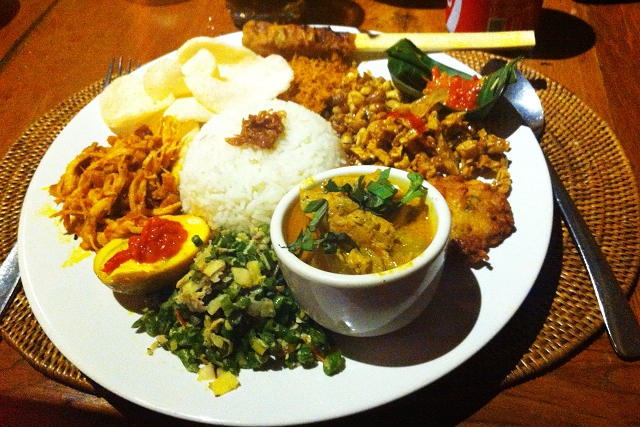 After the monkey ordeal, we walked to the bustling centre of Ubud where all the cafes and restaurants are located. We decided to try out Cafe Wayan which is the famous cafe that Julia Roberts visited in her Eat Pray Love movie.
Ann ordered the mixed rice that looks like the Rijsttafel while I went for the crispy fried duck or better known as Bebek Goreng. The authentic Balinese food here is a must try!
Motorcycle Rental
The next day, we rented a motorcycle from our hotel and decided to go for a joy ride around Ubud. There are many shops that offer motorcycle rentals in Ubud. If you can't find one, inquire at your hotel.
We rode all over the town, pass by many scenic paddy fields as well as luxurious villas. I am beginning to love this place so much that I might move here. 🙂
Three Monkeys Cafe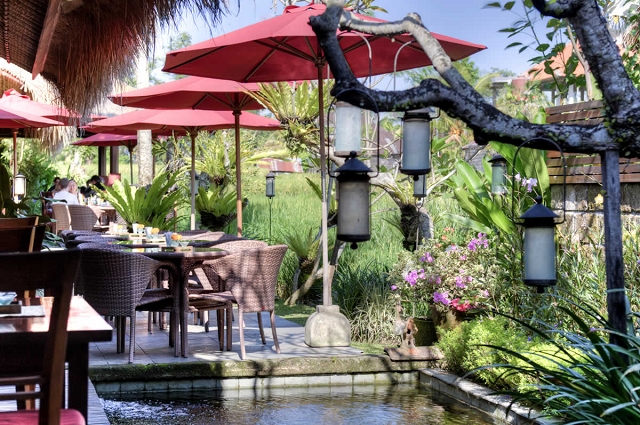 We rode back to town and headed to Three Monkeys Cafe. The cafe has an alfresco dining at the back with a scenic view of paddy fields.
I ordered the Ayam Betutu,  a local specialty of smoked farm chicken, fragrant yellow rice with traditional green vegetables while Ann decided to play it safe by ordering pizza instead. We ended up switching plates as my Ayam Betutu was so delicious that Ann did not want to eat her pizza! We fought over it so much that we did not even took a photo of the wonderful dish.
We wrapped up our meal with The Belgian Chocolate Double Brownie Stack with Vanilla ice cream. Two words…. THE BOMB. It was sinfully delicious and definitely highly recommended. A celebrity radio DJ friend of ours whom we recommended the brownie praised highly of this dessert too. Till today Ann keeps pestering me to bring her here again.
Do check this cafe out. You would not be disappointed.

Fried Banana Fritters with Cheese
The next day, we rode the motorcycle around Ubud again and we came across a stall selling deep fried banana fritters smothered with condensed milk and topped with cheese. Heavenly. It was so good we ordered 2 packs of it!
While Ann was ordering the 2nd pack of fritters, I came across a cute baby monkey tied to a metal chain leash beside the stall. It was very friendly at first and when I decided to pat its back, it got really really angry. It was so angry that it tried to unleash itself from the chain and attacked me while Ann at the corner was shouting at me to run away.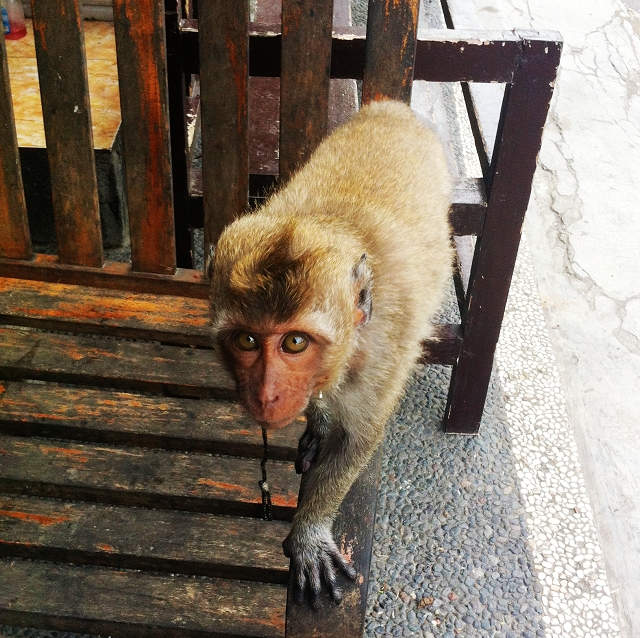 It was a funny scene to me though but not for Ann who was attacked by the monkey a few days back. I tried to make peace with the monkey by offering it a banana which it immediately threw it back at me. However we became friends again when I offered it the fried banana with cheese. It was so good it kept licking its fingers and asking me for more.
Maha Art Studio
We continue our ride and awhile later I got hungry again. We came across a street hawker selling Mee Bakso a Beef ball noodle soup. Gulped down 2 bowls when an Indonesian man approached us.
The man introduced himself as Wayan Lisih and ask us whether we were locals. After telling him we are from Singapore, we chatted and he invited us to his art studio down the road. He says he loves meeting foreigners so that he can practice his English.
This humble man is a well known artist in Ubud and owns Maha Art Studio. He is a celebrated painter and his works of traditional Balinese inspired paintings have been sold and collected internationally.
You can check out more of his works at his website Maha Art Studio. We have kept in touch ever since our meet.
Jl. Suweta No.16, Ubud, Kabupaten Gianyar, Bali 80571, Indonesia
Ubud have been great to us. The food was fantastic, the amazing art scene, friendly people and best of all the weather have been very cooling. I am so in love with this place that I keep telling Ann that I want to move here soon. At least now I have a goal to look forward to.
Till next time.
I love Bali…
Please follow and like us: