Mushroom Tripping – The Legal kinds
Since last year Ann have been bugging me to bring her to a mushroom farm. We found one mushroom farm in the Sengkang area near Jalan Kayu but the gates were locked and it seems that the land have been seized by the state. I don't know what's her deal with mushrooms but I decided to put the matter to rest. 😛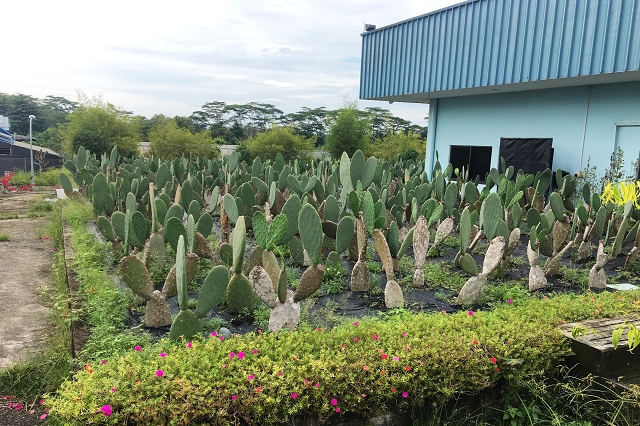 We googled and found another one called Kin Yan Agrotech in Neo Tiew Crescent which is quite far out in the north of Singapore. They are Singapore's largest commercial organic wheatgrass farm supplying these crops and its products. They also grow cactus, aloe vera, roselle fruits and of course mushrooms.
They provide:
Activities that visitors will be doing/learning
1. Wheatgrass Farm tour
2. Educational trip for students
3. Life Science programme for school
4. Farm products sale
5. Products tasting session
6. Healthy Cactus Cooking Demo
7. Aloe Vera Cooking Demo
8. Healthy Wheatgrass Juicing Demo
9. Joint Direct-Sale membership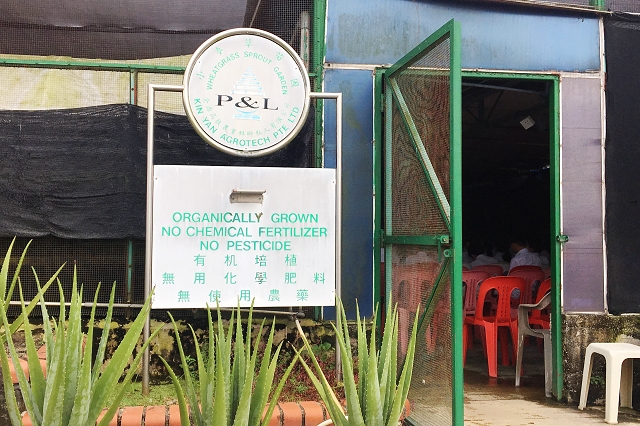 When Ann and I arrived, there were a group of students having an educational tour of the wheatgrass farm. So we decided to join in the talk. After awhile, Ann and I got restless looking and hearing about wheatgrass that we decided to walk around the massive farm, which was mostly wheatgrass and cactus.
Fun fact: Drinking 50ml of pure wheatgrass juice is equivalent to eating 3 kilograms of vegetables!
After asking a staff member if we can have a look at the mushroom farm, the staff replied that it is not open to the public. Ann got a little upset but to compensate her sadness she went crazy buying stuffs at the in house organic produce shop. She even wanted to buy mushroom spawning bags too! But her impulse was short-lived of course by me!
But here are some of the items she got instead:
Oh! She got herself an aloe vera plant too. Which she replanted into a vase and is now sitting in our room to keep the room fresh. Apparently it promotes better sleep, (that's what she claims). We also bought healthy organic noodles that were made from mushrooms too.
The farm also sells Wheatgrass Growing Kits which you can buy and grow them at the comfort of your house. Lucky for me, Ann is not into weed wheatgrass.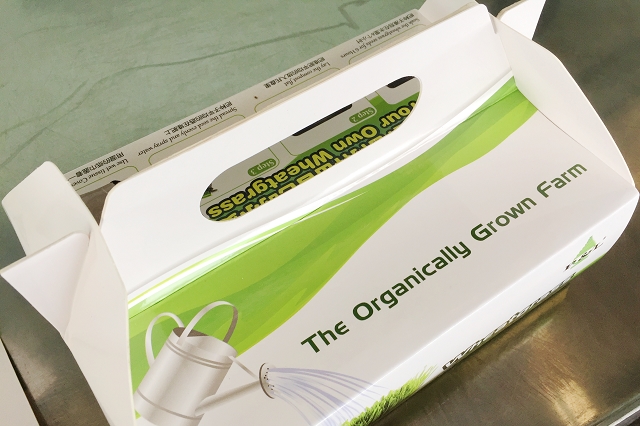 Now that I have fulfilled her mushroom desires, my ears can be spared until she search for her next obsession. As of now I am going to make her cook some nice mushroom noodles for me. 🙂

Farm Visiting Hours: Daily(Mon – Sun), 9am to 5pm
Admission: Free
Directions: From Kranji MRT, take Kranji Express or SMRT Bus 925 (Sun and PH only)
Website: www.kinyan.biz
Please follow and like us: