Our Valentine with FatPapas
Ann and I don't really celebrate Valentine's Day. It is just another ordinary day in February for us. When one of our pals, Yazid informed us of a new burger joint opened by celebrity Sheikh Haikel named FatPapas, the 3 of us had to check it out. So 14th February was our date with FatPapas all 3 of us.
Sheikh Haikel is a well known celebrity in Singapore. He loves his food and when he proposed his idea of a Halal version to Bernie, owner of FatBoys Burgers, the rest is considered history.
And so the 3 of us headed to Fatpapas at Bali Lane for our impromptu Valentine's Dinner date. As we reached, we were greeted by the friendly service staff. We browsed through the extensive menu of burgers as well as other mains such as pastas and fish & chips. They also serve their signature Ten Dollar Milkshakes.
As we asked the staff for recommendations, they even let us know of a secret burger off the menu called the Country Fried Sheikh Burger which is the fave of Sheikh Haikel.
The 3 of us decided to order 3 different burgers. Ann went for the the Wimpy, Yazid the Bushtucker and for myself the Mahalo, a Hawaiian inspired burger with an additional topping of turkey bacon! Yums!
Best of all, you can even build your own burger from the array of toppings and sauces from aged cheddar cheese to truffle mayo sauce and even Nutella!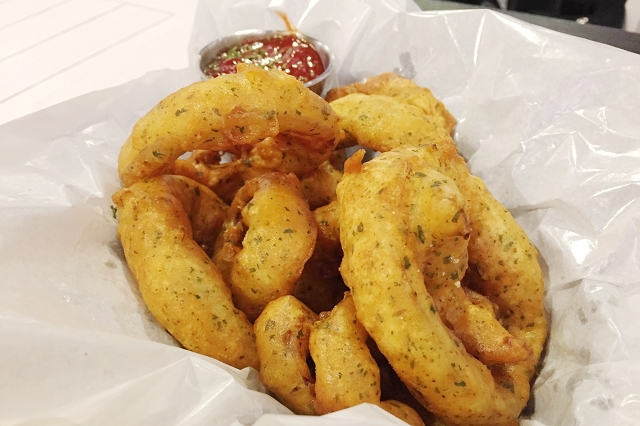 Our side order of Onion Rings were huge size rings compared to the ones you get frozen at the supermarket.
All in all the 3 of us agree that the burgers were awesomely good. We had a fulfilling Valentine's dinner and we went home with a Happy Ending. 😛 We would definitely come here again to try out the other burgers.
FatPapas is located at Bali Lane. Do check it out.

FatPapas
Temporary Opening Hours:
MON.– FRI. 5:00 PM – 11:00 PM
SAT. – SUN. 5:00 PM – 11:00 PM
Please follow and like us: