Pince & Pints: A Must Try Succulent Lobster Restaurant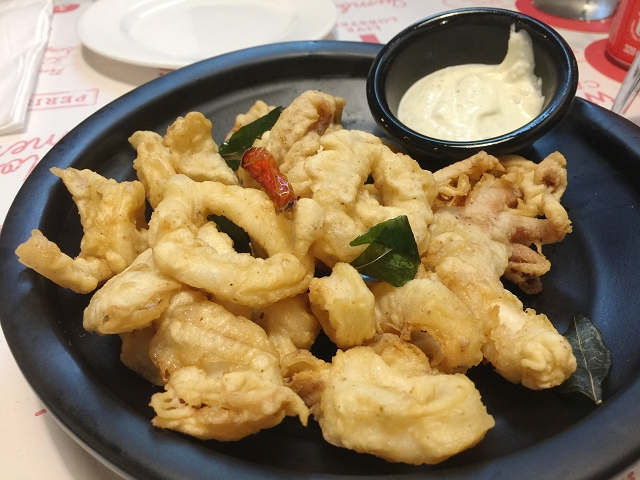 After sharing a photo of the hearty Lobster Nasi Lemak meal I had at Lawa Bintang with Ann, she got jealous and suddenly had a craving for some lobsters. 😛
Related: Lawa Bintang – One of a Kind Cheese Lobster Nasi Lemak at Tampines
She 'demanded' that I bring her someplace for lobsters and we settled for Pince & Pints as it was near our house. We also heard stories of the delicious Lobster Roll and the long queues that we decided to check it out.
It was a cold rainy night and we reached the Katong outlet we were surprised that there were no queues. We looked through the menu which was simply Lobsters cooked in different ways and some other bites.
We started our meal with an order of the Deep Fried Calamari (above). The calamari was chewy, definitely fresh and mildly spiced with Szechuan batter and served with tartare sauce.
A great start to our meal.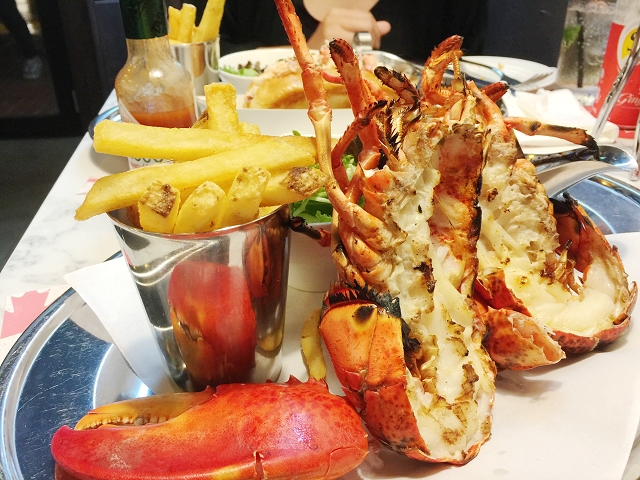 Ann ordered the grilled Live Whole Lobster served with chef's salad, straight cut fries and butter sauce. The Lobster was huge and very plump. The Lobster meat was very fresh, juicy and succulent.
We were very impressed and we were informed that the Pince & Pints owner, Frederick Yap, owns a lobster import business. He flies in the Lobsters twice weekly from Boston and Canada in order to serve only the freshest Lobster meals in the restaurant.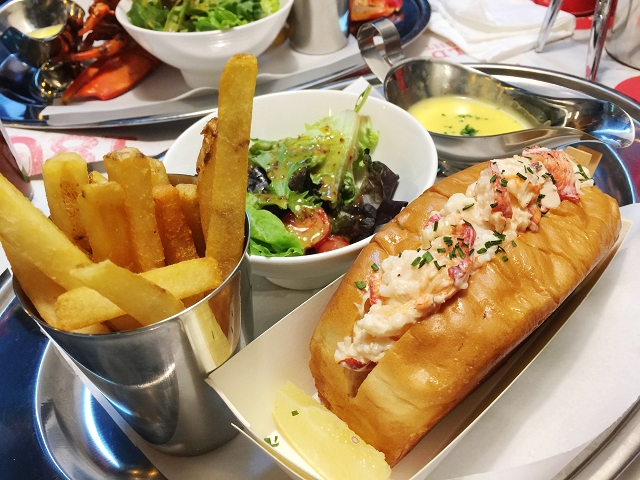 We have been hearing stories of the famed Lobster Roll and I just had to order it for myself. The Lobster Roll comes in a bun sourced from a traditional bakery.
The bun is grilled with butter to give the bun a slight crisp. But the star of the meal would be the fresh chunks of steamed Lobster meat mixed with Japanese mayonnaise and topped with chives served cold with a side of salad and fries.
It was truly a Lobsteronomic feast and I really enjoyed the Lobster Roll rather than have the Lobster by itself. Ann agrees too! Taste-wise, we were quite lost for words…
If you are wondering why there is a piece of lemon at the side, it is not for you to squeeze all over the lobster but for you to cleanse your palate after every bite of the succulent tasty roll.
We were quite lucky that day as the restaurant quickly filled up and queues started to form midway through our meal.
Pince & Pints have 2 outlets; one in Katong and the other at Duxton. We suggest that you make reservations before enjoying this truly fresh, succulent must try Lobster place.
Ann is already planning a 2nd trip here and I can't wait to claw into another Lobster roll soon!
Pince & Pints Katong
428792, 95 E Coast Rd, Singapore 428793
Pince & Pints
32-33 Duxton Rd, Singapore 089496
Please follow and like us: