Review: Madras New Woodlands
Ever since I came back from my Epic Motorcycle Adventure from Chennai, I have been scouring the Indian restaurants in Singapore for the best Masala Dosa. 
Masala Dosa is an Indian style crepe that is made from fermented rice flour, lentils with spiced potatoes and onions as a filling. You can also have it plain. It takes a lot of skill and experience to master making one. I have tried many places but so far nothing meets my expectations like the ones in I had in Chennai.
I love my Dosa thin, crispy on the outside and chewy in the inside. That was until my friend recommended me Madras New Woodlands.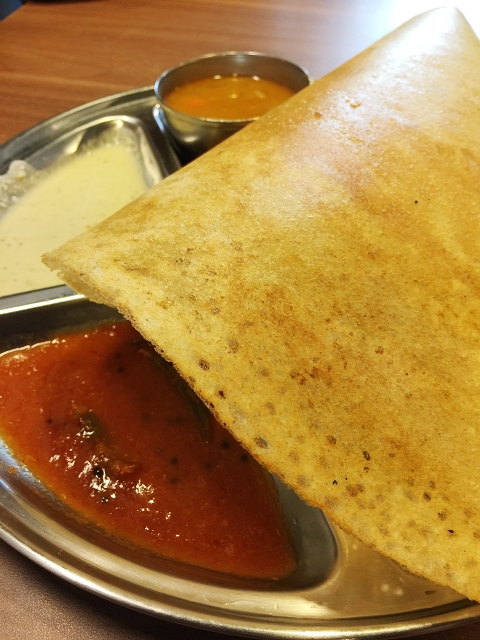 The Masala Dosa here meets all my requirements. It is crispy on the outside, chewy in the inside and the mashed potato masala filling is not overly spicy. Mindblasting! The Dosa is so good that you don't need the sambar and coconut chutney to complement it!
The restaurant is located at Upper Dickson Road in Serangoon or better known as Little India. It can get very busy in the evenings as well as during weekend brunch. Parking is a problem here. If you are driving, there is a gantry style parking up ahead from the restaurant.
Another common Indian drink, the Masala Tea is also very difficult to find in Singapore. The ones you find here are usually the powdered version or really diluted. At Madras New Woodlands, the Masala Tea here is top notch. It is made from fresh milk brewed with spices instead of the condensed milk versions we always find. It is serve in a metallic glass with a bowl. The bowl is served for you to "pull" the tea to make less hot and more frothy like your cappuccino.
We highly recommend ordering one or a few! Although I am lactose intolerant, the Masala Tea here so far never gives me a tummy discomfort. I hope it stays that way though!
This is place is highly recommended. We would give all the thumbs we have.

Madras New Woodlands
Address : 14 Up Dickson Rd Singapore 207474
Telephone : 6297 1594
Please follow and like us: