Our Mis Adventures in Sri Lanka
Colombo
It is the June holidays again and we could not decide where to go for our annual vacation. After much research we decided to travel to Sri Lanka and discover the country where most people tell us that it is a dangerous place to go for a holiday. We packed our backpacks and off we went to explore Sri Lanka on our own.
We flew via Airasia and transited in Kuala Lumpur. For this trip, Shahrom and I decided to explore Sri Lanka via their network of trains. As Sri Lanka is relatively new to tourism, chartering a car with a driver was way beyond our budget.
So here's the start to our travel Mis Adventures in Sri Lanka. 🙂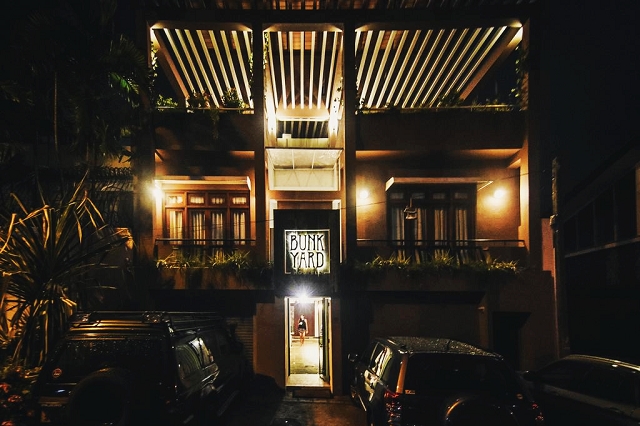 We reached the airport in the evening and immediately checked in to Bunkyard Hostels.
Bunkyard Hostel is a new and hip hostel situated in an quiet affluent neighbourhood away from the hustle and bustle of the city centre.
Tip: Get a data sim card at the airport
Tip: Travel around Colombo via Uber. It is cheap and very convenient.
The rooms are very comfy and clean. You can choose dormitory rooms or a personal room with attached showers. We opted for the the personal room. 🙂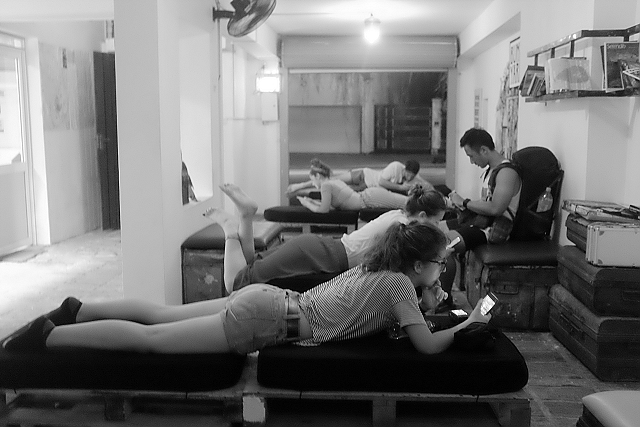 Breakfast is provided, tea and coffee is complimentary throughout the day. There is a hang out area where you can just chill or share stories with other fellow travellers.
The Bunkyard Hostels staff are very friendly and always eager to cater to your needs. They provide great advice too on places to eat as well as visit in Sri Lanka.
View Bunkyard Hostels Rates
Recommended Places to Eat
The Fat Crab
Sri Lanka is known for the freshness of its seafood. Since we were not able to make our reservation at the famous Ministry of Crab, we decided to give The Fat Crab a go. The Fat Crab is located by the sea and we managed to catch our first sunset there. The train line is also by the beach and the occasional chugging is therapeutic to our ears.
We had fresh Sri Lankan crabs along with tiger prawns. We ordered Spicy Negombo Devilled Crab, Lankan Muruga leaf curry crab and grilled prawns. Homemade bread and chips are served together with the seafood. Overall, we had a hearty meal and the crabs were one of the best we have tasted.
*scroll the photos to view more
Dilmah T lounge
When you're in the land of tea production,  having a cup of tea is a must in our itinerary. Dilmah is a household brand for tea. It can be found practically anywhere in the world. Well, at least in our household. Shahrom loves this brand so much that we had to visit its lounge to have a taste of the various style of teas.
The ambience of the lounge is very quiet and calming. A whole range of tea leaves can be found in the menu and with the help of the knowledgeable waiter, we learnt a thing or two about the teas.
Beach Wadiya
We can never get enough of seafood, so we decided to do more research on it. Shahrom stumbled upon Beach Wadiya and interestingly this restaurant is located by the train tracks along the beach. In order to get to the restaurant, we needed to cross the train tracks. It was nerve-wrecking experience. However fret not, there's a security guard to guide you through.
After all those 'adventure', we sat down and ordered grilled fish, stir fry kangkung, devilled prawns. They only serve the catch of the day. The waiter will bring out a plate of seafood (the catch of the day) and cook accordingly to your liking. So the menu was pretty much straight forward. No flipping through back and forth.
The owner Olwyn Weerasekera has hosted royalties, presidents, celebrities and even our own Singapore Ministers in his beach side restaurant. The walls of his restaurant are posted with photos as proof.
Upali's by Nawaloka
We were craving for some authentic Sri Lanka food and had no idea where to go. But our friendly friends at Bunkyard Hostel recommended us to try Upali's by Nawaloka. Without a doubt, we make our way there and were recommended to order the Fish head curry, jack fruit and pumpkin as side dishes that was served on a plate of rice. We had our minds blown by the deliciousness of Sri Lankan cuisine!
To top it all off we had buffalo curd with treacle for dessert. Amazing sweet Sri Lankan dessert to finish off the great meal!
Upali's is Halal certified too and value for money. We highly recommend this restaurant if you are here in Colombo.
Places to Visit in Colombo
Lionel Wendt Art Centre
Lionel Wendt Art Centre is a major arts and theatre hub in Sri Lanka. The building is dedicated to the memory of photographer and artist Lionel Wendt.
There was a photography exhibition when we were there and it was a great experience to learn a thing or two about the Sri Lankan art scene.
Best of all, the building is just beside Bunkyard Hostels!
Red Mosque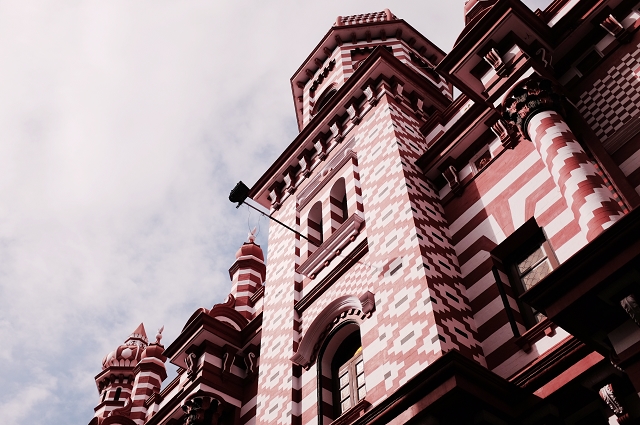 The Red Mosque is a historic mosque in Colombo. It is located on Second Cross Street in Pettah. It is built in 1908 and has a capacity of more that 10 000.
The mosque is a popular tourist site. You can enter the mosque and there is an tourist information centre where they will explain to you the history as well as watch a short video about the iconic mosque.
Pettah Floating Market
The Pettah Floating Market serves as a tourist attraction with 92 trade stalls that deals with souvenirs, local produce and handicraft.
Shahrom and I don't usually buy souvenirs so it was just window shopping for us at the Beira Lake.
Train Journey
Colombo – Mirissa (Coastal Train ride)
The cheapest mode of transport to see Sri Lanka is via their network of trains. We bought second class tickets to Mirissa but the views were top class.
It is worth the sweat and whines while the train is chugging along the scenic views of the country.
Tip: Look for the carriage number 2 and find a seat. That is for second class ticket holders. We made a mistake of buying 2nd class tickets but sat at the 3rd class carriage which can get very crowded. But it was fun hustling with the crowd.
Sri Lankans are very friendly people. While we we on the train to Mirissa, a guy named Seyyid came up to us and chatted with us. He used to work in Malaysia and his command of Malay was very good thus we could understand him well.
He invited us to his house for Iftar (the breaking of fast) that night and of course we gladly oblige; to immerse ourselves in the Sri Lankan way of life.
We had one of the best local meals of preserved smoked fish and curries here and Seyyid brought us a tour around his village meeting his extended families too. A truly amazing local experience!
Mirissa
Mirissa Beach House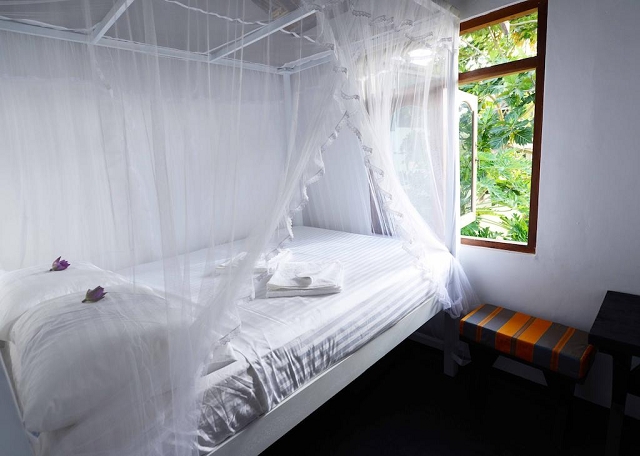 When we reached Mirissa, we checked in to Mirissa Beach House. The house is a few steps away from the beach, with 3 bed rooms and living hall and they have facilities to cater to your every needs.
Paul, the owner, is very helpful in making sure your stay is a pleasant one. He directed us to the house clearly, makes sure we are comfortable and even organises BBQs for you while he is away somewhere else in the world!
We did not get to meet him personally, but he calls and check on us regularly to make sure we are comfortable and his caretaker took good care of our well being.
View Mirissa Beach House Rates.
Galle Fort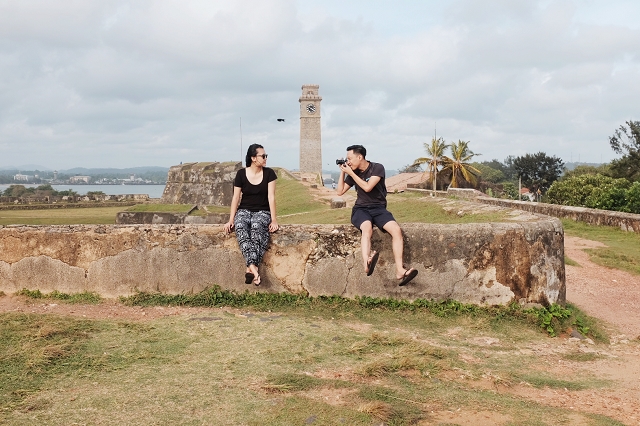 Since it was the low season in Mirissa, we decided to take the train for a day trip in Galle. It was about 4 hours ride there and during this time, Shahrom was having a bad stomach. (the start of our misadventures) 4 hours of heat and sweat on the train, we finally arrived! Actually Galle Fort isn't that far from the train station but due to the heat we felt it was more convenient to get a ride from a three wheeler.
Galle Fort was built by the Portuguese before being extensively fortified by the Dutch. It is now a cultural heritage site recognized by UNESCO. The area has beautiful and rustic architecture of both influence. We had a great time strolling down the alleys and admiring the gorgeous shop houses in the Dutch Colony. Shahrom and I were dreaming of staying in one of those beautiful houses.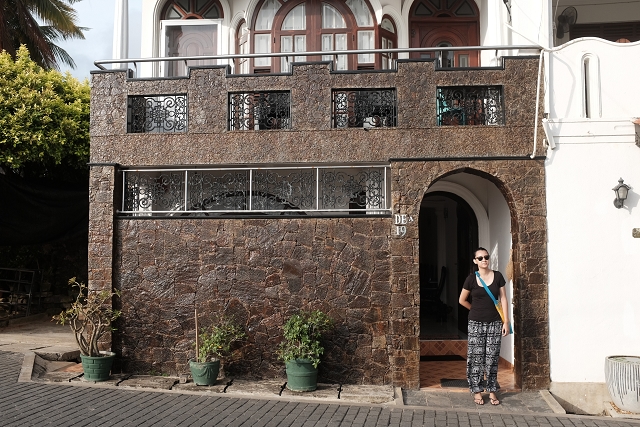 It is here too that Shahrom vomited and had a very bad bout of diarrhoea. But all is well after the purge and he is so proud to say that he left his mark at a UNESCO Heritage site!
Tips given by a local:
If you would like to purchase souvenirs, Galle is not the place as it can be very expensive
Halal Restaurants can be found everywhere in the Dutch Colony, all you need is ask
Many beautiful and hipster cafes to enjoy a cuppa and soak in the views
Spend a night in Galle to truly enjoy the area
Dutch Colony
There are many restaurants, cafes and shops in the Dutch Colony. One of the locals whom we chatted with recommended us to restaurant called the Heritage Cafe.
They serve international dishes such as pasta, sandwiches as well as local Sri Lankan cuisines such as curry and rice. Shahrom was not feeling well so he ordered a pot of hot tea to calm his stomach bug while I had an amazing dinner of fish steak.
The Heritage Cafe is Halal too like most of the restaurants in the area.
Ella
We were already in Mirissa, so we decided to hire a driver to get to Ella as it was a faster route compared to taking a train.
As it was the Poya Day, a full moon public holiday in Sri Lanka celebrated by the Buddhists, all shops and businesses are close.
There are 12 – 13 Poya Days in a year. So do plan your travels and necessities
There were no places to eat and when we passed by Hambantota, we saw the Shangri-La and decided to check out the place for a little pit stop.
Shangri-La Hambantota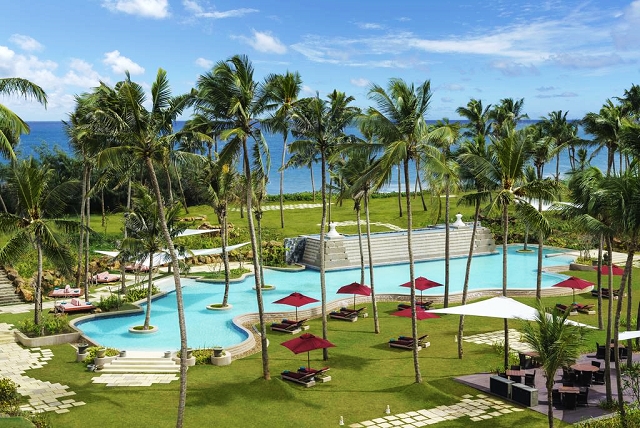 The Shangri-La Hambantota Golf Resort & Spa was an amazing place. We could not believe our eyes as we walked through the entrance of the resort.
It seems as though we walked into paradise on earth with the calming greenery and coconut trees swaying in the sea breeze. We were only here to have lunch at the in house restaurant, Bojunhala, which we had an intercontinental buffet lunch with amazing views!
We would have stayed a night (or two)  if we didn't have made plans to go Ella.
View Shangri-La Hambantota Rates
White House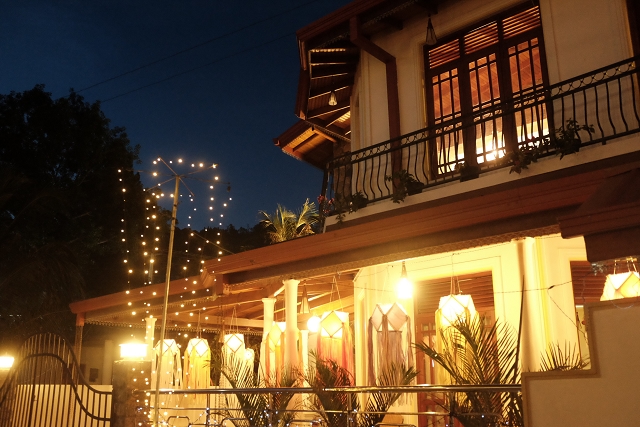 We continued our drive and hours later we reached the lovely mountain town of Ella just after sunset. The cool weather here is great compared to the humidity in the coastal towns.
We checked in at White House, washed up and didn't do anything much as we were already too tired from travelling. This guesthouse is one of the best rated properties in Ella and it did not disappoint us.
The rooms were very clean with a homely feel and it has comfortable common living areas where you can just chill and drink tea with fellow travellers.
A highly recommended place to stay if you are in Ella. 🙂
View White House Rates
Ella – Kandy (Mountain View Train Ride)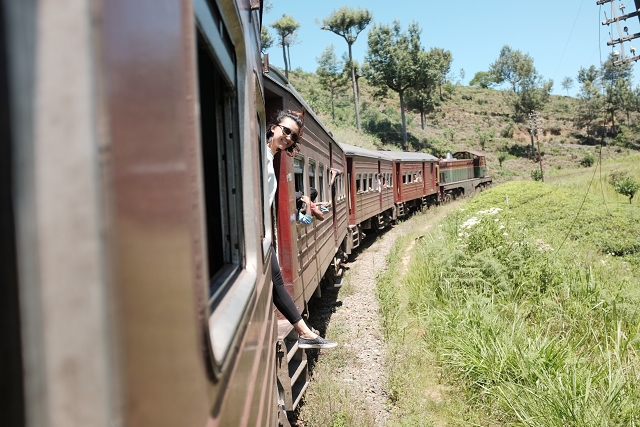 We didn't stay long in Ella and the next morning we bought our train tickets to Kandy. The train ride passes by beautiful hill tops, tea plantations and every single chugging of the train comes with picture perfect views.
Tip: No need to pre book tickets as it can be more expensive. Just head to the train station and buy when you want to leave.
We had so much fun in the trains taking photos and enjoying ourselves in the views when suddenly, we heard screeching sounds and the train swayed to one side.
Little did we know, we were experiencing a train derailment!!!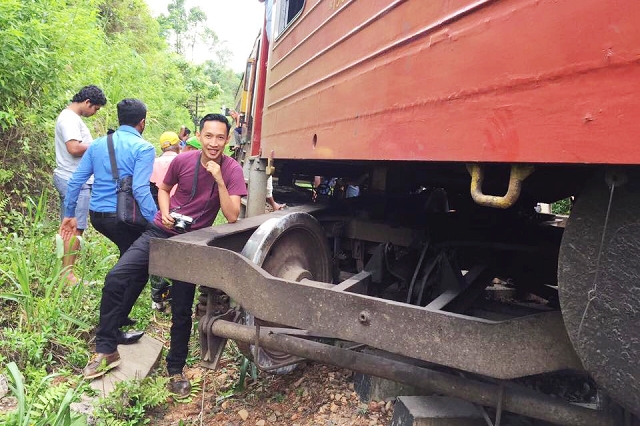 Lucky for us it was not a big accident and everyone on board were safe. Shahrom could not stop taking photos though posing with the derailed boogies and all.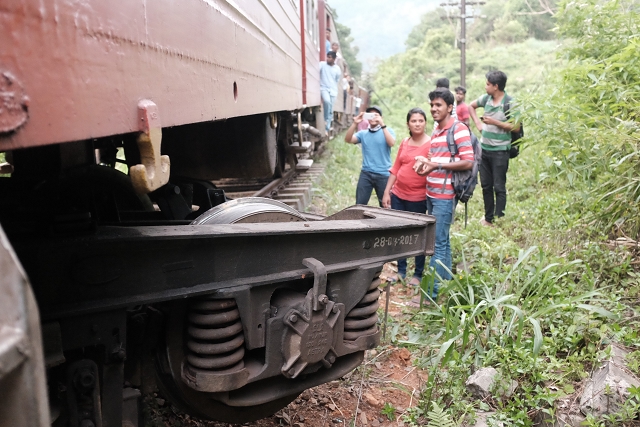 It was quite a mis adventure but we thank God that we were safe!
As for the Sri Lankans, life goes on as per normal. They detached the derailed cabin and continued the journey leaving the cabin behind. 😛
Hours later, after all the drama, we reached Kandy.
Kandy
OZO Kandy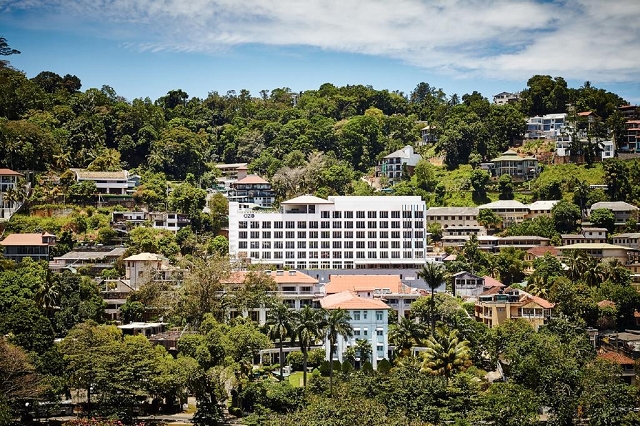 OZO Kandy is situated on an elevation with stunning views of the city. The hotel have an outdoor roof top pool and lounge to de stress all your worries away.
The rooms are equipped with all the necessities to make your stay a very pleasant one. As we we there during the month of Ramadan, the hotel offers Suhoor or pre dawn meals as well as an Iftar menu for Muslim travellers.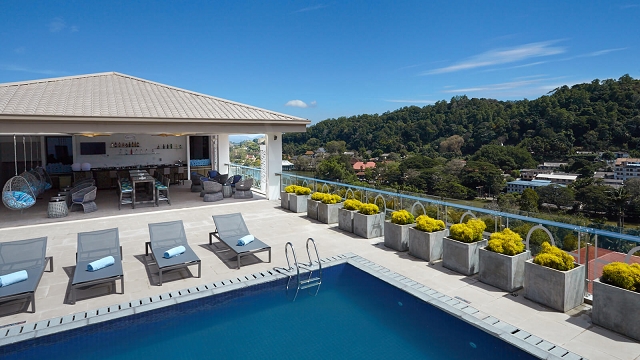 Shahrom and I had a very great time here just soaking in the pool and enjoying the great views after the long train ride.
View OZO Kandy Rates

Places to Eat
Mango Garden Restaurant
If you are looking for Halal food, look no further than the opposite of OZO Kandy entrance. Mango Garden Restaurant is an eatery that is situated in a guesthouse called the Hotel Mango Garden .
The restaurant serves a selection of local and international cuisines. From fried rice to crispy battered prawns, you can never get enough of the great home cooked meals here.
The Garden Café
The Garden Café serves one of the best Sri Lankan food at very reasonable prices. String hoppers, briyanis as well as a myriad of Asian styled food such as fried rice are served here.
The restaurant is also situated by the lake and it is a great place to have a walk after the hearty meal. It can get very crowded here though so do avoid during peak hours!
Muslim Hotel-Kandy
The Muslim Hotel is not a hotel but a restaurant right smack in the city centre. It has been around for a very long time and time seems to stood still around here.
They serves great rottis, curries, amazing butter chicken and are famously known for their kottu, rotti chopped and fried with meat and vegetables.
Royal Mall Bakery
The Royal Mall Bakery serves one of the best fish buns known as the Maalu Paan. The bakery is constantly filled with locals and foreigners enjoying freshly baked breads while sipping a cuppa.
We were very glad that our driver introduced us to the Maalu Paan. Till today we keep on dreaming about this savoury buns. An unforgettable gastronomical experience from a small bun!
Places to Visit
Millennium Elephant Foundation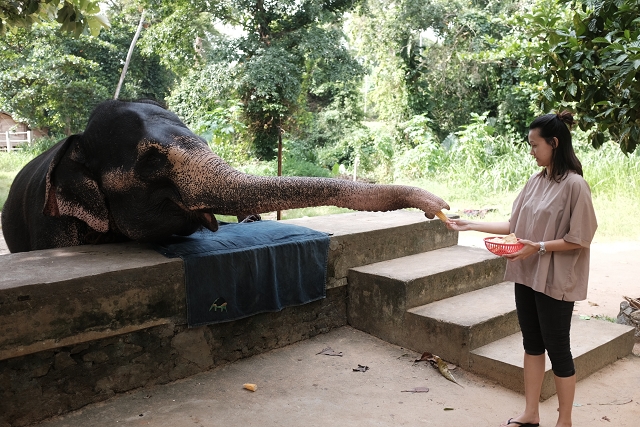 The Millennium Elephant Foundation is a family run NGO which is dedicated to improving the welfare of domestic elephants throughout Sri Lanka.
Here at the foundation you can feed and bathe this gentle giants and you can even adopt them too. Shahrom and I spent a few hours here scrubbing the elephants and feeding them. It was a great experience and one that is etched on our memories for a long time.
You can learn more about the foundation Here!
Luckyland Spice Garden Tour
Ayurvedic Medicine is big in Sri Lanka. They believe that all the spices, herbs and plants have medicinal properties that can help the body to protect, cure and prevent various ailments.
The Spice Garden in Kandy is a government run initiative to promote awareness in spices as well as it uses in Ayurvedic medicine.
The tour will end at a Ayurvedic medicine shop where you can buy medicines as well as well being products to promote health. It is 100% organic and of course I had to buy some.
Tea Factory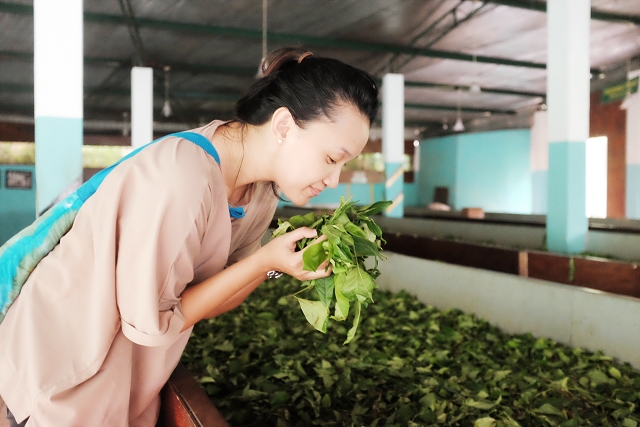 There are many tea factories all over Sri Lanka and our driver brought us to one. We learnt a lot on tea production and the various grades that make them one of the best in the world. Sri Lanka is the second largest tea exporter in the world after Turkey.
The staff explained to us thoroughly on how the tea is picked, dried and the various processes involve. It was a very educational tour and we end our tour with a cup of tea. We bought some teas for our friends back home too.
Kandy to Colombo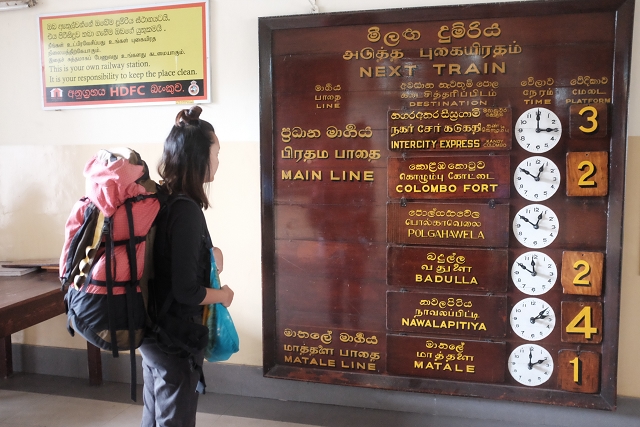 Kandy to Colombo trains can be very packed to the the brim. We had a first hand experience where we had to stand for more than 4 hours for our trip back to Colombo.
It was a great experience for us though as we get to meet locals and chat with them. If you think you cannot handle the crowds and standing in the train for hours, we suggest you hire a driver instead. 🙂
So here is our mis adventures of Sri Lanka. From a stomach bug to a train derailment, nothing can stop Shahrom and I from our travel adventures.
We are already planning our next adventure and we will update you on our travel stories soon.
Share with us your travel adventure stories with us too. 🙂
Please follow and like us: