Free Yoga Classes in Singapore
One day while Ann and I were cafe hopping in Siglap, we came across a banner at the Global Indian International School for a free Hatha Yoga Course for 12 weeks. ⇓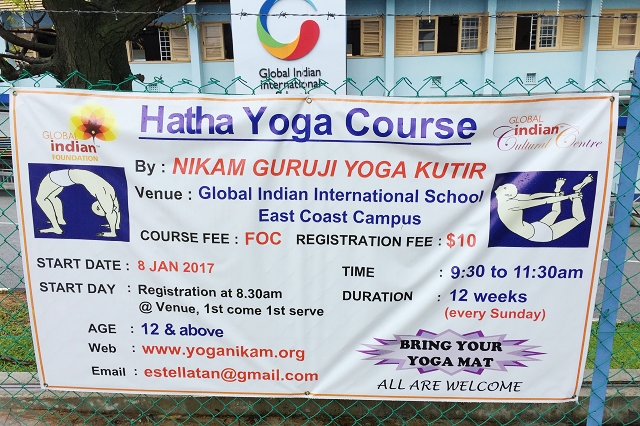 Ann and I have tried yoga before and both of us liked it. The only problem for me though is the membership fees and the packages involved at the studios around Singapore. I work irregular hours and paying for exorbitant membership ships while not using the facilities is not something I look forward to.
After googling the website, we realised that Yoganikam have been around in Singapore for more than 20 years providing free Hatha Yoga classes throughout the island city!
According to their website, their mission is: "To teach Hathayoga to the masses free of charge. Bringing Hathayoga to the masses will relieve the sufferings of individuals, families and the society at large."
You can check out dates and other venues at their website http://yoganikam.org/basic-course.php
We were wondering why after all these years we never heard of them before. So we decided to give it a try!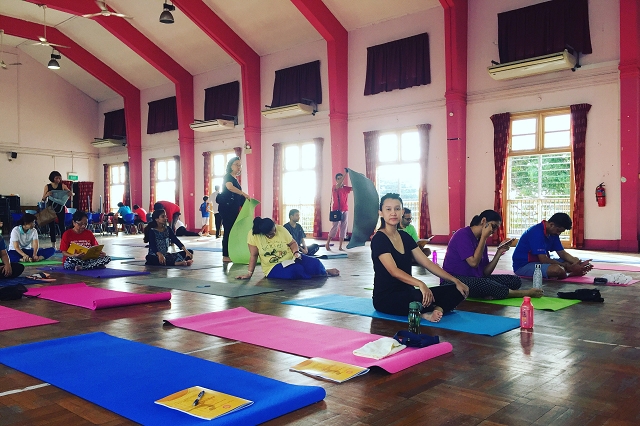 What to Expect?
Payments:
Registration Fees: $10 (one time)
Optional items:
Course Book $5
Yoga Poses Poster $5
What to Bring?
Yoga Mat
No shorts
No sleeveless and plunging neckline tops for ladies
After going for our first class today, we were very satisfied with the structure of the course. The volunteers who taught the class were very friendly. They were constantly going around the class to help you with the postures as well as poses. The flow was very easy for beginners. I could not think of any studio that have a more personal touch than this.
The only downside is that the class is structured for beginners and can be a bit "slow" if you have already go for classes elsewhere.
Overall Ann and I enjoyed our time today. We are looking forward to the 12 weeks of class. Our class at Siglap is still open for registration next week! If you are coming, do say Hi! if you see us.
See you there.

Address: Global Indian International School (GIIS), East Coast Campus, Singapore
82 Cheviot Hill, Singapore 459663
Please follow and like us: